"How do I turn off the location tracking on Life360 without notifying the Circles?"
----From Quora user
Although Life360 has provided great benefits to monitoring the elders or children for security reasons, it sometimes would be regarded as a way of invading privacy to some extent. Under certain situations, you may want to turn off location on Life360 to get rid of the tracking without letting anyone know.
Luckily, this blog has collected 6 easy ways you are able to try to turn off Life360 without parents knowing. Need help now? Keep reading on.
Part 1. What Is Life360?
Referring to Life360, it is an application launched in 2008, which is mainly developed to track people's location of a specific group, such as your family members, or a group of friends. Users revolved in the group are able to track each other's location, knowing where they are instantly. In most cases, Life360 would be used for tracking the behavior of family members . For example, some parents would use Life360 to trace their children's locations to ensure their security.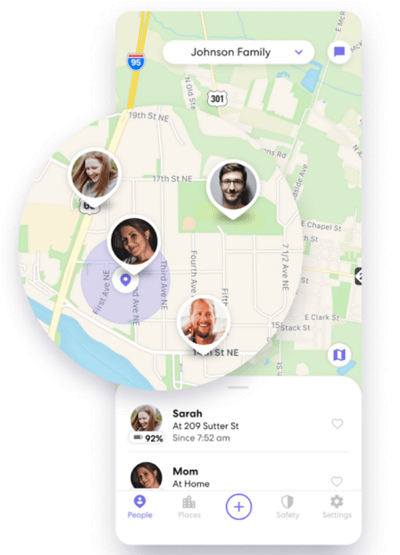 Part 2. How to Turn Off Location on Life360 without Anyone Knowing
Despite the fact that Life360 does help ensure the security of users in the circle with ease, it brings inconvenience and sometimes those who are being tracked by others may think it uncomfortable at all. If you are also considering getting rid of the location tracking in Life360 without letting others in the circles know, try the following methods to overpass it.
1. Fake Your Location
The best way to trick the tracer without turning Life360 offline is to hide your real location and fake it using a professional software. iToolab AnyGo is such a great option, enabling users to fake the real GPS location on iPhone/iPad without hassle. You only require very simple clicks to change your location, even with the natural movement at usual speed, looking quite real.
With iToolab AnyGo, nobody is able to grasp your real location, and it won't notify other users in the circle even if you have modified it.
Highlighted Features of iToolab AnyGo
Available to customize the location of your iPhone/iPad with ease;
Multiple modes supported to fake the GPS movements naturally;
Compatible with more social media, video games, or other location tracking software to fake the location without hassle;
Support to spoof locations of multiple devices simultaneously;
100% secure in-app performance without tracking your location at all.
Now, follow this brief guide to grasp the way to fake your location on Life360 without notifying the circles:
STEP 1. Once you complete the installation of AnyGo, launch it on your desktop.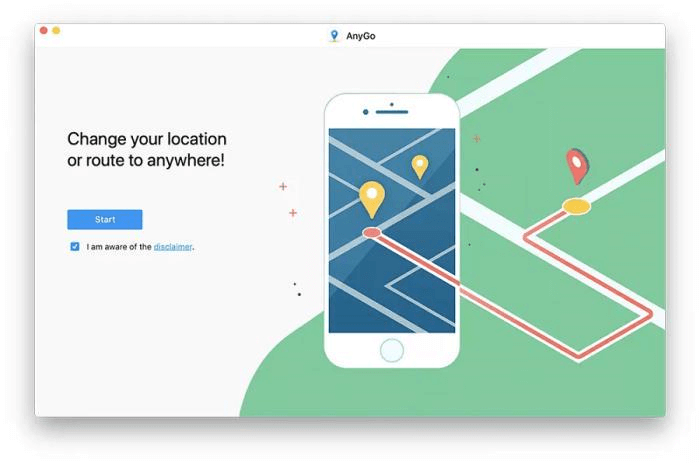 STEP 2. Now, connect your iPhone with the computer and enable the software to detect your device.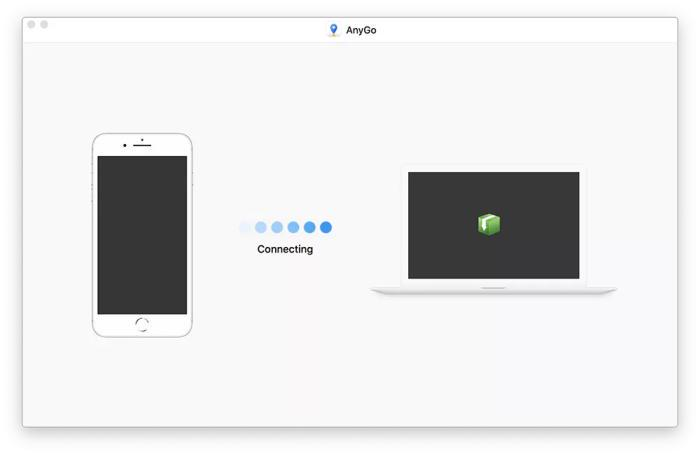 STEP 3. Once connected, your real location will be shown on the screen. Now, just enter the location to the frame bar and tap "Go" to change to it.
Once your iPhone's location is changed through AnyGo, Life360 will detect the new location and show it in app instead of tracking your real address.
2. Disable Circle's Location Sharing
When you want to turn off your location without letting your Life360 circle know, by enabling the app's location tracking functionality off is able to hide your trace from the circle. Here's how you are available to disable the circle's location sharing feature off:
STEP 1. Launch Life360 app. Then, hit the "Settings" icon on the upper-right of the screen.
STEP 2. Select the circle which you want to hide your location from sharing with.
STEP 3. Select "Location Sharing" and disable the option off.

Note:
Notification will be sent to those in the circle once you turn off the location.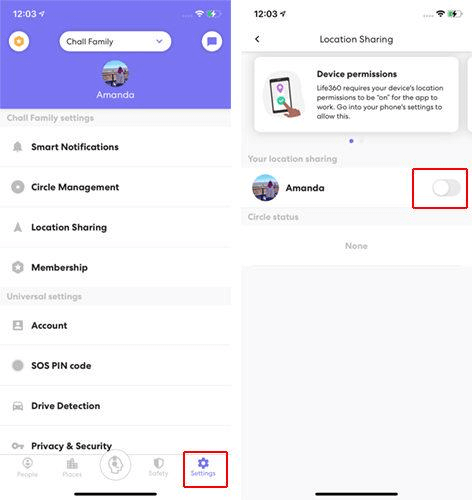 3. Turn On Airplane Mode
By turning on Airplane mode on your mobile devices, your GPS location tracking will be directly disabled. As Life360 also reads the location info through the GPS signal from your mobile device, by turning the Airplane mode on, the Life360 location tracing will also fail to grasp the GPS signal, so that it won't perform in a normal way.
To turn on Airplane mode, simply swipe down the control center on your mobile screen, then tap the airplane icon to enable the mode on. When it is enabled, the Life360 app will fail to track the location as the GPS signal of your device disappears.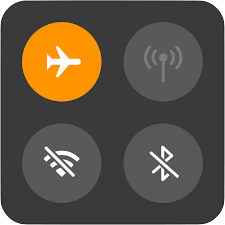 4. Turn Off Location Services
Another simple method to turn off Life360's location tracking without letting others know is to turn off the location service of the application, so that the app won't be able to track your location completely. Here's how to process it:
STEP 1. Launch "Settings" app on device.
STEP 2. Navigate to "Privacy" > "Location Services".
STEP 3. Scroll down the list to find Life360 app. Select it and submit to toggle off the "Precise Location".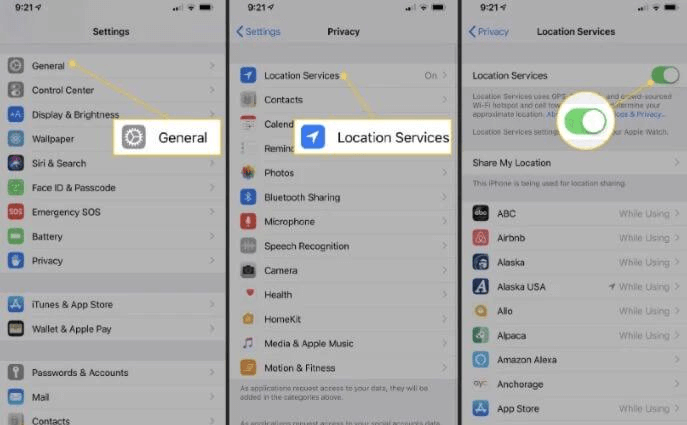 Once the location is turned off, the Life360 app won't be able to track your GPS location anymore.
5. Delete Life360 Account
Feel annoyed of being traced by Life360 all the time? Directly get rid of it by deleting your account is able to permanently remove the location history without letting anyone available to see where you are anymore. After that, uninstall the Life360 app and you won't be tracked by someone else.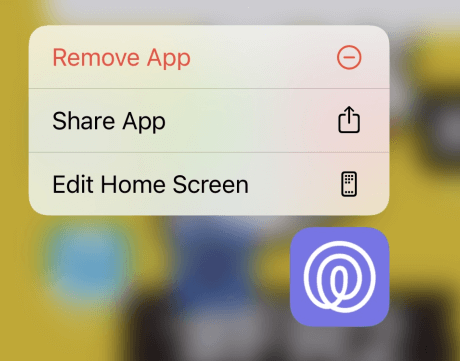 6. Use a Burner Phone
If you get a burner phone (the device you won't use for a regular basis in daily life), install Life360 on it and log in to the original account, then, you are able to switch the location from the daily-using phone to the supplementary one. In this way, no one in the circle could actually know where you are, as you are available to put the burner phone elsewhere instead of bringing it with you.
Here's how you are able to process the Life360 account switch to the burner phone:
STEP 1. Awake your burner phone and install the Life360 app on it.
STEP 2. Log in to your original Life360 account.
STEP 3. Once login, delete the one from your main phone . Since then, the location would be tracked following your burner phone instead of the main one.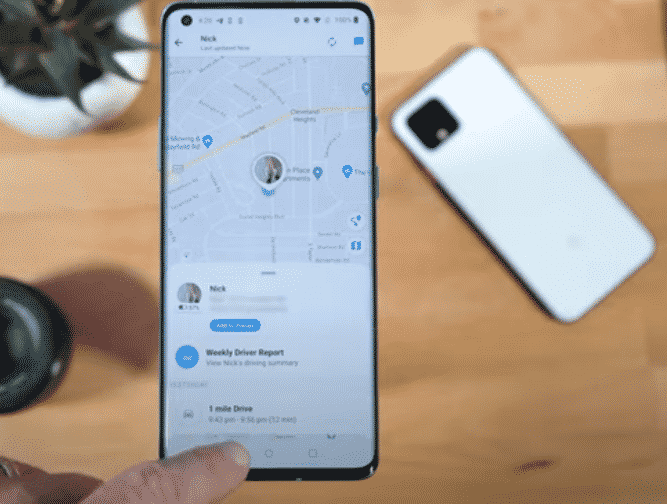 Part 3. FAQs About Life360
Come with up certain questions of Life360 or the possibility to hide your location in the app? These FAQs are probably to help.
Q1: Does Life360 notify Circles when you turn off location?
Yes. When you turn off the GPS location on your phone, Life360 would send a notification of "Location Sharing Paused" to all the members included in your circle. In other words, when the location of Life360 is off, members of the circles would all know about your action.
Q2: Does Life360 work without Internet?
When the Internet on your device is disabled, the GPS is not working to display your location. Therefore, Life360 would fail to continue working till the network is recovered again.
Q3: Can you hide your location on Life360 without anyone knowing?
Normally, when you directly enable the location off in Life360, the members in the circle would be notified. However, if you select the extra software such as iToolab AnyGo to fake the location, Life360 won't notice, and the other users who have joined the circle will not know as well. It would be the best method to disable Life360 without letting anyone else know.
Although Life360 brings convenience for those who desire to protect the security of the elders or children by tracing their locations, sometimes it would be uncomfortable to be tracked by others. This blog's methods are all available to help. Pick your ideal option to turn off Life360's location without notifying others and protect privacy.