When iOS developed the accurate GPS detection device to make the smartphones run under a lot of restrictions for safety protection, sometimes it would be inconvenient and people may want to trick their iPhones with a fake GPS location so that the devices would believe that you are staying in a different place but not the real one. This can help to remove some restrictions when we are surfing the websites or streaming the contents on iPhone, which are only limited to people in certain locations.
So how to fake GPS location on iPhone so that you can surf the Internet to find more information without being limited by locations? Today, this article will bring 4 easy ways to you. Just have a look.
Why Do You Need to Fake Location?
Actually, there are many times we would need to fake location on our devices to prove that we are not staying in the places we are actually here. There may be some of them you will meet in daily life:
When you find an online video or streaming songs that are only available for people staying in certain countries to play.
When you are trying to purchase some products that are only sold to consumers of certain areas.
When you are playing games like Pokémon Go and you need to change the locations for catching more kinds of Pokémon characters for collecting.
......
Except for the most common situations above, you may have more times when you need to fake GPS location on iPhone than you can imagine now. So how can we do it exactly? Now, the following part will introduce 5 easy ways for you to try.
How to Fake GPS Location on iPhone - 5 Ways
Normally, you will need help from some apps if you need to fake your location on iPhone. Here, the 5 ways to fake your iPhone with other GPS locations are going to be introduced. Have a look and select the best method for yourself to try now.
1. Fake GPS Location on iPhone with Location Changer Software
To fake GPS location on iPhone easily, iToolab AnyGo is a professional and easy-to-use app you should not miss. You only need one click to change the location of your iPhone, so that you can play those location-based movement games such as Pokémon Go without actually moving at all. Also, for people who will regularly share contents on social media, iToolab AnyGo can help to fake the locations so that you won't worry about leaking your personal information easily.
✨ Key Features:
Supports the popular location-based games such as Pokémon Go
Fakes GPS movements at natural speed while playing video games
Allows to fake the locations of several iPhones by connecting them to a computer at the same time
Keeps the history records for the next-time movements change easily
Supports changing the GPS locations even while connecting to Wifi
Offers a user-friendly function that needs only one click to fake location on iPhone
Supports the latest iOS 16 system
✨ 3 Steps to Fake iPhone Location Using iToolab AnyGo
Step 1. Install iToolab AnyGo on Computer
To get started, you need to install iToolab AnyGo on your computer at first. At present, iToolab AnyGo can be installed on Windows and Mac computers. But it supports the latest iOS 16 system, so don't worry if you have upgraded your system to the latest version.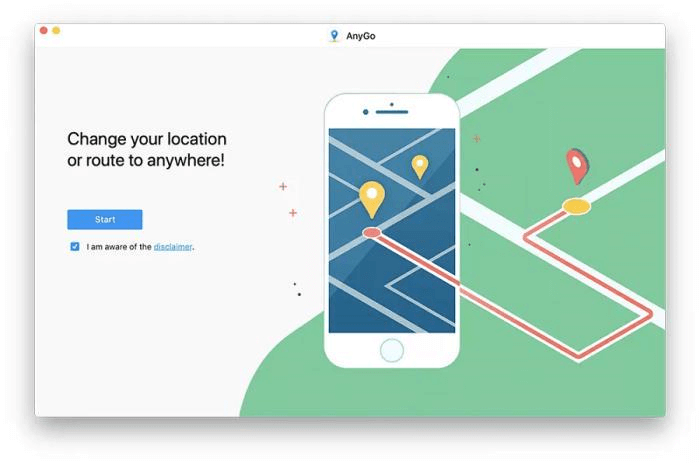 Step 2. Connect iPhone to iToolab AnyGo
When iToolab AnyGo is installed, open the software and also use a USB cable to connect your iPhone to the computer. After this, iToolab AnyGo will detect your device and show your current location.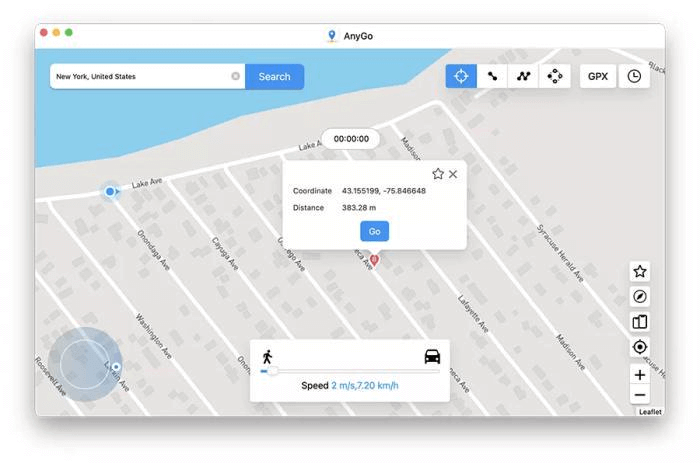 Step 3. Select Mode to Change iPhone Location
Now, enter a location you want to change. By tapping the "Go" button, the software will start changing the location of your iPhone. You can directly view the fake location you are in from the main screen of the software.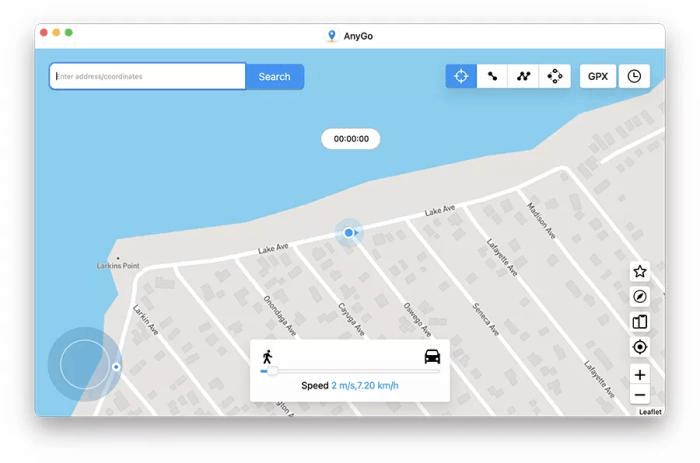 2. Spoof iPhone Location with a VPN app
Another way you can try to fake the iPhone location is by using a VPN app. There are many popular apps provided to today to help spoof iPhone location directly, even without jailbreaking the device. For example, Nord VPN can be a good tool that can easily help you fake the location so that your iPhone will recognize you are staying in other places based on the IP address you have selected. You only need the following easy steps to the fake GPS location of your iPhone using the Nord VPN.
Step 1. When you have installed Nord VPN on your iPhone, open it.
Step 2. From the IP address list, select the location you want to change to.
Step 3. Click the "On" button, then your iPhone GPS location will be directly changed.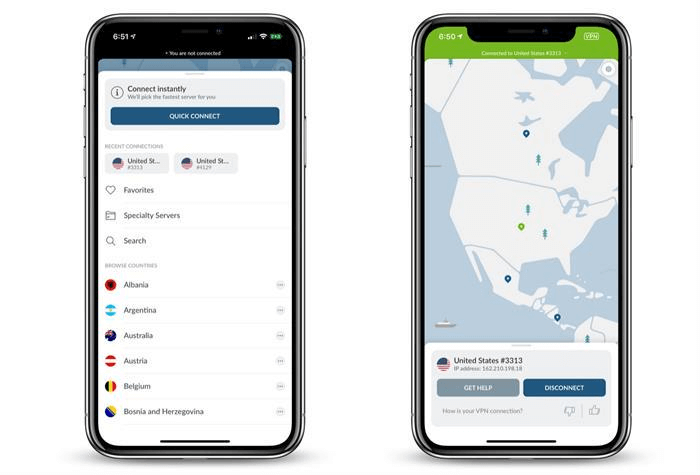 3. Fake iOS GPS with Xcode
For Mac users, Xcode is a good option as it is the programming software, instead of the third-party app developed by unknown organizations. Just by doing some settings, and you can easily change the iOS location on Mac with Xcode. But for some people, this method may be a little difficult. Now, you can follow the steps here to fake the iOS GPS on Mac with the help of Xcode.
Step 1. When you have installed Xcode from the App Store, open it and set up a new project by clicking the "Single view app" option. Then click "Next".
Step 2. Now connect your iPhone to the Max computer. Then also click the "Next" option from the window and enter "Product name". After this, you should choose a place to create the project.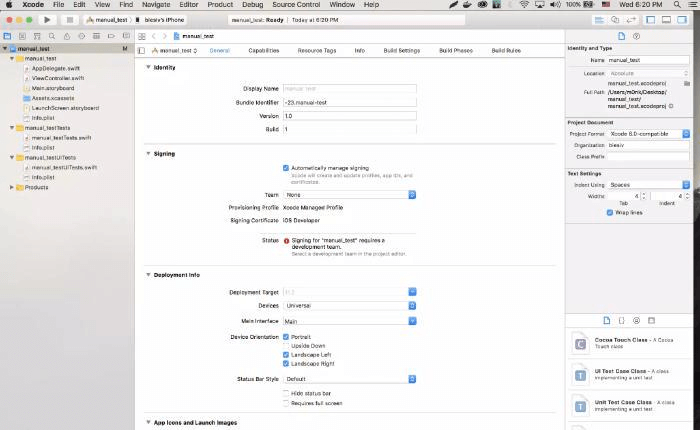 Step 3. Go to "Preferences" from the menu now. You need to open "Accounts" and select to log in using your Apple ID.
Step 4. When you have signed in, select "Team" and begin the building process by keeping your iPhone unlocked.
Step 5. When the building process finishes, just go to the "Debug" menu and select the "Simulate Location" option. After choosing the location you want to change to, the GPS location of your device can be successfully changed.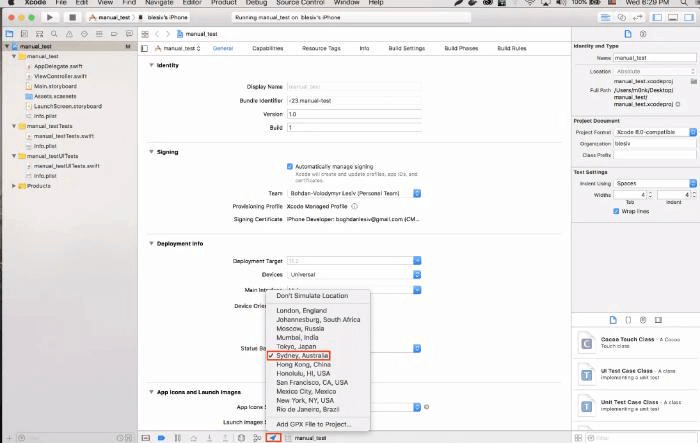 4. Fake Location on iPhone with 3uTools
3uTools is a powerful software with different functions provided to manage your iPhone within only one tool. From data backup, transfer, to location changing, 3uTools brings all help professionally. Using its provided "VirtualLocation" function, people can easily fake GPS location with only very easy operations. When you have installed the software, connect your iPhone to the computer and you can start faking the iPhone location easily.
Step 1. When you have connected your iPhone to the computer, open 3uTools and select the "VirtualLocation" function from the tool list.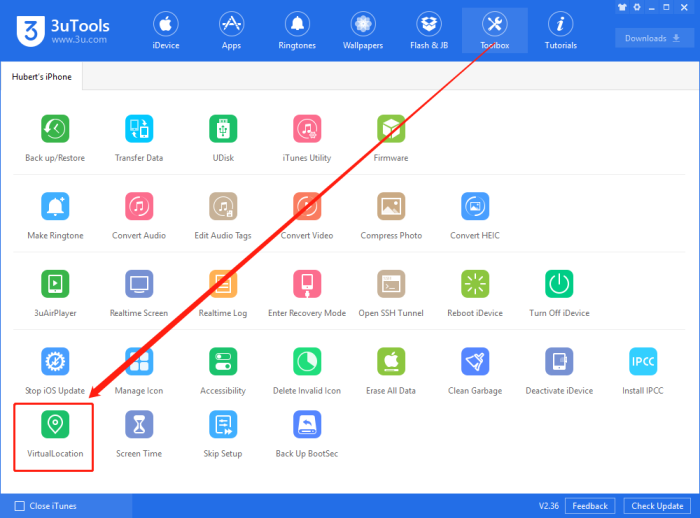 Step 2. In the next window, you will need to enter the latitude and longitude of the address you want to fake the iPhone. Then by clicking the "Modify virtual location" button, the software will detect and tell you whether the address can be used.
Tip: You need to keep your iPhone screen unlocked during this operation.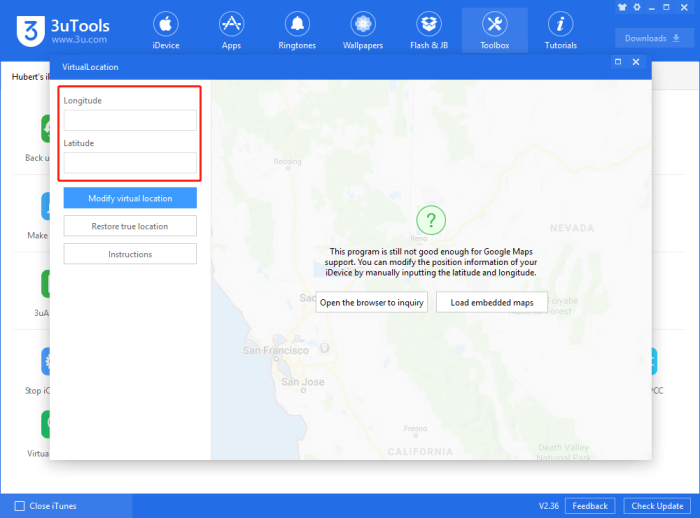 Step 3. When the address is modified successfully, your iPhone location is faked and you will see the virtual location on the screen directly.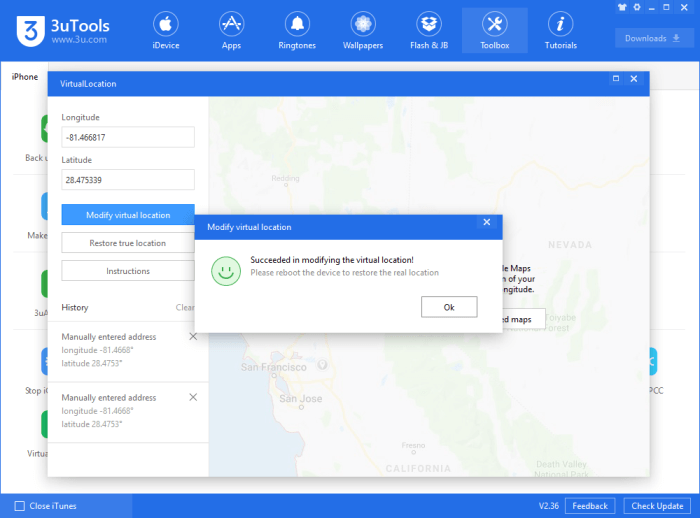 5. Change GPS Location on iPhone by Jailbreaking
Finally, the most common method to change the GPS location on your iPhone can be the jailbreaking way. While doing the iPhone jailbreaking, you will get the chance to change the native settings of the device, and during this time, you can make the location change to other places as you need. Here we will introduce the way to jailbreak on iOS 15 systems as an example.
Step 1. Firstly, you need to download both the "The Anywhere!" location faking the Cydia app on your iPhone at first.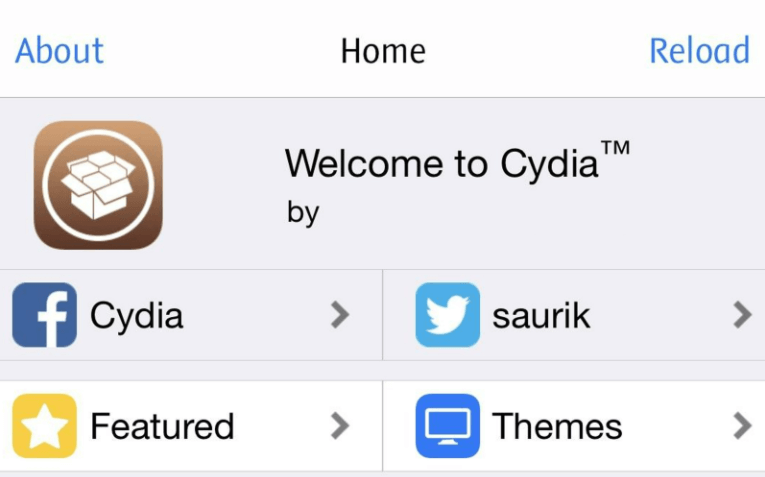 Step 2. Then, open it and select the location you want to fake your iPhone. You need to tap on it to see a red pin appear.
Step 3. Next, in the coming screen, you will need to hit the blue tab and select the apps you want to fake the GPS location.
Step 4. When this finishes, open the app and you will see its detected location has been changed.
Conclusion
By comparison, the simplest way to fake the iOS location on iPhone should be using a professional software like iToolab AnyGo to help. Except for this, you can also go through the review list and find the way that you prefer the most to help. By faking the GPS location on iPhone, you can also protect your address privacy better. Therefore, such a tool can be a necessary if you don't want anyone to track you through your real address online.