Macube Cleaner Overall Rate: ★★★★☆

Pros

Cons

Featured functions for cleaning up
User-friendly interface
Easy operation
Diverse plans and affordable price

No antivirus features
Limited trial version
Although Mac is prestigious for its high performance and ease of use, without proper use and regular maintenance, performance problems may occur. There are a bunch of third-party Mac utility apps available in the market for users to better manage the Mac storage and protect the system. Here I am going to introduce one recommendation of them.
Macube Cleaner is a handy utility app for Mac that specializing in the cleaning tasks. It provides a wide range of cleaning modes, including clearing system junk, uninstalling apps, removing bulky and old files, locating duplicates, shredding stubborn files, and etc. Most of the features function well and can help reclaim a considerable amount of Mac disk space.
However, it's not a perfect tool – as Macube is not equipped with antivirus features that some others focus on. But the great performance, nice UI, and affordable price make it worth a try.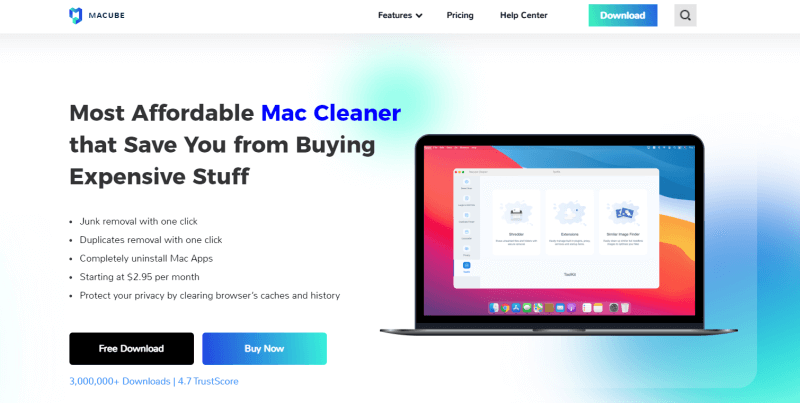 User Interface & Layout
Actually, the UI design is not the most important part of a product, but it really matters sometimes, especially for software. A nice and clear design can inspire you to use and prevent you from confusion while letting it work. Thanks to the simple but clear interface, it's good experience to use Macube Cleaner for cleaning.
When you enter the program, you can see the main interface as below. Different features of Macube break into different tabs that you can select at the side pane. In the middle is the button you can select to scan files on Mac and start the cleanup. The whole cleanup process can finish in a few clicks. On the main interface, you can also check the device information and network status at the right side.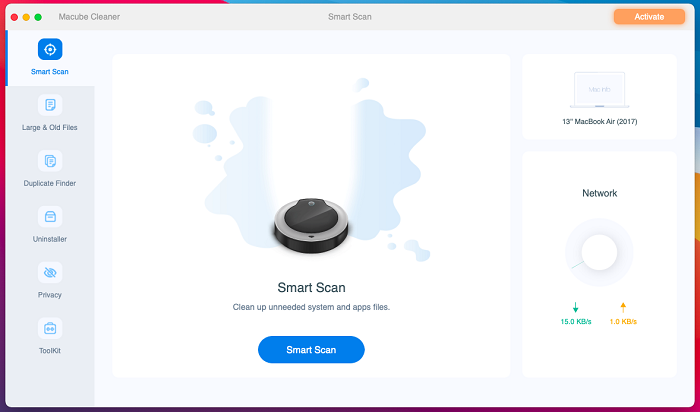 Features of Macube Cleaner
Smart Scan
As the name indicates, the Smart Scan feature of Macube is that the software intelligently scans through you Mac and enable you to free up disk space quickly. It's actually a feature to clean up system junk, app caches, and also email attachments and old iTunes backups.
I have tested on my MacBook, and it takes a few seconds to scan. The scanning results show in categories, and you can click the magnifying glass icon to view details of the files, like where they are. This feature works well to free up space on Mac and speed it up, especially for clearing system storage and app caches.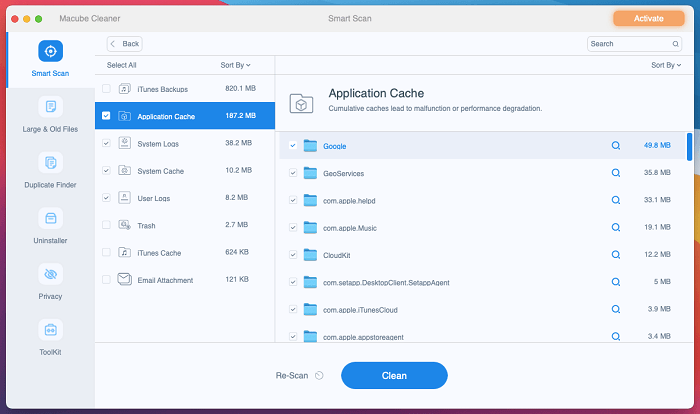 Uninstaller
The Uninstaller features of Macube is to help you quickly remove an application along with the app files. It's also a good feature. While there are many ways to uninstall a program, such as deleting from Launchpad, Finder, etc., many ways leave behind leftovers that jam your Mac. For those who prefer a complete deletion, this feature can be the pick.
As the picture shows, the scanning result of this feature shows you to app itself and all the related files. You can simply select all and securely remove the program. The removal is easy so you can finish in a few clicks. By the way, this feature is specially workable for uninstalling malware.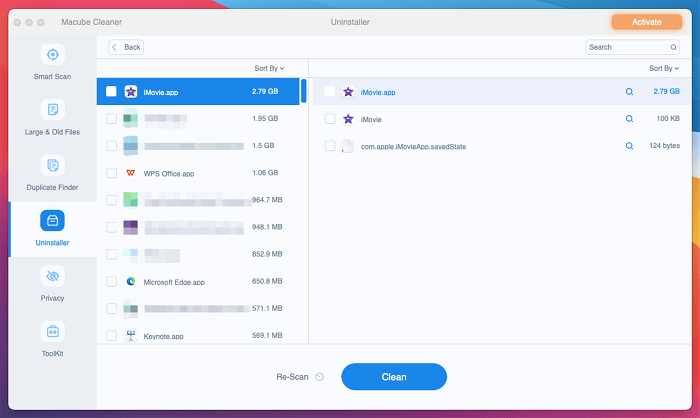 Duplicate Finder
The Duplicate Finder is also a highlight feature of Macube. As many people may download or save a same file or image twice for backup or without notice, this feature is helpful to identify the duplicate files and keep them from eating up too much space.
To use the Duplicate Finder, you must select a path to scan, which can be the whole MacBook or a specific folder. Scanning the entire Mac may cost a long time, usually a few minutes.
After the scanning, the results will display all the duplicates to you by file types, and you can click to view the detailed information. The Auto Select button is useful because it can select all the duplicate files in one click and leave one original files to you. But it's never too careful to do a double check before removal when the file is really important.

Note:
In the ToolKit, Macube also offers a Similar Image Finder feature which focuses on the need of finding and removing duplicate photos.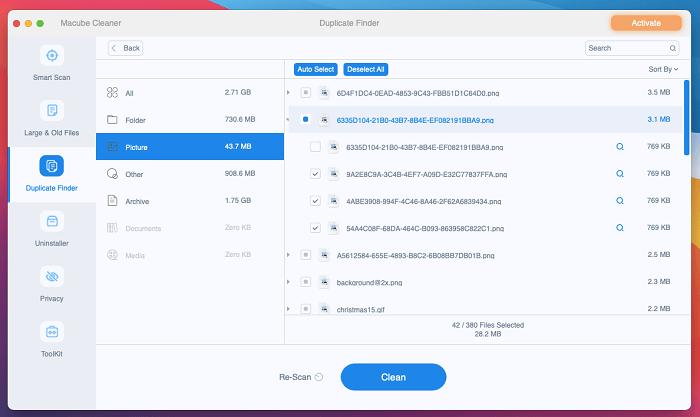 Large & Old Files
Macube also provides a practical feature to help conveniently delete large and old files. Despite the fact that similar feature can be realized with the Mac built-in features like Recommendations and Smart Folder, this feature is clearer and easier-to-use. With Macube sorting out the large and old files by a specific time period and file size, you can quickly identify the useless files that occupies a huge amount of space and clean it up.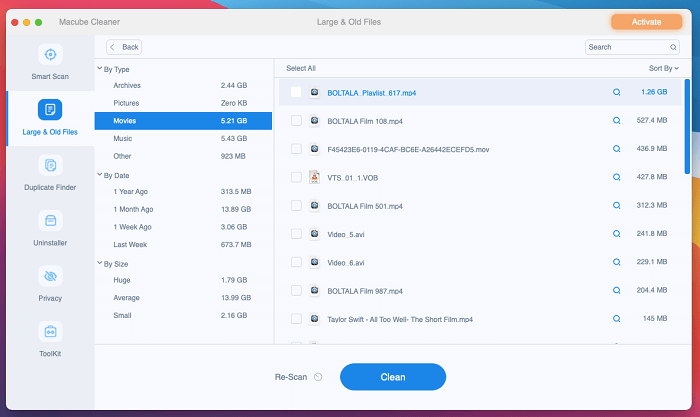 Privacy
The Privacy feature of Macube actually refers to privacy protection by removing browser cookies and histories, for the reason that your cookies may contain lots of private information, so cleaning up regularly is reasonable for privacy security. It supports three most frequently used browsers, for instance, Chrome, Safari, and Firefox and works well, but is limited when you use other browsers and need to delete cookies from them.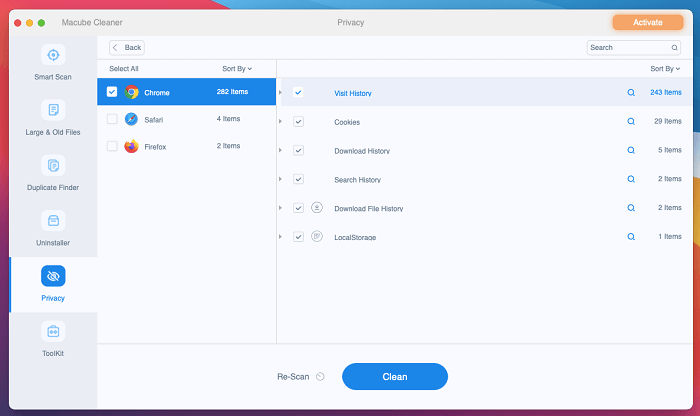 ToolKit
The ToolKit of Macube is a combination of three extra features – Shredder, Extensions, and Similar Image Finder. The names of the functions are intuitive. As the image finder feature works similar to the duplicate one, here I will just skip.
The Shredder is useful for destroying or erasing some files that you cannot delete normally. I've tested this feature with different kinds of files, and no failure by far. The Extensions one is to help keep charge of plug-ins, proxy services, startup items and remove them so that you don't have to open a certain app or browser one by one to manage them.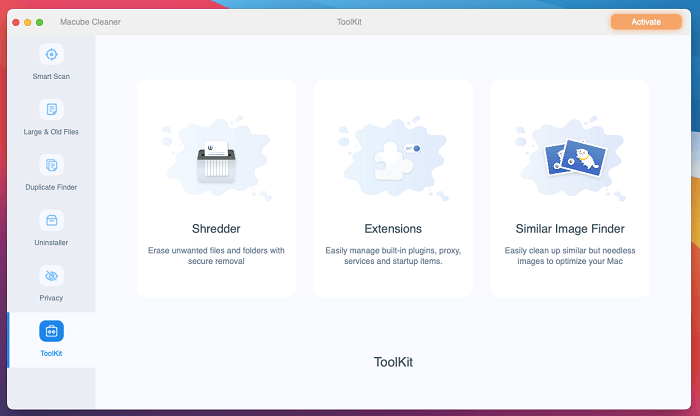 Pricing of Macube
Regardless of the pity point that Macube does not offer antivirus or software update feature, it's a lightweight and comprehensive Mac cleaning tool. It also provides a diversity of plans which are competitive in price:
One-month plan for a single Mac: $8.95
One-year plan for a single Mac: $39.95
Perpetual plan for dual Macs: $69.95
Besides the paid license, Macube also offers a free trial for you to try out the program before you make the final decision whether to purchase it or not.
Bottom Line
Macube Cleaner performs well as a cleaning utility for Mac. It works smoothly, boasts versatile and practical cleaning features, and services in an affordable price. It's not perfect, but is suitable for those who desire to get a handy tool to clean up the Mac disk space and no need for downloading other programs for specific features like a duplicate finder. It's a cost-effective tool – and this help Macube win a good score among similar products.