With WhatsApp, more than one billion people worldwide stay in touch with family and friends conveniently, but you may think it not convenient any more when
WhatsApp contacts are not showing on your iPhone or Android(Samsung, Pixels etc).

WhatsApp is not showing contact names, but just numbers.
This article will show you how to have the WhatsApp contacts show properly on your phone.
Make Sure of the Following Things Before Going Any Further
Your friends' phone number has already on your address book, so that WhatsApp can read the contacts.

Your friends are using WhatsApp Messenger, otherwise your friends' names will not be shown in WhatsApp as contacts

Your WhatsApp has been updated to the latest version, since the old version may have some glitches.
Workaround 1: Render Contacts Visible on Android
Android users should check if the contacts in address book are visible to WhatsApp. Open address book of your Samsung or Pixels, tap Settings and make sure all contact accounts (SIM, Google, YAHOO,etc.) and all contact groups( Colleague, Family etc.) are checked as "visible" or "viewable". Also, it is a good choice to uncheck and check "visible" or "viewable". Thereafter, open WhatsApp > Contacts > Menu Button/Three-Dot button on top right > Refresh. See if the contacts are shown on WhatsApp now.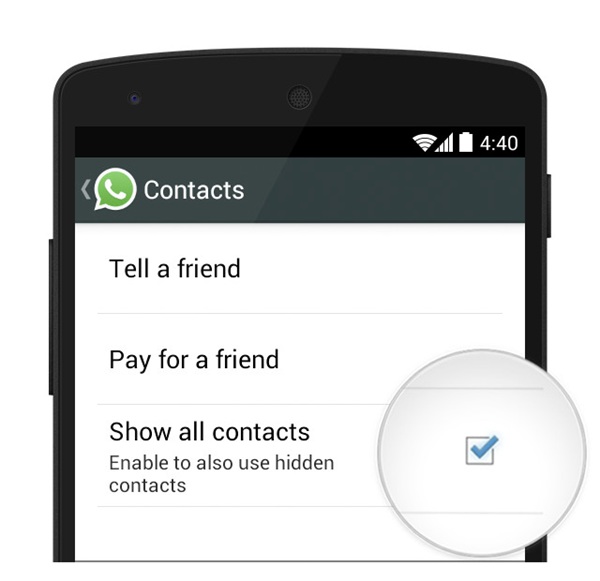 Workaround 2: Permit Contacts Read by WhatsApp
WhatsApp's Contacts are not showing when phone settings don't permit WhatsApp to read contacts of your phone book. iOS users can open Settings > WhatsApp > turn on Contacts. Some Android users can run Settings > Apps/Manage Apps/All Apps > WhatsApp, and turn on Contacts to enable permissions for contacts; others may go to Security > Permission > Application > WhatsApp, and turn on Read Contacts. Operations may be slightly different based on the phones' brands or models, just remember you are intended to permit WhatsApp to reading contacts. After that, refresh WhatsApp's Contact.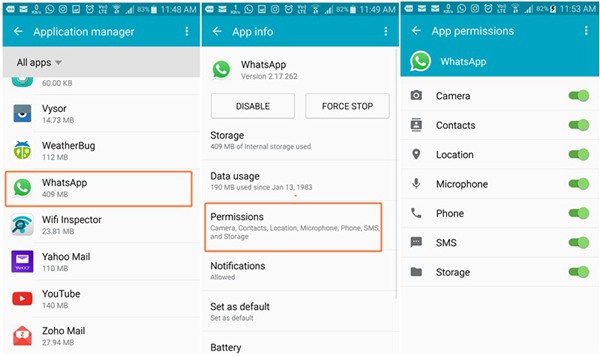 Workaround 3: Refresh WhatsApp
If you add contacts recently on your phone book but they are not shown on WhatsApp Contacts, refresh Contacts a few times by taping Menu Button/Three-Dot Button. If it doesn't work, Android users can:
Step 1: Run Settings > Account > WhatsApp > WhatsApp again > Menu Botton/More on top right > Remove Account.
Step 2: Add your account in Settings > Account
Step 3: Run WhatsApp > Contacts > Menu Botton/Three-Dots button on top right > Refresh, and see if the contacts appear.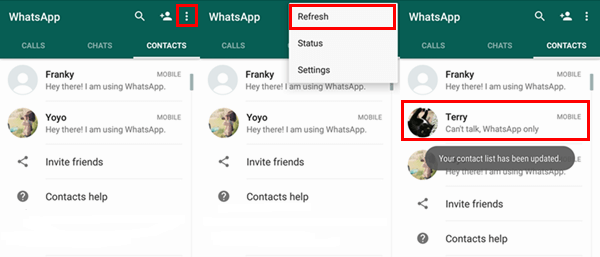 Workaround 4: Re-login WhatsApp or Restart your phone
Suppose you have done all of the above, and WhatsApp contacts still disappear, or just showing numbers but not names, probably there are some glitches in WhatsApp. In this case, you should sign out of WhatsApp; however, there's no "Log Out" button for the mobile app.
To log out of WhatsAPp, Android users can open Settings > Apps > WhatsApp > Clear Data. When you run WhatsApp again, you are asked to enter your username and password to sign in again.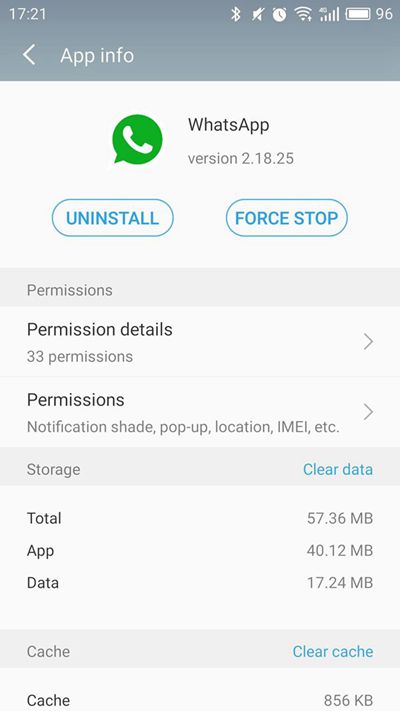 iPhone/iPad users cannot clear data cache, so to log out of WhatsApp, you need to re-download the app. Data will be deleted when you clear data or delete the app, so you should remember to do a backup for you data if you want to keep it. Ways to do a WhatsApp backup will be introduced in Workaround 6.
Workaround 5: Force Stop and Clear Cache(Android Only)
Cache is a collection of some small files that may help the apps to run speedy, whereas when the files are broken, they accumulate and slow down the apps. Thus it is relevant to WhatsApp Contacts not showing, and you'd better try to force WhatsApp to stop and clear cache, say, you are an Android user. Open Settings > Apps > WhatsApp > Force Stop, and then tap Clear Cache in the same interface.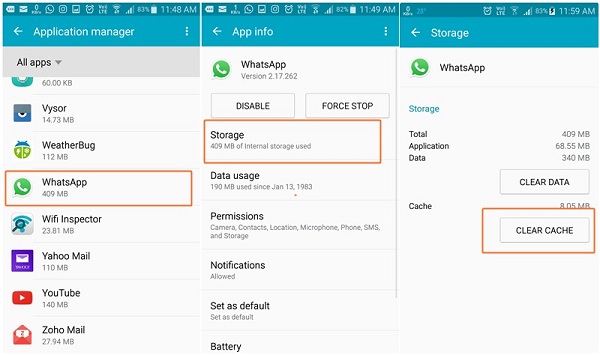 Workaround 6: Re-Download WhatsApp
As I mentioned above, there may be some mistakes in WhatsApp, so you can try to delete WhatsApp and download it again in Google Play( Android Users) or App Store (iPhone/iPad users), which may help to remove the mistakes. Besides, since there is no clear cache option on iPhone, to remove WhatsApp cache on iPhone, you need to reinstall the app. That's another reason why you are suggested to re-download WhatsApp to get contacts back.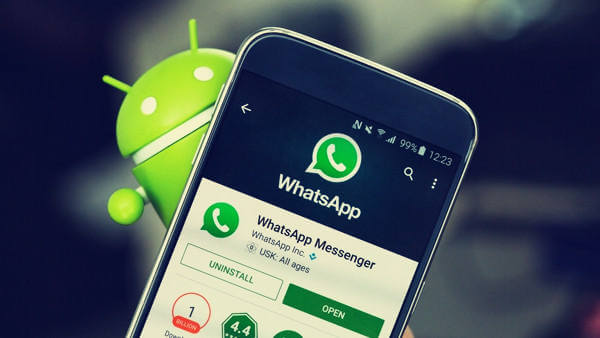 Before you delete WhatsApp, don't forget to make a backup for your data. You can use built-in backup apps like iCloud, or you can use FonePaw iOS Data Backup & Restore (opens new window), which allow you to do a backup for your iPhone or iPad data including WhatsApp messages, WhatsApp media files, contacts, photos or videos with a few steps. Here is the guide to use it.
Free Download Buy with 20% off Free Download Buy with 20% off
Step 1: Run iOS Data Backup & Restore, and then connect your iPhone to PC via USB cable, and tap " Trust" on your phone to get connected.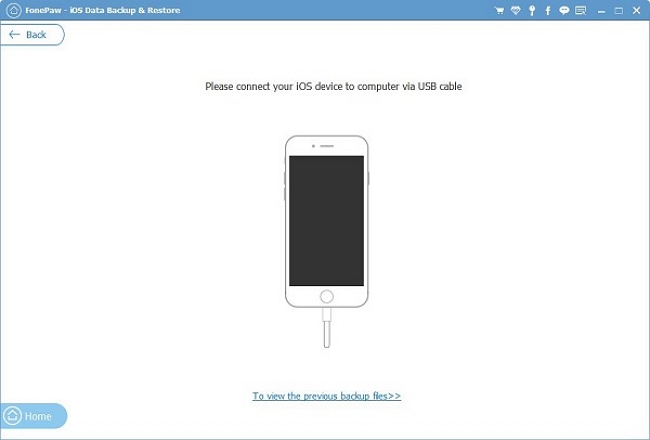 Step 2: Click iOS Data Backup, and then there are two choices: "Standard Backup" and "Encrypted Backup". Choose "Encrypted Backup" if you want to protect the data.
Step 3: Click Start and then the data you can backup is listed. Check what you want to backup and click Next. Just wait for a while and the backup is done.
Can you get the WhatsApp contacts or contacts names back? Share with your friends.