Updated on Wednesday, September 12, 2018.
Transferring data from old iPhone to new iPhone X or even iPhone XS/XC could be easy. But after many users complained they spend many hours on waiting for the old-to-new iPhone transfer process to complete, I realized that it is time to find a quicker way to finish iPhone data transfer process other than using iCloud or iTunes.
FonePaw DoTrans (opens new window) can save you from a day-long ordeal by helping you copy data from iPhone to iPhone with one click. It empowers you to transfer contacts, music, movies, photos, TV shows, podcast, eBooks in PDF or ePub format, voice memos, ringtones, etc. between two iPhones or iPhone and computer within seconds. Better yet, when you transfer old iPhone data to new iPhone, the contents that already on your new phone won't be gone.
Download FonePaw DoTrans on your computer first and follow the detailed steps below to clone iPhone data.
Free Download Buy with 20% off
# Quickly Transfer your Old iPhone's Data to New iPhone X/XS
1. Connect both your iPhones to computer
Download FonePaw DoTrans software, a smart iPhone Transferring program, and install it on PC. Then, connect two iPhones to the same computer with cables. After your devices are detected, the program will display them on the left side of the window.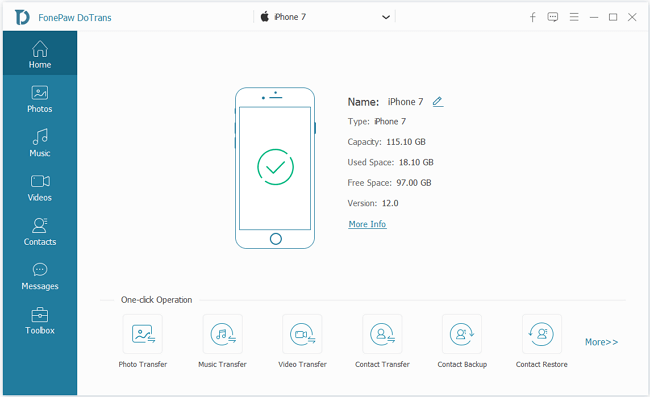 2. Transfer files from iPhone to iPhone
Now, you have two ways to go:
Plan A: One-click to finish iPhone to iPhone transfer process
Find and click "Device to iDevice" at the toolbox window. The program will scan the content on your iPhone instantly. Once finished, confirm the target device or change the destination device in the dropdown list and click "Start" button to copy all files listed.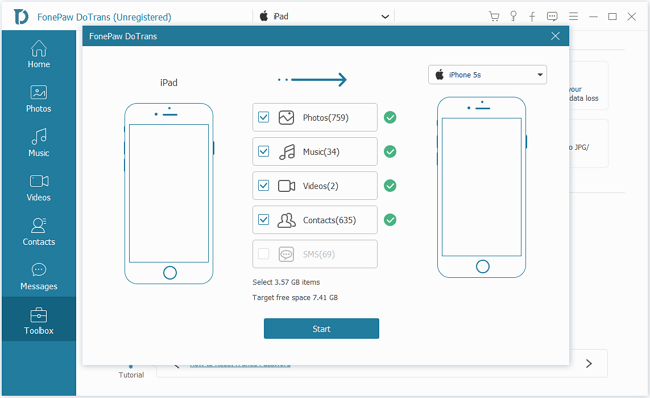 Plan B: Selectively copy iPhone files
If you want to copy any specific files, find Media, Playlist, Photos, Contacts, etc. on left column. Then, choose the files you need and click "Export to Device" icon on the top menu to export them to the target device. Here is the details:
Clone Contacts from iPhone to New iPhone X/8/7/6s: Click "Contacts" > Select contacts you need > click the device icon to select the target iDevice > wait for the transferring process.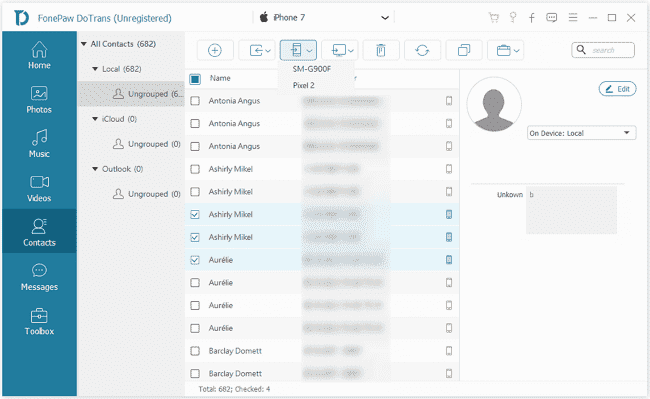 Copy Music from iPhone to iPhone (opens new window): Go to Music > Choose ideal items or play it before copy > Select target device > Start transferring.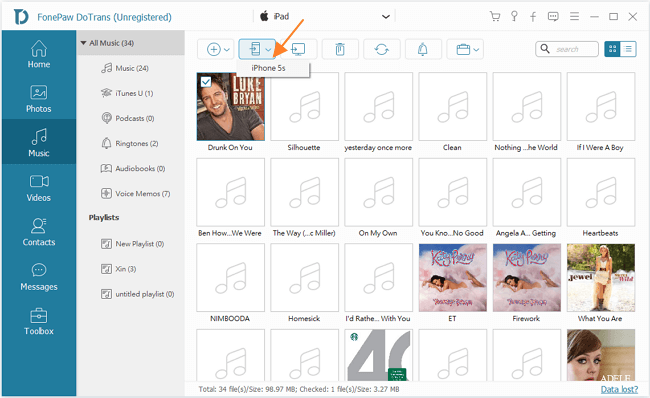 Switch Photos from iPhone to iPhone (opens new window): Click "Photos" of the iPhone you want to export photos > Select photos or photo albums (Camera Roll, Photo Library, Video, etc.) > Right click certain items to hit "Export to Device" > Select your new iPhone as the destination.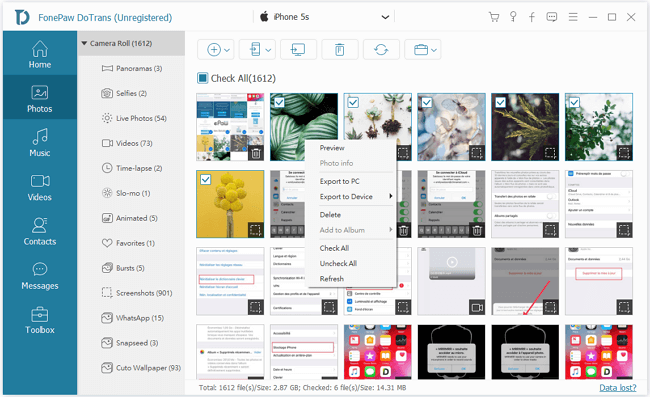 Transfer Text Messages from iPhone to iPhone X: Check SMS and select what you want. Export Selected Messages/All > HTML file, so the messages will be saved on computer. Then, open the HTML file on your PC and click "Ctrl+P" , and save the file as PDF format. You can import the PDF files back to the iBook app on the new iPhone with iOS Transfer. Thus, you are allowed to view the SMS on iBook app on iPhone X/8.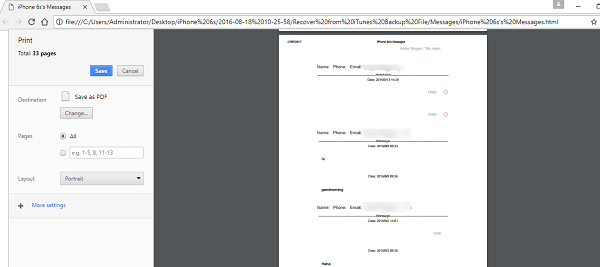 With FonePaw DoTrans (opens new window), transferring data between two iPhones can't be easier. By applying the same way, you can also transfer data from iPhone to iPad, iPhone to iPod, iPad to iPod, etc. In a word, you can share contents between any two iOS devices freely.