• How do I recover deleted call logs in Samsung SM-G960?
• I cleared my call history containing received call numbers and missed call numbers on my Samsung Galaxy Note 8. How can I get them back?
• I want to recover my deleted call history on my Samsung Galaxy. It is much needed for me. Thanks in advance.
If you have ever run into the similar situations - lost call history on your Samsung mobile, don't worry. Follow this guide to recover deleted call logs from Samsung using FonePaw Android Data Recovery.
People Also Read:
How to Restore Lost Photos on Galaxy S7/S8/S9 (opens new window)
FonePaw Android Data Recovery (opens new window) for Windows brings your deleted call logs back on Samsung phone. You can click on each tab to switch and preview the found data. Intuitive built-in preview allows you to see what you lost before recovery, such as contact's name, phone number, missed call, received call, dialing call, call time, and call duration. After that, you can get them back with one click.
Free Download Buy with 20% off Free Download Buy with 20% off
How to Recover Lost Call Logs on Samsung Galaxy
Before Recovery, please:
Try to reduce the use of your Samsung phone after mistakenly deleting the call logs. In this way, the data of the call logs in your phone won't be replaced by new data.
Download and install FonePaw Android Data Recovery.
Turn on USB debugging

(opens new window)

on your Samsung mobile.
Step 1. Plug Samsung to PC
Prior to do anything else, start FonePaw Android Data Recovery. Connect your Samsung to the port of the computer using USB cable. The computer will detect your Samsung device instantly.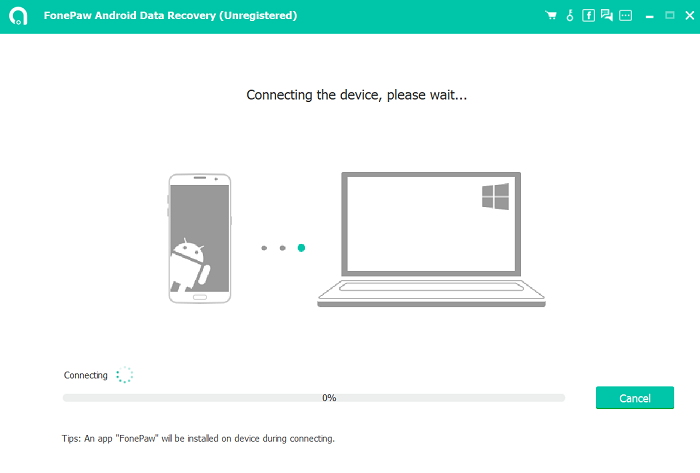 Troubleshoot: If your device is not detected, how to do?
Update the software to the lateset version.

Check whether you have set Up USB debugging in the correct way.

Connect your device to your computer via USB cable and drag down the dropdown menu to select MTP.

Disconnect other USB devices to the computer, as they may be conflicting with your Samsung phone.

Make sure the right driver installed in your computer.
Step 2. Select "Call Logs" to Scan
When your Android phone is recognized by the computer, you can choose file types from the list. Select "Call Logs" and then the "Next" button.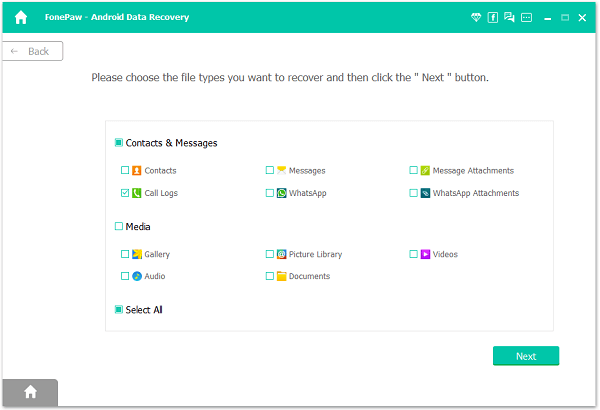 Tips:
To save more scanning time, it is suggested to choose file types you need only, for instance, select "Call Logs" only.
**Step 3. **Authorize FonePaw App on Your Phone Before Scanning
Before scanning, the program needs the privilege to scan your Samsung data. Learnhow to authorize FonePaw on your phone. Then click Scan authorized files to let the program search for deleted call history on the phone.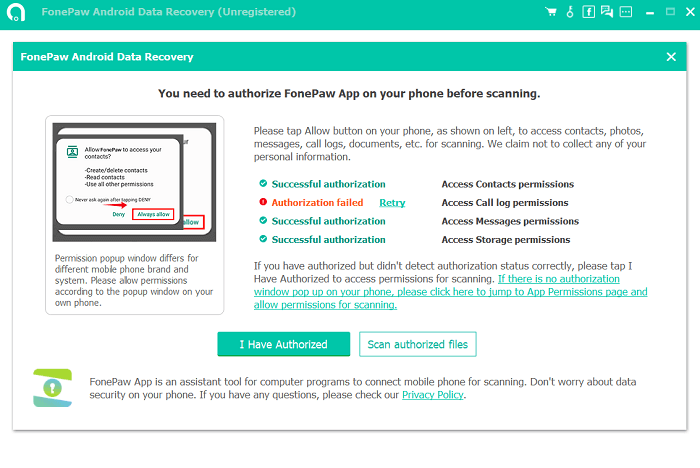 Step 4. Recover Deleted Call Logs in Samsung
It can take a while to scan. But after that, you can choose "Call Logs" from the left column and preview the detailed information of deleted dialed numbers. You can get to know the contacts, call time, call type and duration. Mark the ones you want and click "Recover" to restore them. These retrieved call history will be stored on your computer.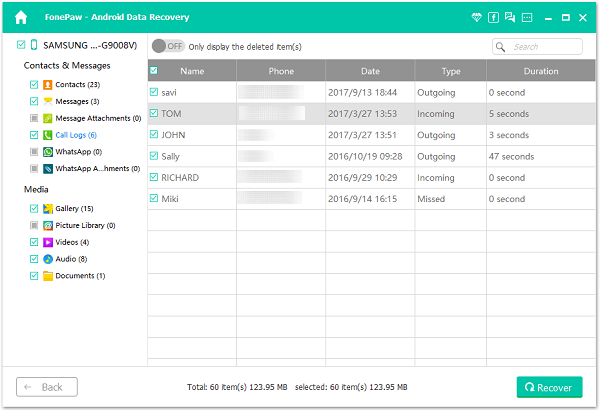 Note:
If you can't find the deleted call history from your Galaxy phone after the first scan, click Deep Scan.
After that, click "Recover". They will be retrieved and stored on the computer.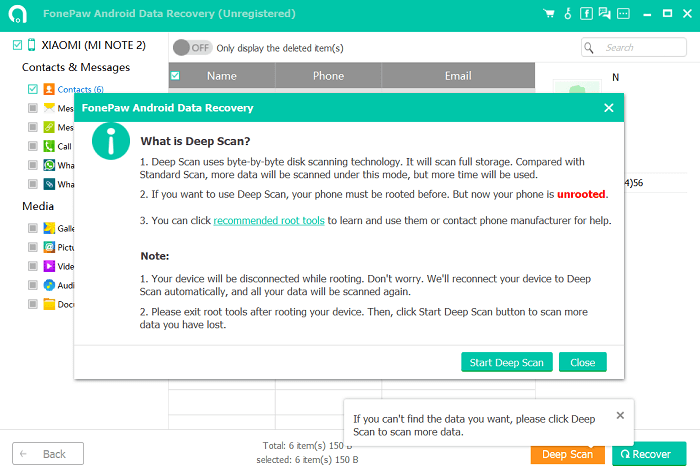 For detailed recoverable data under certain scenario and Samsung device, please view here:
Recoverable Data: Deleted call logs, text messages, contacts, photos, music, videos and document files are all recoverable.
Samsung: SM-G965, SM-G960F, SM-G950F, SM-G930T, SM-G930P, SM-G925, SM-G900, SGH-I257, SCH-I545, SCH-I535, SGH-S959, SM-N915, SM-N910, SM-N900, SCH-I605, SM-T800, SM-T550 and more.
To identify the model number of your Samsung device, you can try these two ways:
Go to the Settings menu, scroll to the bottom of the list, and click "About phone", "About device" or similar. The device name and model number should be listed.
Power off your Samsung phone, remove the backplate and battery, and you'll find the white data sticker right on the phone. Check your Samsung model number, it tends to follow the same format, beginning with three letters, followed by one letter and three numbers.
How to See Call History on Gmail
If you have signed in to your Google account on your Galaxy phone, you can check your call and text history. See how to do that:
Move to Project Fi
Log in your account and go to "Call & text settings."
Hit History and you will see the history in the most recent 6 months after February 4, 2016.
If you tend to download the history, it is allowed to click the Download button.

# Note: How to Protect Your Samsung Data from Permanent Loss
Have you ever experienced some disastrous data loss accidents on Samsung before? What did you do to retrieve deleted data from Samsung? And how do you prevent your data from loss forever? As for me, I prefer to backup Android phone data regularly. Sometimes, I export and store my Samsung files on the Windows PC with FonePaw Android Data Backup & Restore (opens new window). And you?
Free Download Buy with 20% off Free Download Buy with 20% off