Manufacturers have released new Android phones for 2017. This year, micro SD slot comes back to Android phone again. Some devices like Samsung Galaxy S8, Note 8, and Huawei P10 carry a card slot. This means you can insert Android memory card into the device for extra phone storage. And you can take great photos and store them in the Android memory card. However, you may lose pictures form the SD card due to errors and accidental deletion. This guide will show you how to recover deleted photos from Android memory card with FonePaw Android Data Recovery.
What can FonePaw Android Data Recovery (opens new window) do for you?
√ Analyze your Android phone memory card.
√ Scan and find out deleted Android photos.
√ Extract and recover lost/deleted pictures from Android.
√ Export recovered images from smartphone to the computer.
Free Download Buy with 20% off Free Download Buy with 20% off
# Recover Deleted Photos from Android Memory Card
Step 1. Connect Android Phone with Memory Card to PC
Start FonePaw Android Data Recovery on your computer. Note that both Windows and Mac are supported. Then conduct connection between the computer and your Android device, for example, LG G5, Huawei P9, and Samsung Galaxy S7.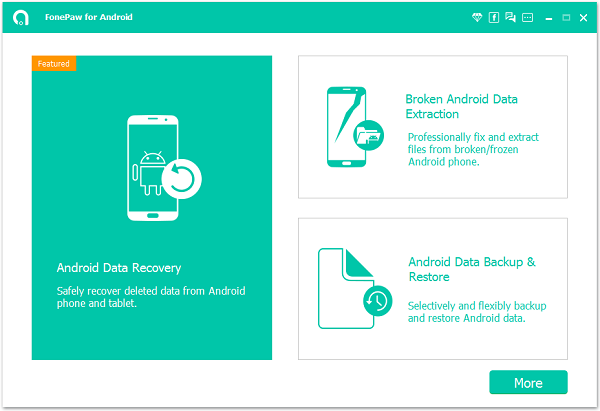 After connection, you need to enable USB debugging (opens new window). Note that for Android 4.2 and newer, please go to "Settings" > "About". Then tap "Build number" for 7 times. Go back to "Settings". Touch "Developer options" > "USB debugging".
Step 2. Choose File Types to Scan
Now choose file types in your Android memory card to scan. To recover deleted photos from memory card, just select "Gallery" and "Picture Library". Then press the "Next" key.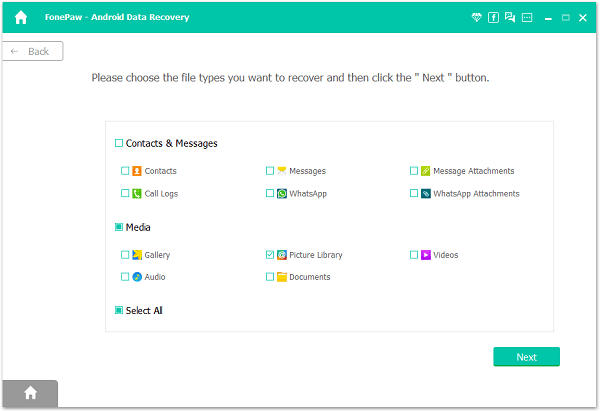 Step 3. Confirm Superuser Request
FonePaw Android Data Recovery will analyze SD card in your Android phone. Go to your handset. You should receive a Superuser Request. Choose "Allow"/ "Authorize"/ "Grant" to confirm the Superuser Request.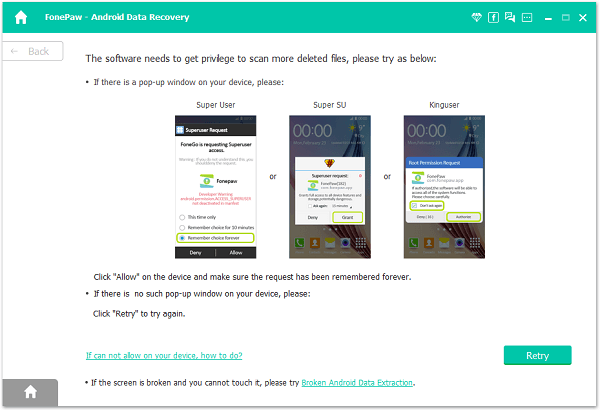 Step 4. Recover Photos from Android
Once Superuser request is confirmed, FonePaw Android Data Recovery will scan you phone memory card for deleted files. After that, choose "Gallery" and "Picture Library" at the left pane. And you can preview contents in details. Then choose items you want to get back and choose the "Recover" button to recover deleted pictures from SD card.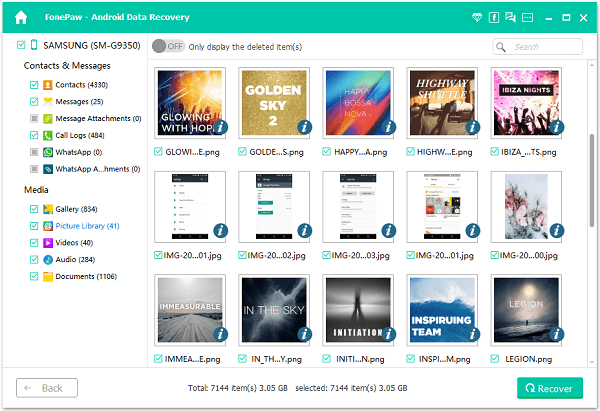 When recovery is done, you can important picture to your Android via USB cable. In the future, you are advised to back up Android photos regularly (opens new window) so that you can preserve them forever.
Free Download Buy with 20% off Free Download Buy with 20% off