Updated on Friday, September 14, 2018.
Perhaps, for some personal reasons, you'd like to get text messages off your iPhone X/8 Plus/7 Plus? For instance, you simply want to make a backup of iPhone SMS on your computer? However, you don't know how to move those messages to computer?
"I want to transfer and store my iPhone 8 text messages on HP computer, but iTunes fails to do so. Are there any other methods?"
"I've got so many messages that I cannot even count. I don't want to delete them all, but it's burdensome to select those I want to keep out of all. What am I supposed to do?"
People Also Read:
Don't you think these situations we've come across a lot in our daily life? This tutorial is going to show you how to move and save text messages from iPhone to computer without iTunes. Please read the followings!
Method: How to Get Text Messages Off iPhone X/8/7 onto Computer?
Now, here I recommend FonePaw DoTrans (opens new window) which is an excellent tool for you to move data from your iPhone to computer, certainly including getting text messages off iPhone on computer. The messages can be exported as CSV, HTML, or TXT files which are readable. This tool enables you to backup iPhone messages (opens new window) on computer so that you can keep these SMS text messages for future use. This program fully supports iPhone XS/XR/X, iPhone 8/8 Plus/7, iPhone 6s Plus/6s, etc. Now, let's see how to transfer text message to PC. Give it a try!
Free Download Buy with 20% off
Step 1: Download, Install and Run FonePaw DoTrans
Get FonePaw DoTrans downloaded and installed on your PC. Open it and connect your iPhone to PC via USB cable.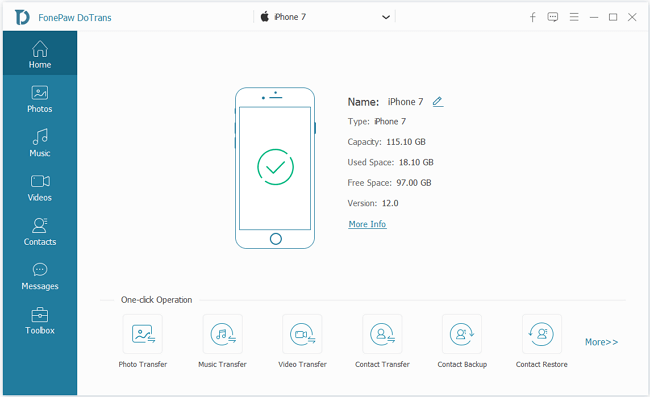 Step 2: Navigate to "Messages"
Click on "Messages" on the left sidebar. After a while, your messages will be loaded and listed on the interface. Select those you want to get off your iPhone and choose "Export to PC" icon , you can choose to store your text messages as CSV, HTML, or TXT file. You can check all messages by right click. There will be a pop-up prompting you that message(s) exported successfully, and the route of your stored file will be showed as well. You can choose "Open Folder" to check for your files.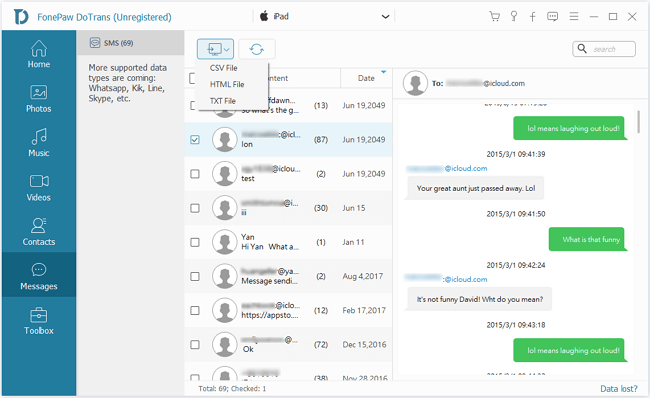 After 2 simple steps, your text messages will be moved and saved to computer in a fast and safe way. You can also print your iPhone text messages (opens new window) for double safety. What's more, you are allowed to transfer photos, music, and so on to your computer. There are more amazing functions that FonePaw DoTrans (opens new window) can provide for you. Now download this tool and try free trial! Just have a try!
Extra Tip:How to Save Text Messages from iPhone to Email?
If you want to save your important messages to your personal email or emails of friends instead, here you might check out this bonus tip. We're going to use 'iMessage' feature of iOS devices to complete your need. If you still think iMessage is used as SMS among phones, then you are a novice of iMessage so far. You can also send or forward your text messages to a email address as a message without a hitch.
Note that if the email address to which you're sending/forwarding messages is used in iMessage, content you send will be received as a normal message. However, if not, messages will be delivered as a mail, which can be found on inbox.
Now, let's see how to get it done:
Step 1. Launch "Messages" app on iPhone.
Step 2. Select a contact from the conversations.
Step 3. Tap and hold a message, then select "More" from the pop-up.
Step 4. Tick up the circles in front of those messages you'd like to save on email.
Note that you cannot select messages from different contacts at the same time.
Step 5. After selection is done, tap "Arrow" icon at the lower right to forward messages.
Step 6. Enter the address on the "To" bar. Make sure that the address is correct.
Step 7. Tap "↑" arrow icon to send your messages out to email.