• Have you noticed that your 16GB iPhone running slower and slower?
• Have you ever seen "Cannot Take Photo" message on your iPhone?
• How many times you regret buying a 16GB iPhone and want to upgrade it to 64GB or even 128GB?
People Also Read: Clean My Mac Hard Drive (opens new window) De-duplicate Music Files in MacBook Air/Pro (opens new window)
If you're running out of storage space on your iPhone or iPad, FonePaw iOS Transfer can help!
How? FonePaw iOS Transfer (opens new window) can first back those photos, videos, music, text messages, etc. up by transferring them from iPhone to computer. Then, delete them from your device.
Follow the steps below to free up your 16 GB iPhone's pitiful storage.
1. Get an idea of your Storage Consumption
Before hurrying to delete anything on your iPhone, you should fist check on what's taking up the most space on your phone. Open the Settings app then go to General > Usage > Manage Storage. At the top, you should see how much space you've used and how much left. Below, there's a list of apps that ranked by how much space they're occupying.
2. Start Backing Up
It is a good idea to back up everything on your iPhone to computer before deleting them. FonePaw iOS Transfer can backup photos, music, text messages, contacts, playlists, etc. from iPhone to computer with one click. Different from iTunes, all these backed up files are accessible and viewable.
First, just download the program by clicking the download icon provided above. Then, connect your iPhone to PC after opening the program on your computer.
Free Download Buy with 20% off Free Download Buy with 20% off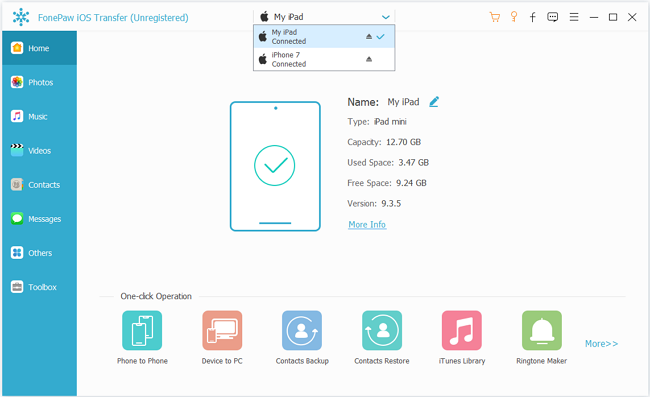 Second, click "To Folder" at the bottom of the program. Then, the program will start to scan your phone. After scanning, click "Start" to backup all iPhone data to PC.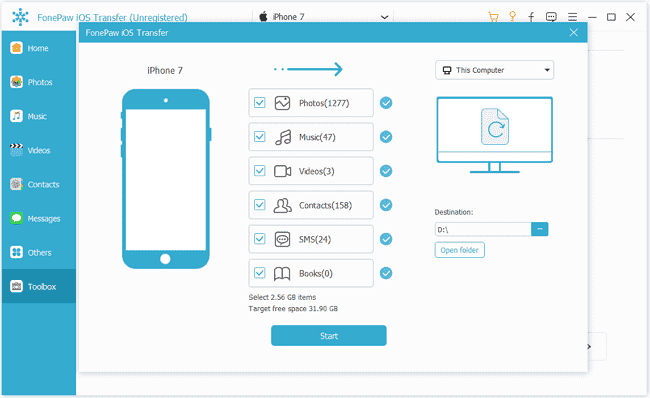 Tips: If you want to backup iPhone photos (opens new window), music, text messages (opens new window), contacts, etc. respectively, please go to the relative node and select the specific type.
3. Delete Photos & Videos to Free Up Space
Video files are enormous, let alone HD videos. Photos can take up a fair amount of space, too. Back up your photos and videos, then delete as many as you can. Your internal storage will thank you.
Delete Videos: On FonePaw iOS Transfer, click "Media" in the left side column. Then choose "Movies", "TV Shows", "Music Videos", "Podcast" or "iTunes U". Choose any video files you don't need and click "Delete".

Delete Photos: Click "Photos" and then unfold "Photo Library" or other albums you created. Select those images you don't need and click "Delete".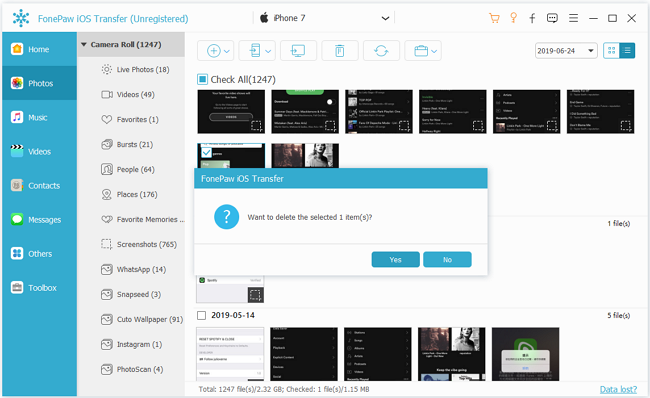 Note: FonePaw iOS Transfer currently doesn't allow you to delete photos in Camera Roll. But you can still mass delete them quickly with iOS 9: Open Photos app and browse to Camera Roll. Tap Select and then swipe your finger across the thumbnails of the images that you want to select. Finally, tap "Delete" icon.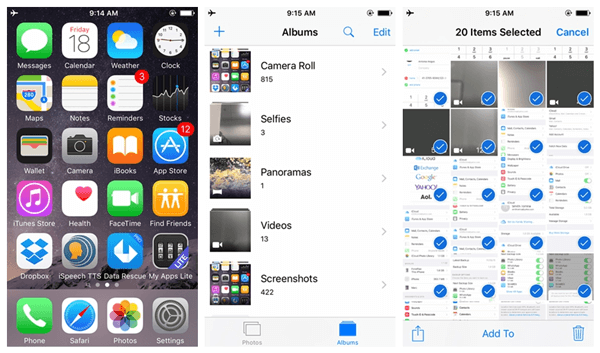 4. Delete Music to Free Up Space
With every MP3 taking up more than 3MBs of space, your music collection might be the next big storage offender. The same, transfer and backup those songs you haven't played for a long time to computer, then delete them.
Go to "Media" > "Music" on FonePaw iOS Transfer, choose those tracks you would like to delete and then hit "Delete" to get those unwanted music off your iPhone.

5. Get Rid of Old Messages/iMessages and Attachments
You cannot image that the text messages and iMessages on your iPhone could eat up to a GB space, or even more. Thankfully, with iOS 8 and iOS 9, you can now automatically delete older messages.
Go to Settings > Messages. Under Keep Message, select 30 days or 1 year. We suggest you choose 30 days.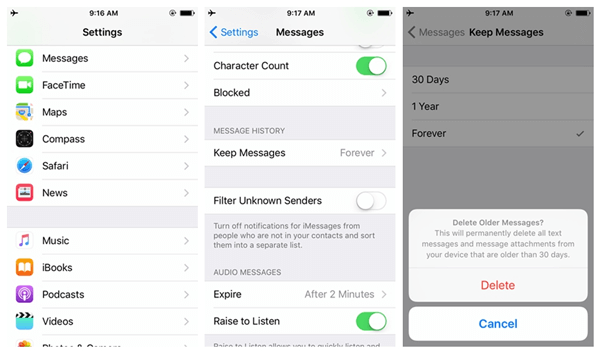 These are only a few of the most important steps you can take to free up storage space. Actually, you can also boost your device's storage capacity by deleting useless apps and games, clearing cache, etc.
What are some methods you use to free up space on your 16GB iPhone? Let us know you thought in the comments below.
Free Download Buy with 20% off Free Download Buy with 20% off