# I Want WhatsApp Backup on My iPhone Now!
It is 9 PM, the correct time to stop working and chat with friends. The WhatsApp groups on my iPhone have been screaming for attention for an hour – a college classmates group, grade school friends, family members, colleagues, and more. Till now, I have over 7,000 messages and nearly 1,000 pictures and videos on WhatsApp. I'm sure that a horror story will come into being if I lost my iPhone 7, restore the iPhone 6 after the iOS 10 updates, drop my iPhone into the water or uninstall WhatsApp because all these WhatsApp messages will be gone.
So, can you backup iPhone WhatsApp messages? Sure! With the latest version of WhatsApp, you can make a backup of WhatsApp directly from the app or with a practical tool.
Back-Up WhatsApp Messages Directly on iPhone
To backup iPhone WhatsApp messages manually, you can open the WhatsApp app on your iPhone and go to WhatsApp Settings > Chats > Chat Backup and tap Back Up Now.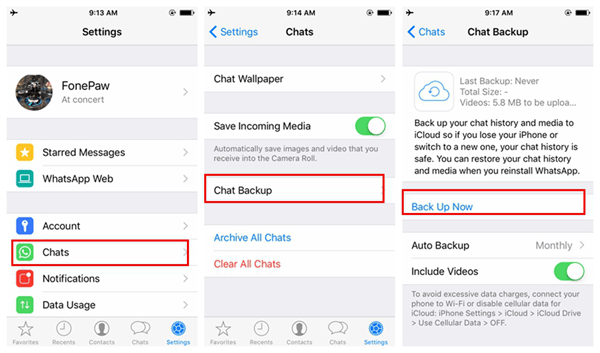 Alternatively, you can enable automatic backup. Go to WhatsApp Settings > Chat Backup and select Auto Backup and then choosing your backup frequency.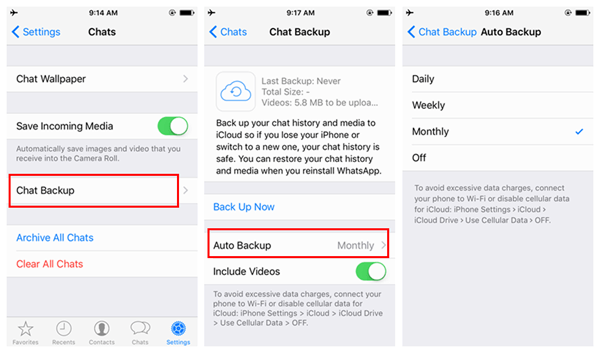 Important notes:
• iCloud Drive (iPhone Settings > iCloud > iCloud Drive) must be set to ON before backing up iPhone WhatsApp.
• Your backup is stored in iCloud. If you want to view the details of the backup, you can extract WhatsApp messages from the iPhone backup (opens new window).
• It is recommended to turn "Save Incoming Media" on so the images and videos you received will be automatically saved in Camera Roll. But these videos and photos may occupy the storage of your iPhone quickly. Therefore, it is advised to transfer these saved videos from iPhone to the computer (opens new window) as a backup. Then, delete them on your device to make room for other files.
If you change your iPhone, you'll be prompted to restore WhatsApp from a backup the first time you install it, as long as you're using the same iCloud account. On the same iPhone, reinstall WhatsApp > login with your phone number and you'll be prompted to restore WhatsApp chat history from iCloud.
Do WhatsApp Backup with Safety in 2 Ways
# Method 1: Back up iPhone WhatsApp Messages with FonePaw WhatsApp Transfer (Recommended)
FonePaw WhatsApp Transfer (opens new window) is a more professional program designed for WhatsApp data management. With it, you can transfer, backup, and restore WhatsApp chats, pictures, videos, and other data safely and easily.
Most users said that one of the most convenient parts is that it backs up and saves the file on the computer. When you need the backup file, you can use the same program to restore it to your iPhone directly. The steps are so easy.
Download and launch the program.
Free Download Buy with 20% off Free Download Buy with 20% off
Click "Backup" on the main page and connect your phone to the computer.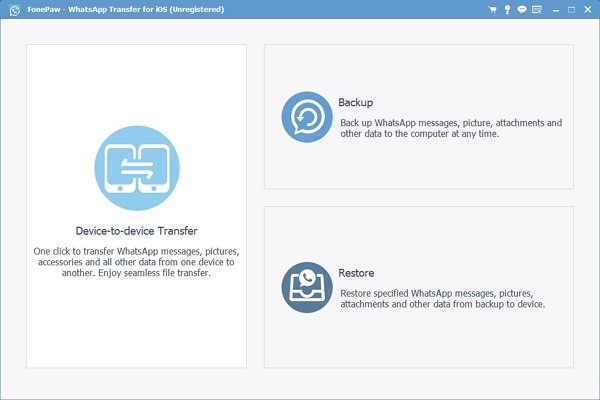 Choose the storage path on your computer. You can create a new file fold to store the backup data.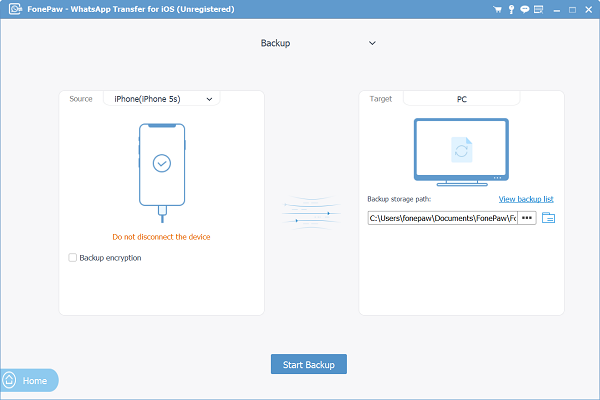 Click "Start Backup" to begin. Wait till the process finishes and you will see the file is shown as .data file on the folder.
In case you delete any WhatsApp data accidentally, you can use the Restore function to get the data back to WhatsApp.
Connect your phone to the computer and choose to import the local file.
Click Restore to begin and the file will be restored to your phone.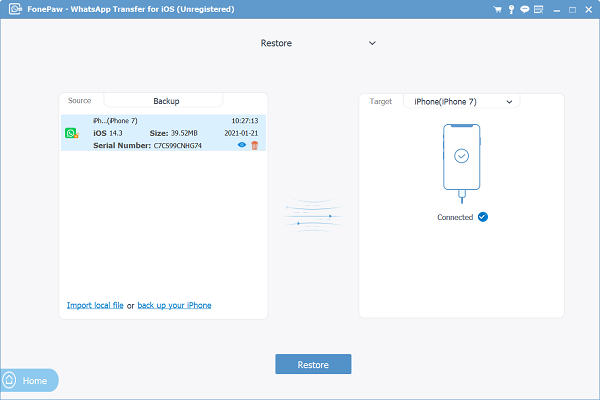 Note:
You need to turn off Find My iPhone during the restore process.
# Method 2: Back up iPhone WhatsApp Messages with FonePaw iOS Backup & Restore
Besides backing up on the WhatsApp Transfer app, there is another practical way for you. FonePaw iOS Data Backup & Restore (opens new window) can do more for you:
It is compatible with more data types, not only WhatsApp. For instance, photos, videos, notes, reminders, Safari bookmark, etc.
It works for backup and restoring without a network so it goes faster.
It can be set with a password for the backup so that others cannot access your vital files.
It is for free backup and those backups take up the smaller sizes on PC.
Free Download Buy with 20% off Free Download Buy with 20% off
Launch the program and connect a phone to the PC. When you are on the "iOS Data Backup & Restore" page, please tick "iOS Data Backup".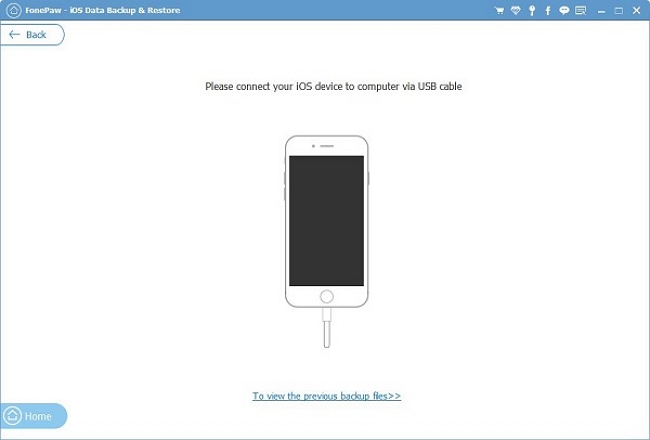 You're able to select "Stanard backup" or "Encrypted backup" to choose the data that you want.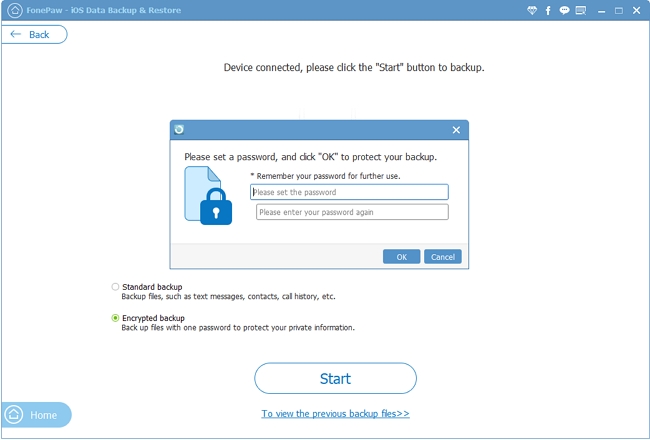 Note that if you want to keep an encrypted backup, please set a password for it which should be easy for you but difficult for others.
Select what you want, like "WhatsApp & Attachments" and go to the backing up a step. Then, there will come a window telling you "Congratulation!" and you are successful to back up data on iPhone 7/7 Plus/8/8 Plus/X.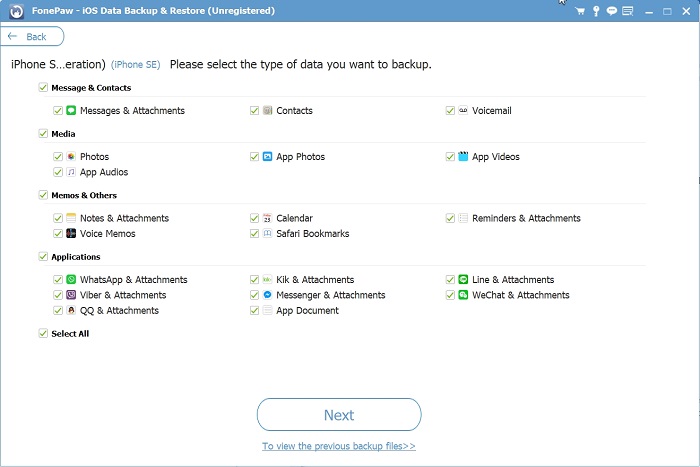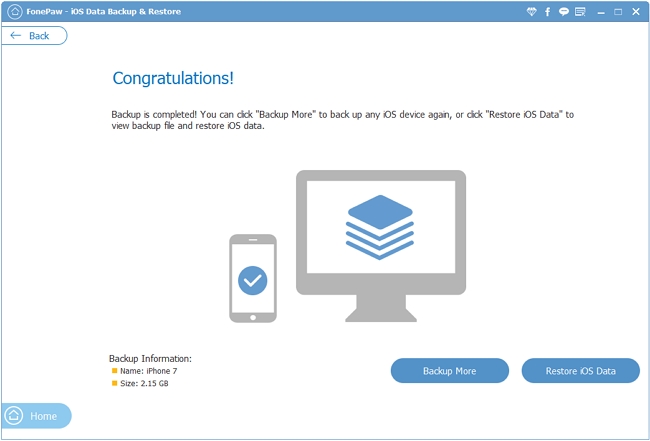 You can still go to back up more or restore to the device. Before that, it is suggested to check the backup results. Just move to preview the previous backup files to check WhatsApp Messages backup.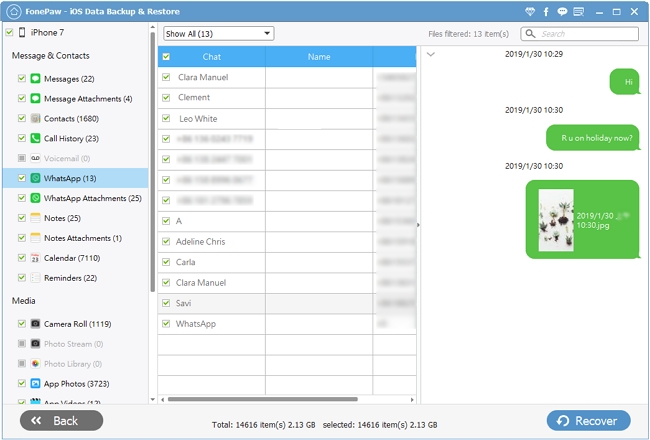 These two methods offered for you. Please choose one of them to back up your WhatsApp right now. If you lost vital data and have no backup, you can check here:
WhatsApp Recovery: Recover WhatsApp Data from iPhone (opens new window)
Free Download Buy with 20% off Free Download Buy with 20% off