Flickering screen problem has happened to Samsung users of different models, including Samsung Galaxy J7, Samsung Galaxy S5/S4 and even the latest Galaxy S9/S9+/S8/S7/Note 8. It could be that:
There are pixels flickering all over the screen when you are touching the screen.
The Galaxy S5/S4/J7 screen flickers on low display brightness.
Flickering black/white line shows up randomly on the Samsung screen.
The Samsung device half screen blinks and turns white or black.
When it comes to flickering screen, many users assume that it is a hardware problem. In fact, the Samsung screen can also start flickering if there is a software issue, for example if there is an app that requires high resolution and the phone tries to deal with the request. Before heading to a store, there are a few tricks that you can try to fix Samsung Galaxy S8/S7/S5/S4/J7 flickering screen on your own. If you are lucky, they will save you a lot of times and efforts to repaire or return the device.
You May Like:
How to Fix Touch Screen Not Working Problem on Android? (opens new window)
Cannot Touch the Screen? How Do I Retrieve Data (opens new window)
# 1. Check for Update
First of all, make sure that all your apps and Android OS are up-to-date.
Open Google Play store > My Apps and check if there is any update available. If there is, update the apps.
Go to Settings > About phone and check for software update. Make sure you have installed the latest phone software.
If the flickering screen persists when all apps and Android OS are up-to-date on your Samsung Galaxy device. Move on to the next trick.
# 2. Turn off Hardware Overlays
This trick is helpful to fix Samsung Galaxy S9/S8/S7/S5/S4/J7 and other models that has flickering screen when the screen is set in lower brightness. The screen glitch could occur when the Samsung Galaxy phone cannot decide whether to use hardware or software for back light settings. The screen glitch can be fixed in these steps.
Go to settings > system > About device.
Tap "Build number" for seven times until you see "You are a developer now".
Go back to Settings > system > Developer Options.
Scroll down to Drawing Section or Rendering Section, and tap "Turn off hardware overlays" or "disable hardware overlays" to tell the phone to always use GPU for screen adjustments.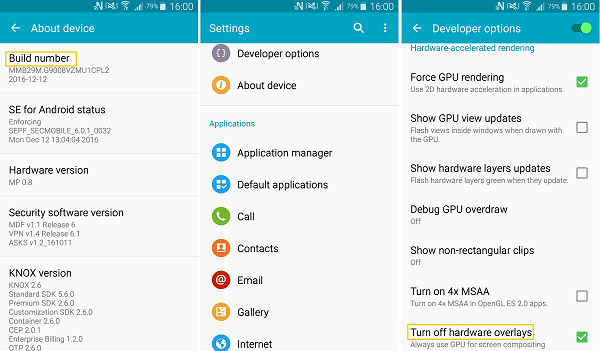 # 3. Boot Samsung Galaxy in Safe Mode
Next we will try to find out if some third-party apps cause the screen glitch. To do that, we need to boot the screen flickering Samsung device in Safe Mode, under which all third-party apps are disabled.
To put a Galaxy S8/S7/S6/S5/S4/J7 or other device in Safe Mode:
Power off the device;
Press and hold the Power button until your see the Samsung logo;
Release Power button and hold down Volume Down button until the phone boots up;
You'll see 'Safe Mode' in the Left hand corner.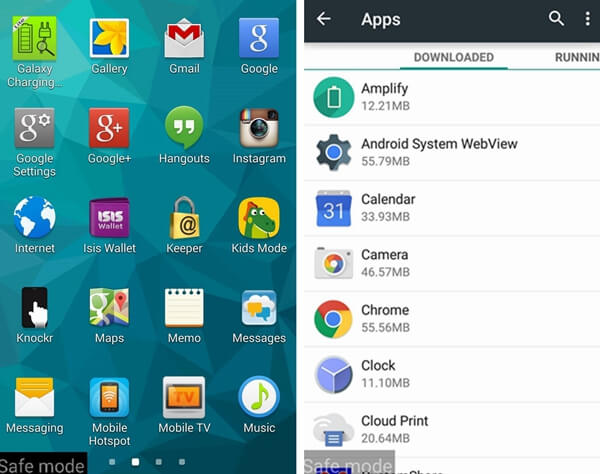 Now the device is in Safe Mode and you can check if the flickering screen appear or not. Suppose the screen stops flickering in Safe Mode, the culprit should be one or some of the third-party apps on your phone. Please recall if there is any app that you just installed before the phone screen start flickering. If there is, you should finish these steps.
Reset the suspected apps: Go to Settings > Apps > Choose the app > Storage > Clear Cache > Clear Data.
If the screen still flickers after resetting the suspected apps, uninstall the apps.
# 4. Wipe Cache Partition of Samsung Galaxy
Some users find the Samsung Galaxy screen glitch is gone after wiping cache partition under Recovery Mode.
Power off your Samsung Galaxy phone.

Press and hold Power + Volume Up + Home buttons until you see an Android logo. If you have an Samsung Galaxy S8/S8 Plus, hold down Power +Volume Up + Bixby buttons instead.

The Recovery Mode menu will appear.

Press Volume Up button to choose "Wipe Cache Partition" and press Power button to confirm.

After the cached data is wiped, choose "Reboot System Now".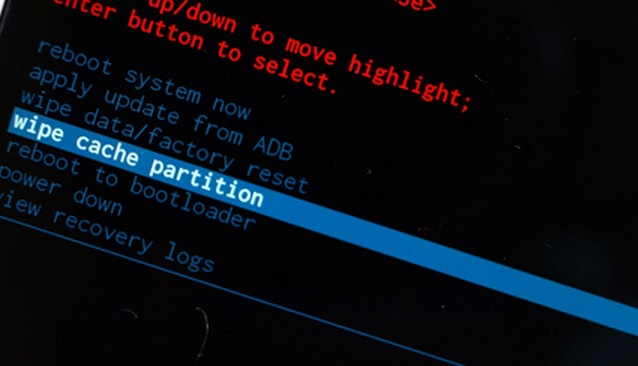 Check if the screen glitch is gone after that. If not, you may want to try the last resort - factory reset- before sending the Galaxy device to a store. After all, for the sake of privacy, you need to factory reset your phone before sending to the store anyway.
# 5. Hard Reset Samsung Galaxy
You can hard reset the problematic Samsung device by performing a factory reset under Recovery Mode. Please notice that a hard reset will wipe out all data on your device, therefore, it is important to backup important files to cloud storage or computer beforehand.
Tip: If your Samsung Galaxy screen is black or won't turn on, jump to the next step about how backup important data on Samsung Galaxy phone with broken screen (opens new window).
After backing up your Samsung device, turn off factory reset protection on your device by removing all Google accounts.
Put the device in Recovery Mode with Power + Volume Up + Home ( Power + Volume Up + Bixby for S8/S8 Plus) buttons.
Press Volume Up button to choose "Wipe Data/Factory Reset" and press Power button to confirm your choice.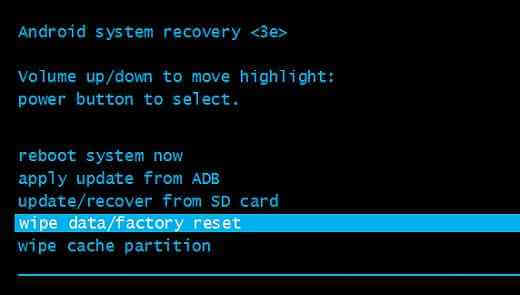 After the phone is reset, it will reboot to its factory state. Now check the flickering screen appears after the hard reset. If the screen glitch stops, congratulation, you can restore your backup and enjoy your phone as usual. If not, there is no choice but sending the phone for repair.
# Extra Tip: Backup Data from Samsung Phone with Broken Screen
If the flickering screen is so bad that you are unable to use the Samsung phone, you can save the important data from your phone before factory reset or sending it to repair store with the help of Broken Android Data Extraction.
Broken Android Data Extraction (opens new window) is a tool that extract photos, contacts, messages, WhatsApp messages, videos and more from Samsung device with black/unresponsive screen and save the data on computer. Here are the steps.
Download Broken Android Data Extraction on your computer.

Launch the program and choose Broken Android Data Extraction.

Connect your device to the computer via USB cable and click Start button to get started.

Select the model name and number of your Samsung Galaxy device.

Follow the instruction on the program to put your device in Download Mode with Volume Down + Home + Power buttons.

The program will detect your device, begin to download recovery package and scan out data from your device. Please wait patiently.

After the scanning is finished, choose the files that you need and click Recover to save the files on computer.
Any question about fixing flickering screen on Samsung Galaxy device? Leave your comment below.