I am a big fan of WhatsApp because it allows me to communicate with family and friends without charging fee for sending text. However, I am not that happy with WhatsApp as it goes wrong frequently. For example, it crashes on startup when I open chat or contacts after I switch to the new iPhone 6s. Or it just keeps exiting and rebooting itself which can be annoying when I am indulging in a conversation. For the sake of getting myself from these situations, I search online and turn to my salted friends for useful ways to fix WhatsApp crashes on my iPhone. Let me list them out one by one.
Scenario 1: If you have recently installed Facebook with contact sync enabled to your iPhone Address Book, most likely that is the culprit leading to WhatsApp crashes on iPhone. The way to fix it is disabling Facebook sync.
Open Facebook app on your iPhone. Then, go to More at the bottom menu bar. Next, select General among all the options to enter Settings page.

Find the option Upload contacts. Tap the green button and turn it off. There will be a pop-up occurs saying that "Stop continuously uploading your contacts", select the "Turn Off" button.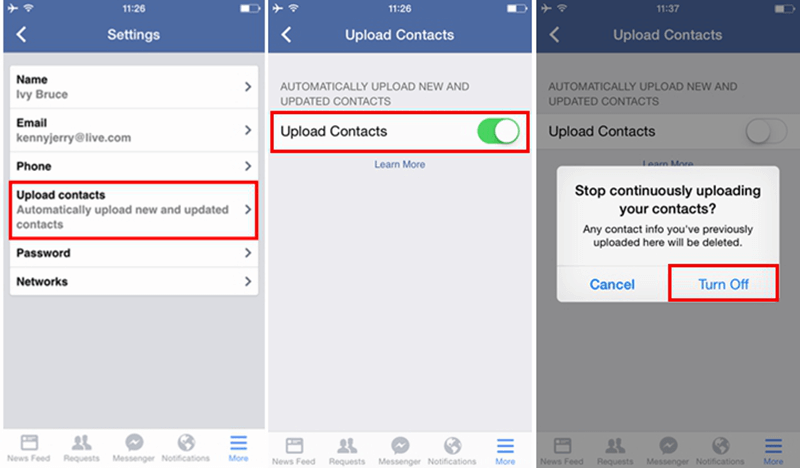 Launch WhatsApp to see if the problem has been solved. If yes, that's it.

If no, you will need to restore your Address Book with latest iTunes backups.
Scenario 2: Crashes happened from iCloud backups. You can try to turn off auto-backup of iCloud.
Open WhatsApp and then go to Settings > Chat >;Chat Backup

Tap on Chat Backup to enter another interface.

Now enter Auto Backup to adjust settings.

In the next window, choose Off and then tap on Done to exit settings as usual.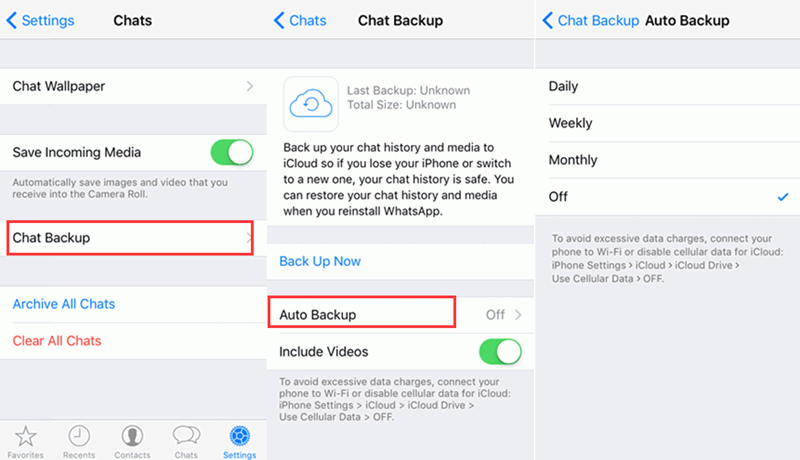 Scenario 3: Suppose that you have try disabling Facebook sync and iCloud backup, but ended up with problem unsolved. The reluctant option to take is deleting and re-installing your WhatsApp on iPhone.
Hold your finger on WhatsApp until the cross icon appear.

Tap on the cross icon to delete WhatsApp.

Download and re-install the latest version of WhatsApp in iTunes.
Note: When reinstall the app, set it as new without restoring backup.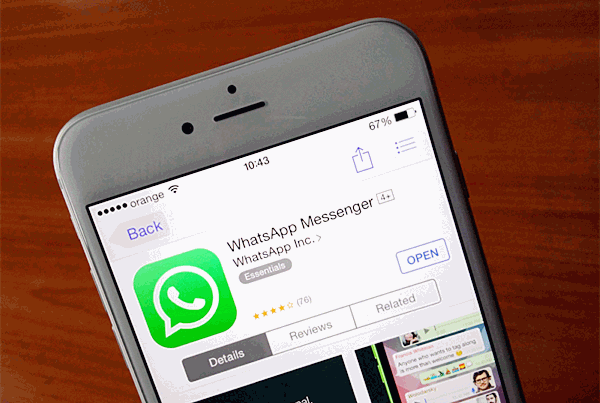 Scenario 4: Update your operating system to the latest version if WhatsApp keep crashing. WhatsApp crashes on startup due to a bug in old version of iOS. You can fix this issue by updating to the latest iOS 9.2 or iOS 9.3.
If your WhatsApp get crashing on iPhone again, don't be panic, there are always easy fix available. I bet you will find the solution that meets your need.