Frequently backing up your Android phone data is a good habit. Contacts, text messages, photos, music, and videos are precious fortune for an Android user. To protect this asset is so important that every Android user should have their methods to create a backup of it. And what's your method? As for me, I always simply back up Android phone directly with Android phone, draging and droping files to computer, using MoboRobo or Gmail.
Method 1: Directly Back up Files with Android Phone
Go to "Settings" > "Backup and reset". Then select "Back up my data".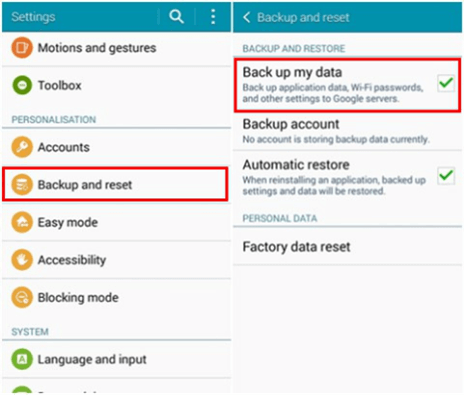 Directly Back up Files with Android Phone
Method 2: Back up Android Phone Using MoboRobo
Step 1. Connect Android Phone to PC
Start MoboRobo on your PC. Then connect your Android phone to the computer with a USB cable. Wait until the device is detected and recognized. Click "Backup" at the column.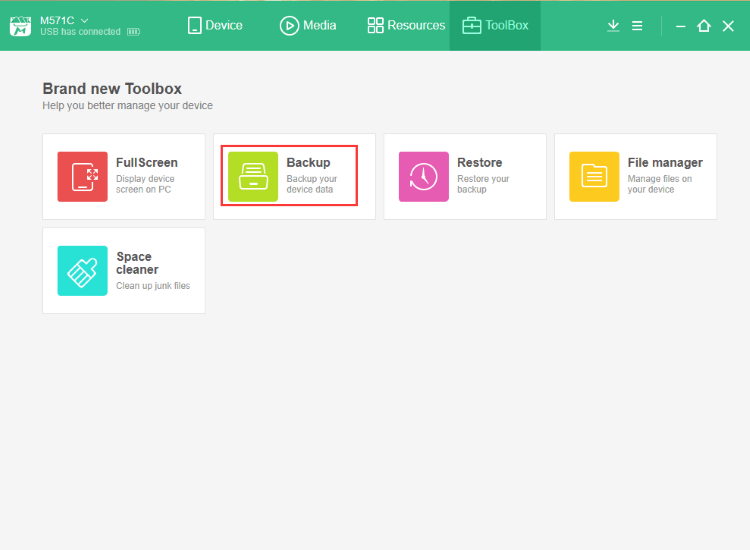 Connect Android Phone to PC
Step 2. Scan Android Data
MoboRobo will scan your Android data. It can take some time. Then you can select a path to save your backup file. After that, click the "Quick Backup" button.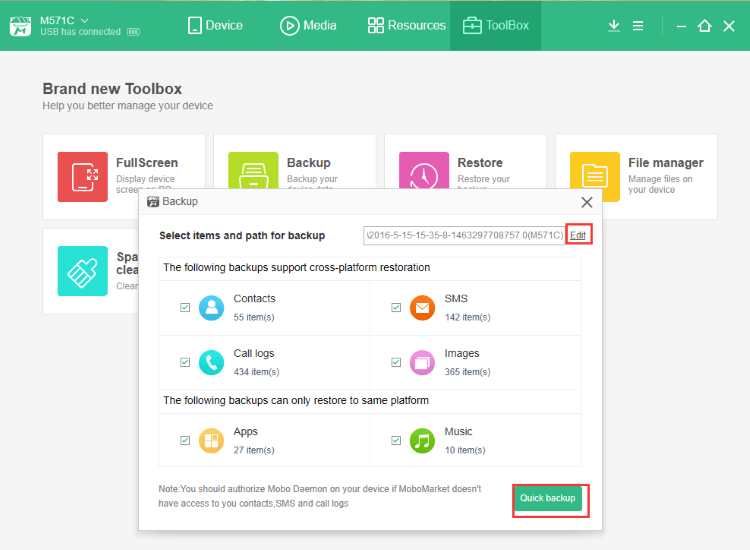 Scan Data to Back Up
When backup is completed, the processing bar will go to 100%. Besides, the backup will be stored on your computer.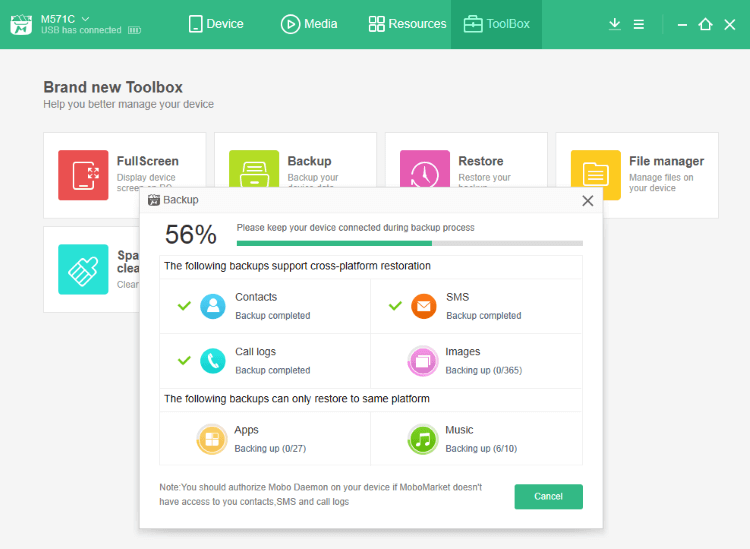 Backup Completed
Note: To restore Android files, in the main interface of Moborobo, choose "ToolBox" and find "Restore" option. Select the backup file that you want and hit on "Restore".
Method 3: Back up Android Phone to Gmail
Step 1 Locate Google Account
On Android phone, go to "Settings" > "Accounts " > "Add account" > "Google" > "Next" > "Sign in".
Step 2 Sign in Gmail Account
Sign in with your Gmail account and password. If you don't have a Gmail account, tap "Create" to create a Gmail account. Tap the "Sign in", choose files you want to sync, such as contacts, calendar and click "Finish".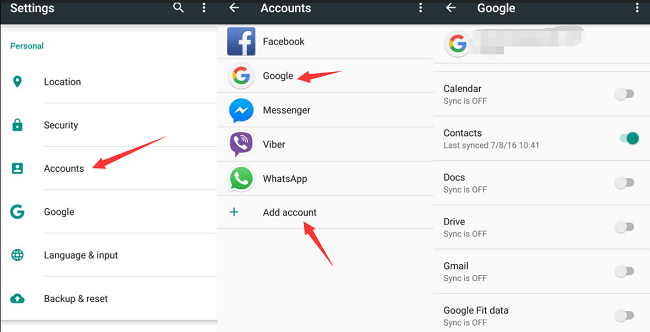 Back up Android Phone to Gmail
Method 4: Drag and Drop Android Files
It is the traditional way to back up media files, such as photos, audio and videos on your Android phone.
Step 1 Connect Your Phone to Computer
Connect the phone to your computer via USB cable, choose "Use USB for MTP/PTP" and find the drive (on the desktop for Mac, in My Computer for Windows).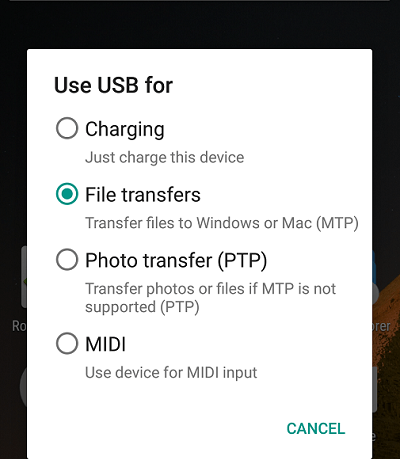 USB Connecting Mode
Step 2 Drag the Files
Open the drive, find the folders that save photos, or other media files, and drag the files you want onto a folder in computer. It is recommedable to build a new folder with the name such as "backup of Android phone" so that you can find the backup files easily.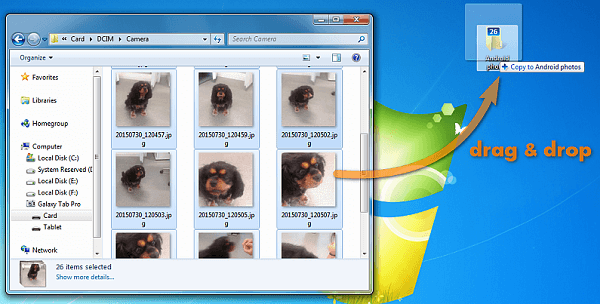 Drag Drop Android Files
Method 5: One-Click Backup With FonePaw Android Data Backup & Restore
Install FonePaw Android Data Backup & Restore

(opens new window)

on your computer. Then connect your device to PC and get into Android Data Backup & Restore feature.
Free Download Buy with 20% off Free Download Buy with 20% off
Choose One-click Backup or Device Data Backup to save your phone data.

If choose "Device Data Backup", please select certain data type and decide whether to encrypt your backup.

Wait for the backup process until it is done.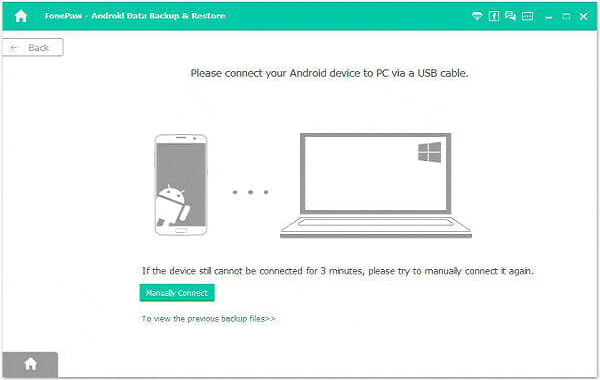 Do you think it helpful? And do you have easier and useful method? Don't hesitate! Share with us by leaving messages below or sending an email. Your messages will be welcomed and appreciated.