Did you also think that displaying your screen on your computer is difficult? Same here! But, thankfully, we are wrong! Using FonePaw ScreenMo makes your life easier by mirroring your devices to Windows computers, laptops, and even TV. The good thing about this is it is wireless software. In short, it will not require you to use cable wires or jailbreak. So with that, please read this Howto article because we will show you how to mirror your iPhone device to your PC effectively. We are one hundred percent sure that you will love these simple steps. So, let us start reading now!
Part 1: What is Screen Mirroring?
Screen mirroring is one of the easiest ways to see your iPhone or Android Screen on your PC, Laptop, or TV. In short, it makes your device bigger. You can mirror everything on your device and watch it directly using a TV or media projector. Also, you can use the screen mirrors for personal, educational, and even business use. You can mirror your device while playing games, viewing your photos and videos, playing music, etc.
To start screen mirroring, you must have a device that has a screen mirror feature. In addition, you need to look for software that can screen mirror your device efficiently. In this article, we will show you how to do it, and we will recommend you one software that can help you with it.
Part 2: How to Mirror iPhone to Windows 10/8.1/7 via Wi-Fi
Screen mirroring your iPhone to Windows 10, 8.1, and 7 is easier using FonePaw ScreenMo. It is software that has the power to screen mirror your iPhone to Windows using a Wi-Fi connection. In addition to this, FonePaw ScreenMo can mirror your iPhone to Windows and record your iPhone with audio and produce an HD quality mirroring and recording output. Furthermore, let us learn how to mirror an iPhone to Windows 10, 8.1, and 7 using Wi-Fi. Please see the simple steps below:

Tips:
Make sure that your iPhone and Windows are connected with the same Wi-Fi.
Free Download Buy with 20% off
Step 1: Launch FonePaw ScreenMo. After that, go to the Control Center of your iPhone and look for the Screen Mirroring. Then, you will see the FonePaw screen and click it.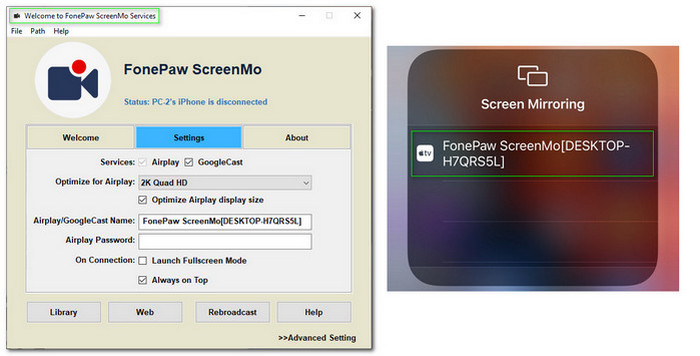 Step 2: After clicking FonePaw ScreenMo on your iPhone, FonePaw ScreenMo will start sharing your iphone screen on your PC. Following that, you will see the check on your iPhone. It means it is successfully connected to FonePaw ScreenMo.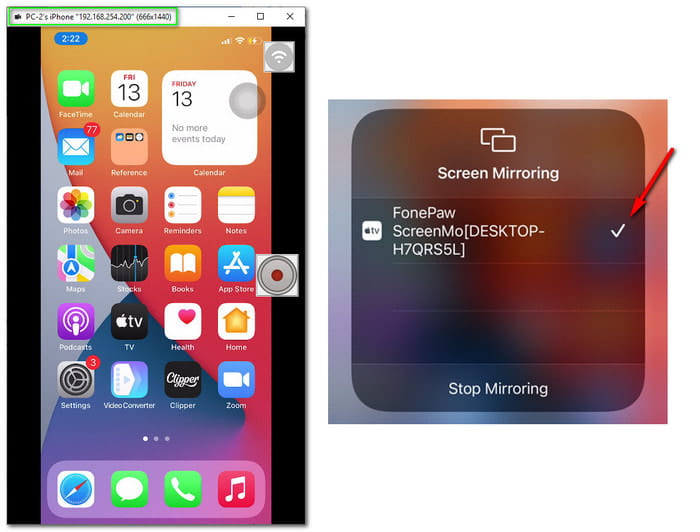 Step 3: Then, you can now start recording your screen. On the right side of the screen mirror panel of FonePaw ScreenMo, you will see the recording button. Tap that, and a timer will appear on the upper part of the panel.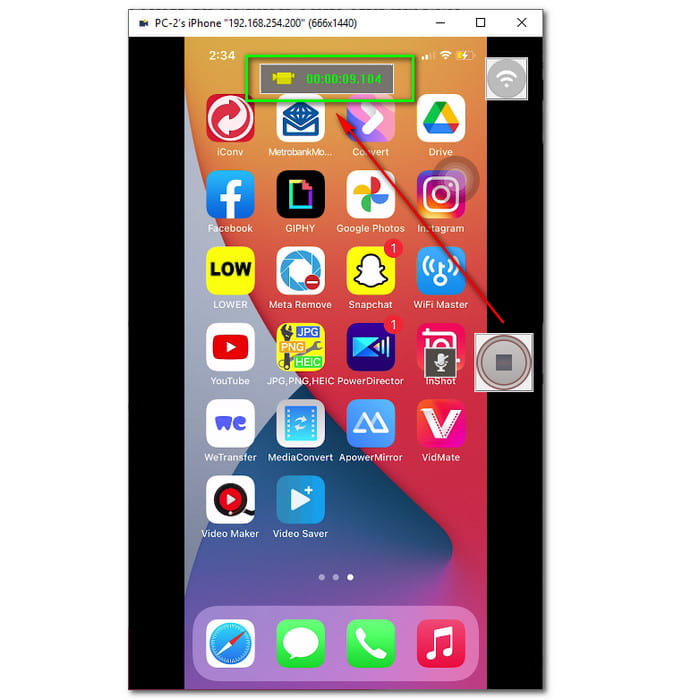 Step 4: Next, you can stop the recording by tapping the record button on the right-side panel again. Then, a new window from FonePaw ScreenMo will appear. It allows you to choose a hardware acceleration. Also, it will show you the Source, Setting, and Output. You have an option if you want to change anything or not. Then, select the Start Export button.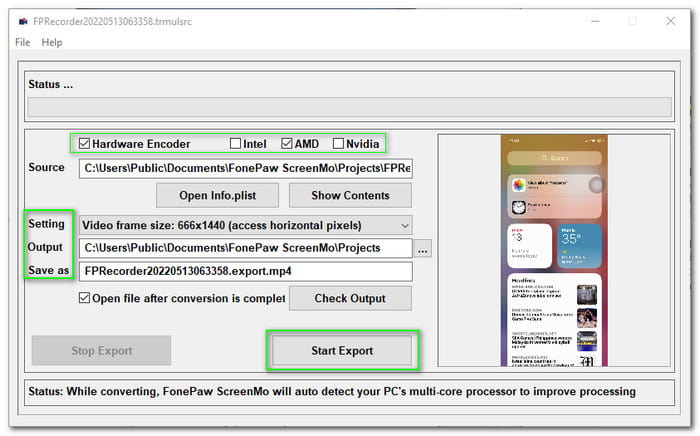 As you notice, screen mirroring iPhone to PC is super easy using FonePaw ScreenMo. With only four easy steps, you can screen mirror successfully. Furthermore, you can do a lot more using FonePaw ScreenMo. You can visit its Webpage, and it offers a free download and trial for seven days.
Part 3: FAQs of FonePaw ScreenMo
Can FonePaw ScreenMo mirror iPhone to PC via Bluetooth?
Unfortunately, you cannot use Bluetooth in order to mirror your iPhone to your PC. Why? Because Bluetooth is not powerful to handle screen mirroring, it will only produce low quality and is not fast enough.
How to mirror an iPhone to a Laptop?
It is always the same with your PC. Connect your Laptop and your iPhone with the same Wi-Fi. Then, you need to launch the software and find the screen mirror from the Control Center of your iPhone. After that, connect it to the software and start mirroring.
The mirrored device is delayed or experiencing choppy playback on the computer screen. Are there any troubleshooting tips?
There are many reasons you are experiencing choppy playback on your computer screen. It could be because of your network traffic, wireless reception, and other networks. Moreover, yes, there are troubleshooting tips about it. First, try to reduce the distance between your computer and your device. Next, you can use an ethernet connection to your computer. With this, it will diminish the load placed on your computer. Lastly, ensure that the network you are using is a free wireless channel. Because of that, you can avoid radio interference from another close network.
How many devices can I screen mirror to my Windows PC with FonePaw ScreenMo?
As of this moment, we cannot tell you how many devices we can screen to Windows PC using FonePaw ScreenMo software. However, we tried to mirror two iPhone devices to Windows PC, and it worked! Therefore, FonePaw ScreenMo has the power to mirror multiple devices to Windows PC. Amazing!
How to mirror an iPhone to Windows 10 without an app?
It is possible to mirror your iPhone device to Windows 10 without an app and to do that, you need to open the Control Center of your iPhone. Then, select the name of your computer name, and you are now ready to start the mirroring process. You will notice the Lonelyscreen on your list and click that option. After that, you will successfully see your iPhone device screen on your computer.
Conclusion
With this Howto Article, we are confident that we assisted you very well since we showed you how to mirror an iPhone to Laptop and Windows 10 using FonePaw ScreenMo. Not just that, but we also offer you how to mirror the device screens without using any application. Moreover, we also provide you with a bunch of questions and answers that will also help you with your concerns. To end, we hope that you enjoyed reading this article. We will see you in our next article!