Sometimes iPhone/iPad/iPod acts up and causes a lot of inconveniences like rebooting, being stuck in screen of death, being unable to access the touch screen and so on. When any of these headache comes to you, it's a nightmare beyond doubt. How to get around such a system issue? If you're not a tech expert, you might probably turn to Google for help.
Don't Miss Out:
Yet, when you type in Google searching for "iOS system recovery", you'll get over 1 million results. Among the ocean of search results. There are quite a bunch of so-called professional iOS System Recovery online. Thus, you'll be overwhelmed by choices. In order to sort you out, I help you to narrow down the range into these three best iOS system recovery software. For a better and more specific idea, why not check out the reviews below, and then make your very own choice!
Fact: When to Use iOS System Recovery?
iOS is acknowledged as the best operating system at present. With smooth user experience and simplistic user interface, iPhone/iPad has been attracting people all over the planet. Premium as iOS is, it goes wrong and brings troubles sometimes. System glitches can be settled via a fresh restart but cannot in some cases.
Where there is a need, there is a way. Therefore, iOS System Recovery is born for solving a range of iOS problems, if you have troubles as described below, please learn your way around iOS System Recovery.
Being unresponsive and inaccessible.
Cannot stop from restarting over and over again.
Stuck on Recovery Mode loop or iTunes logo.
Cannot get out of DFU Mode.
Stuck in the Apple Logo screen.
Goes black screen, red or blue screen of death.
Fail to power off via sliding the screen.
Unable to slide the bar to unlock the screen.
Being frozen when fails to update to the latest iOS version.
More other circumstances.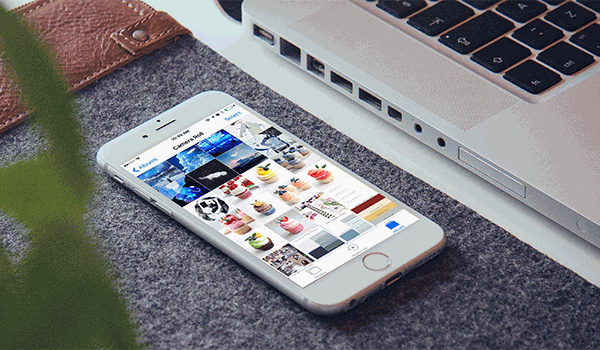 Review: FonePaw iOS System Recovery - Top 1
As a notable and reputable mobile solution expert, I don't think I should give a further introduction of FonePaw. FonePaw iOS System Recovery (opens new window) is well designed and suitable for all models of iPhone/iPad/iPod, including latest iPhone 7/7 Plus. This hassle-free and user-friendly software give an instant and lossless way for those in need of help with simple steps.
Note: for a straightforward overview, take a look at this video on YouTube.
Free Download Buy with 20% off Free Download Buy with 20% off
Steps to Fix iOS Problems:
Step 1. Install FonePaw iOS System Recovery and launch it on computer.
Step 2. Connect iDevice to software and detect the related status.
Step 3. Select and confirm device model & iOS version.
Step 4. Download firmware package and fix device to normal.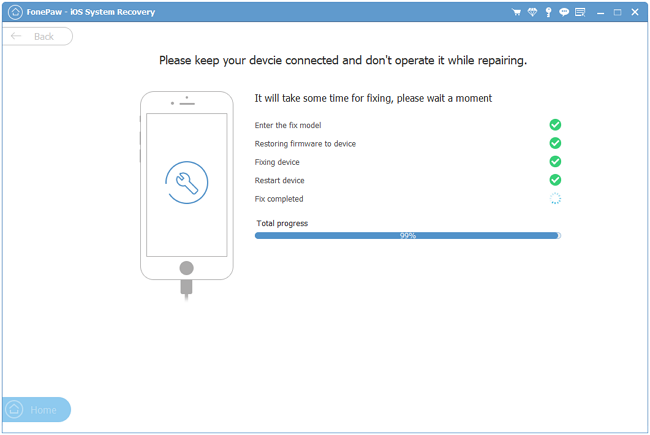 Main Features:
Work for up to 8 situations.
Provide Two Repairing Mode: Recovery Mode and DFU Mode.
Simply takes as simple as 4 steps.
Support all models of iPhone, iPad and iPod touch.
Cause no data loss.
Offer fully auto repairing process.
Set at an affordable price of around $50.
What Customers Say?
"When I update iPhone to iOS 10.3, it is stuck into Apple Logo but this way solved my problem. I just simply connected my iPhone 7 to it and it did all the rest. This recovery tool really works beyond my expectancy."
- Bella
Review: iMyFone iOS System Recovery - Top 2
iMyFone iOS System Recovery is also the one standing out from countless products. It can safely and effectively fix your awkwardness with a few steps. Also, it works on most iOS device.
Steps to Fix iOS Problems:
Step 1. Download and install iMyFone software on Win.
Step 2. Launch it and select "Fix iOS System".
Step 3. Associate device with it and tap "start" to detect the device.
Step 4. Manually select device info and start downloading package.
Step 5. Click "Repair" and wait until the process completes.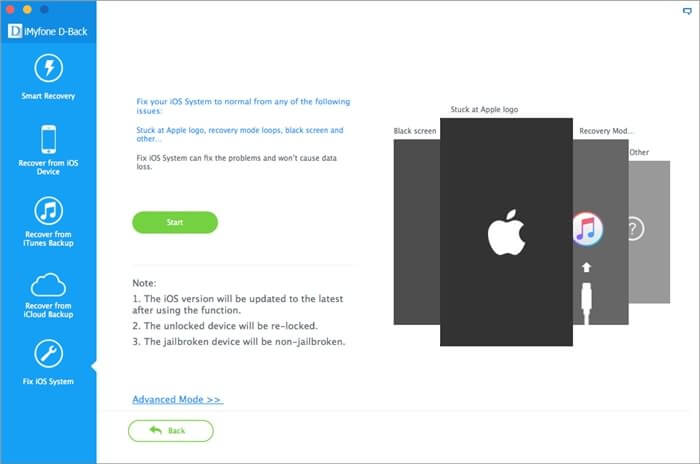 Main Features:
Fix various iOS problems and conditions.
No alteration of data on device.
100% secure and easy to use.
Fix iOS system with only 3 easy steps.
Set at a premium price of around $70.
What Customers Say?
"I selected my iPhone info from the list, but it took me several times to finally download the repair package. When the download was done, the software took half an hour to get it done. Though I failed for the first time, it did after all."
- Carol
Review: Dr.Fone iOS System Recovery - Top 3
Dr.Fone iOS System Recovery, as a premium and well-known software, is dedicated to solving iPhone/iPad system issues. Like those above, it supports various models of iOS devices. It enables users to fix system issues without any data loss.
Steps to Fix iOS Problems:
Step 1. Download and Install Dr.Fone iOS System Recovery on Win.
Step 2. Hook up to the software with a USB cable.
Step 3. Being detected and recognized via the software.
Step 4. Select iPhone/iPad/iPod model and operating system.
Step 5. Download matching recovery package for device.
Step 6. Fix your device to the normal screen.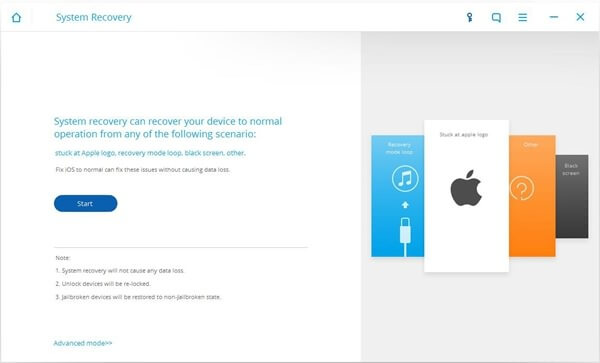 Main Features:
Support a few screens of death situation.
Offer Standard mode and Advance mode. (The latter one results in all data loss)
Give a smooth way to fix iOS problems.
Work for most models of iPhone/iPad/iPod.
Set at a premium price of around $70.
What Customers Say?
"I don't know whether it's due to the slow network of mine. It failed to download the package a couple of times and got my iPhone 5s repaired for the second time. Yet, the software is still desirable."
- John
I've done my recommendations. Now, it's up to you. If you have further questions, drop your comments below. Or, if you have a better recommendation, what about sharing with me?