Having your Samsung Galaxy phone's screen broken is not the worst. Things could get worse when USB debugging is disabled in your Galaxy phone, making it impossible for you to retrieve important contacts or other data by connecting the phone to PC as an external memory.
So here are two workarounds for you to retrieve contacts from a Galaxy phone with unresponsive touch screen. In these two methods, there is no need to enable USB debugging or unlock screen on the broken Samsung S/Note device.
If you are not sure where the phone numbers are stored, why not try both methods one by one? And there is a video guide for you.
# If Your Contacts are Stored in the Phone
Broken phone data recovery from phone memory is possible with the aid of a powerful data extractor. Broken Android Data Extraction (opens new window) for Windows PC can help you with that. You should choose this program because it can:
Retrieve contacts that are stored on your Samsung Galaxy without USB debugging;
Export contacts from your broken phone in vCard so that you can import the contacts to a new phone;
Retrieve other data such as messages, photos, videos from your broken Samsung.
Currently, the program supports broken data recovery for Samsung Galaxy S6/S5/S4/Note5/Note4/Note3. If your device is included, download the program to have a try.
Free Download Buy with 20% off
Step 1. After starting the program, choose Broken Android Data Extraction and connect your Galaxy S/Note model to the computer with USB connector. Click Start.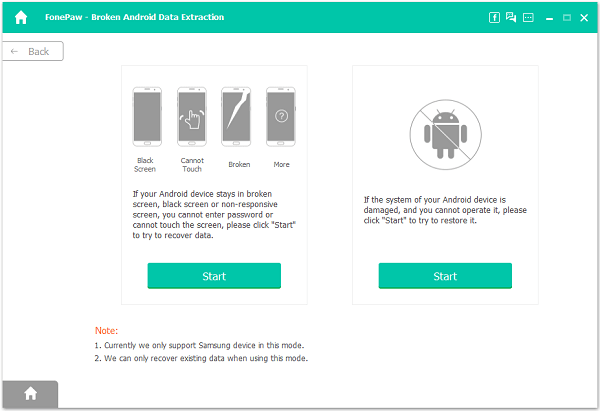 Step 2. Choose the device name and model of your Samsung phone. If you are not sure, click the question mark to see how to check phone model.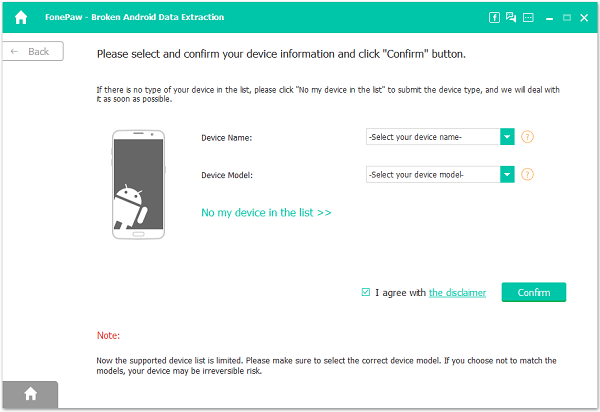 Step 3. Follow instruction on the program to enter Download mode on your phone. The program will quickly detect your phone in Download mode.
Tip: There is no need to tap or touch screen to put your phone in Download mode.
Step 4. Now it is time for the program to do its job: download recovery package on the broken phone and scan out data in the phone. Please wait patiently and do NOT disconnect your phone.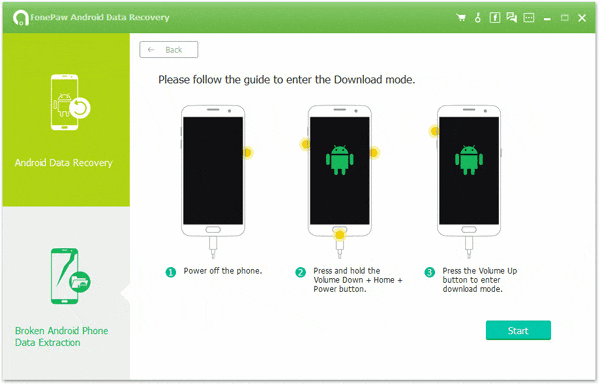 Step 5. After the scanning, all data in your broken Samsung will be presented in the program.
Step 6. Click Contacts, tick all the contacts information you need and click Recover to save the contacts on your PC. The contacts are saved in three formats: vCard, HTML and CSV.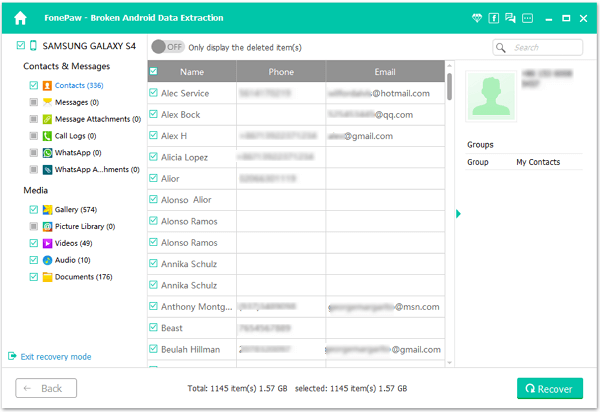 # If Your Contacts are Stored on SIM Card
We may save some contacts on SIM card. And these contacts can be transferred to our new phone when we insert the SIM card into the new phone.
Remove SIM card from your broken phone.
For new models like Samsung S9/S8/S7 with unmovable back cover, take the SIM card out of card tray. Insert the SIM card into a workable phone.
Open People/Contacts app on the phone. If there are contacts on the SIM card, you'll see them on the app.
Although with Broken Android Data Extraction, contacts are recoverable from your screen-broken phone. However, for the sake of your phone data, you better make a backup of your phone data on computer. And you can have the backup by simply export all data from the phone to computer with Broken Android Data Extraction.
# Video Guide to Retrieve Contacts on Broken Android