Data security is a big concern to every body. So it is a great thing that Apple adds Encrypt Backup feature to iTunes so that we could use password to protect and encrypt our iPhone/iPad/iPod Touch backups. However, it happens when we forget the password of our iPhone backup and since there is no "find your password" option, we have no way to recover the backup. Therefore, this post is not just about how to encrypt your iPhone backup, but also how to recover your iPhone data without backup password.
Part 1: Encrypt iPhone Backup in iTunes
It is very easy to encrypt your iPhone backups in iTunes. You just need to turn on the Encrypt Backup feature, set up a password and check if the encryption feature is enabled successfully. Here is the specific steps.
Step 1 Turn on Encrypt Backup
Open iTunes on your PC, if you have the previous version of iTunes, update it to the latest version. Then connect your iPhone to iTunes via USB cable. After connecting, click the connected device and choose "Summary" on the left column. On the Backup section of the screen, tick "Encrypt iPhone Backup".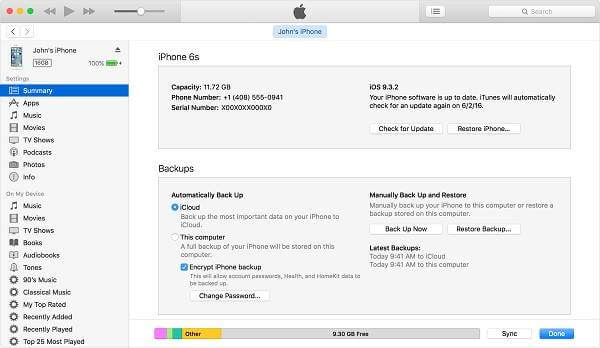 Step 2 Set up A Password
A window pops up and requires you to create a password for your iPhone backup. Enter the password and make sure you remember or keep the password safely cause without the password, you are unable to recover your iTunes backups as well as turn off the Encrypt Backup feature.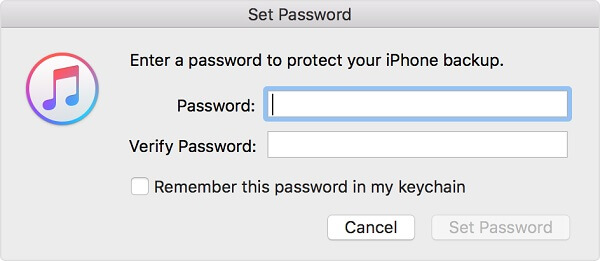 Step 3 Check If Your iPhone Backup is Encrypted
After you have set the password, iTunes will immediately begin to make a encoded backup of your iPhone and encrypt your previous backups. You may go to "Edit" > "Preference" > "Device" and make sure your backups are encrypted with a lock icon.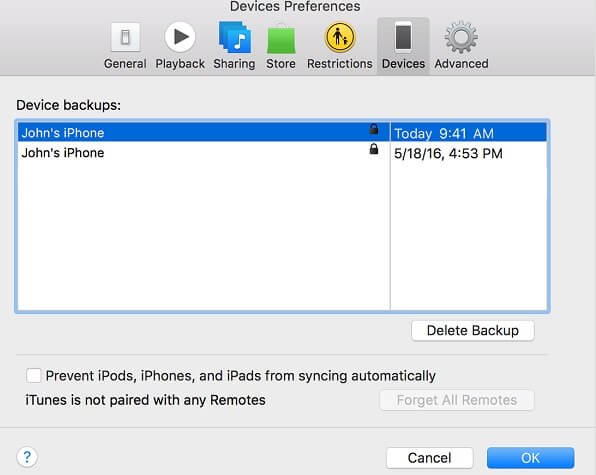 When your iTunes backups are encrypted, the backups are not just locked by passwords but also include information that backups without a password don't have:
Your saved passwords
Wi-Fi settings
Website history
Health data
Part 2: Recover Data Without iPhone Backup Password
If you unfortunately forget your iPhone backup password, you can still get the data back by recovering the data from a iCloud backup via FonePaw iPhone Data Recovery.
FonePaw iPhone Data Recovery (opens new window)enables you to recover both deleted and existing data on your iPhone from your iCloud backups. Unlike using iPhone to recover a backup, you don't have to erase the data currently on your phone in order to restore a iCloud backup. With the FonePaw program, you can keep your current data while selectively recover the data you need from your previous iCloud backup.
Free download the program and have a new experience of iCloud backup recovery.
Free Download Buy with 20% off Free Download Buy with 20% off
Step 1 Sign in Your iCloud Account
Start the FonePaw program on your computer, on its mainpage, navigate to "Recover from iCloud Backup File" and sign in with your iCloud account.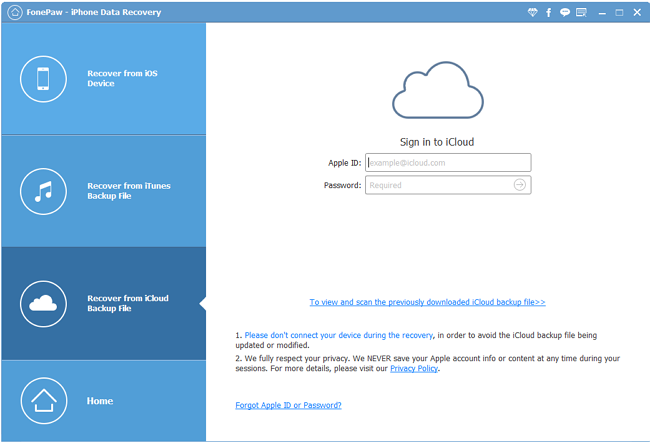 Step 2 Choose File Types to Recover
After signing in, you'll see all your iCloud backups. Find the one you need and click "Download" button. From the pop-up window, choose the file types that you want to recover. For example, if you only need the photos from the backup, you may tick "Camera Roll", "Photo Library" and "App Photos" to recover only the photos. Click "Next" to continue.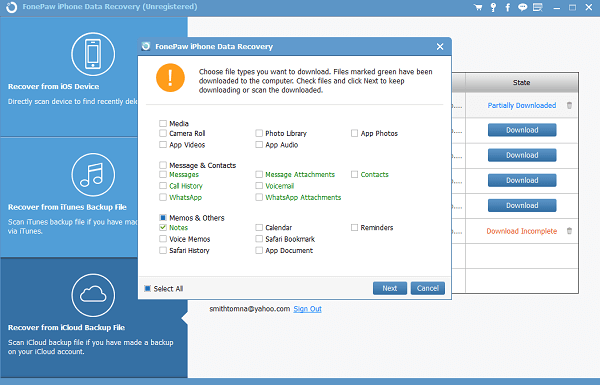 Step 3 View Your Backup Files
The program will get your backup quickly and display the files you need in different folders. Choose different folders to view the files. If the data information is red, it means this file is deleted from your iPhone. Tick all the files you need and click the "Recover" button on the bottom right corner. The data you need will be recovered and stored on your computer.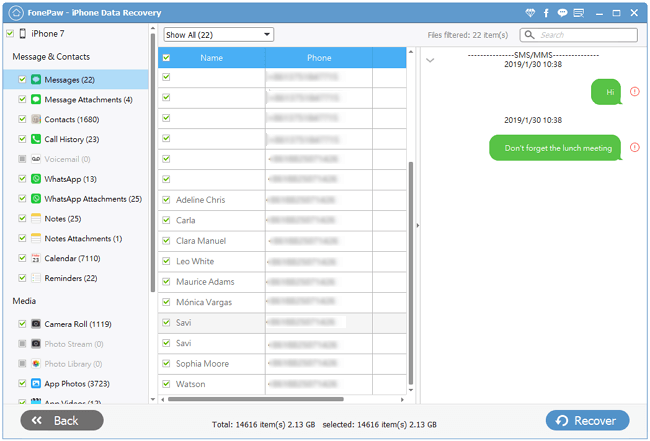 Recovering data with FonePaw iPhone Data Recovery is easy and effective. Have this software installed on your computer, you don't have to worry about data loss anymore.
Free Download Buy with 20% off Free Download Buy with 20% off