It is bad enough that you have cracked the screen of your Samsung. What's worse, you could lose precious photos, phone numbers, documents or other data inside the phone because the touch screen stops working. Actually, there are two tricks that you can use to recover data from Galaxy S6/S5/S4/S3/Note 5/Note4 with broken screen.
What Happen If My Phone Screen Gets Cracked
When your Samsung phone screen is badly cracked, the glass is usually damaged and the screen becomes unresponsive to any touch or tap, which makes you unable to unlock or access the phone. When you press the Power button, the screen might show a distorted or blacked out view, which shows that the phone could still function and your phone data is safe and sound. The only problem is how to get the phone data off without touching the phone screen.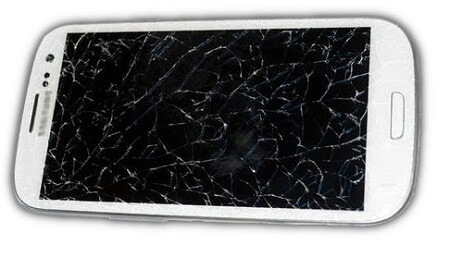 (You may also like: Touch Screen Not Working on Android, How to Fix? (opens new window))
Get Contents Off Galaxy with Cracked Screen via AutoPlay
You can make use of AutoPlay feature on Windows PC to get contents off your phone to the computer. On Windows PC, when you plug in your Samsung phone, there is an AutoPlay window popping up and asking how you want Windows to handle the device. However, you should aware that your phone should have USB debugging turned on to make this work. If USB debugging is off on your device, AutoPlay may not show up.
Connect your screen-broken Samsung phone to your PC via USB connection.
When you see AutoPlay menu, click "Open folder to view files" option.
Copy the files and folders in the internal memory to your PC.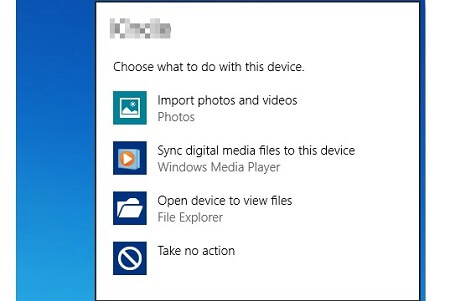 Tip: If you don't see AutoPlay window, it could also be that you have disabled the feature. On Windows 10, go to Settings > Devices > AutoPlay to turn it on.
AutoPlay only works when you have enabled USB debugging before the phone screen gets cracked. However, the truth is that most users usually have USB debugging off on their devices. Another drawback of using AutoPlay as a workaround is that you can only access a limited amount of files on the phone memory, while data like contacts, messages are hard to find. That's why you should recover data from screen-broken Samsung phone with the following method.
Recover Data from Samsung with Broken Screen
Broken Android Data Extraction (opens new window) is a program that can recover data(messages, WhatsApp contacts, photos, videos, documents, music) from broken Samsung phones for you. It can scan out existing data from broken phone and display them by data types. You can view your phone data on the program and extract the data from the broken phone to computer.
Download the free trial version of Broken Android Data Extraction on your Windows computer. Follow these steps to have a try.
Free Download Buy with 20% off
Step 1. Start the program on your PC and click Start button to extract data from broken Samsung phone. (You can also click Fix Device to use the program to fix bricked Android phone)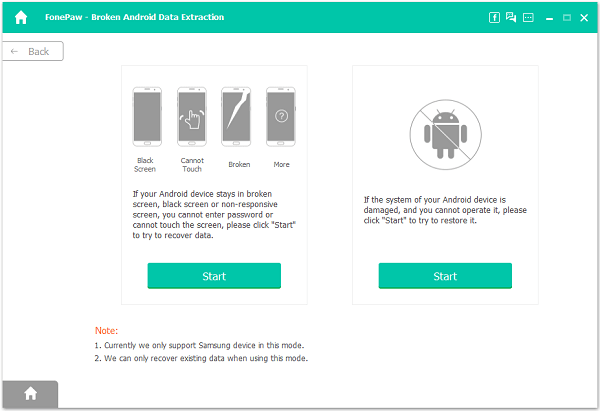 Step 2. Select the device name & model of your Samsung phone and click Confirm.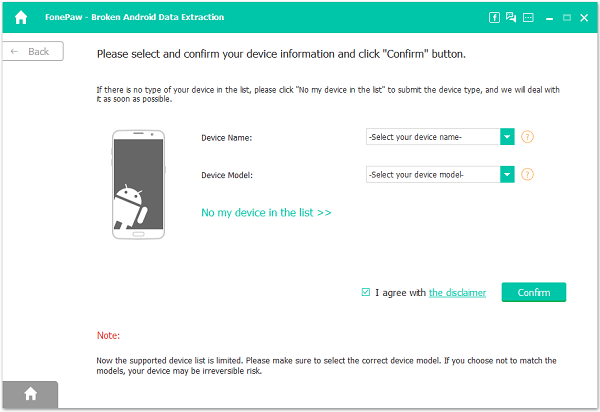 Step 3. Follow the instruction to put your Samsung phone in Download mode.
Step 4. Use USB cable to connect the Samsung phone to the computer. The program will quickly detect the phone and begin to scan out your phone data.
Step 5. When the scanning process is completed, you'll see your Samsung data are displayed.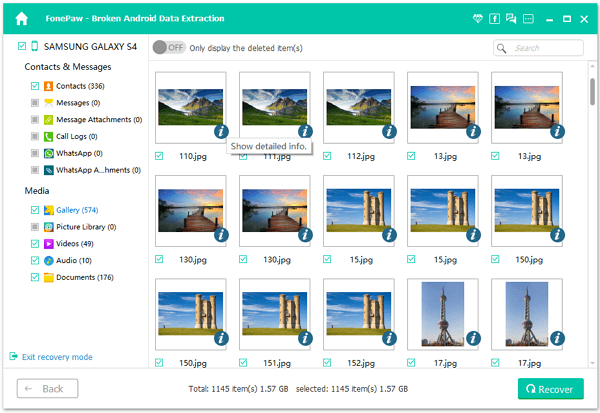 Step 6. Click the contacts, photos or others that you need and choose Recover to get them on your PC.
Step 7. Now you can get the broken screen replaced or switch to a new phone.
Accidents are unavoidable. To avoid data loss, it is important that we make a backup of our Samsung data (opens new window) regularly on computer to cloud storage.