I broke screen of my Samsung S6 the other day when I accidentally dropped it on the floor. Now I just want to retrieve some photos and contacts from the S6 and get a new phone. The problem is that I cannot enter password to unlock the phone because of the touch screen is unresponsive. Is there a way that I can recover data from the Galaxy S6 when I am locked out of the phone?
Password works great in protecting our phone data from falling into the wrong hands. However, in this case, password becomes the obstacle. If you also have trouble in entering passcode in Samsung S6 and are looking for a solution to recover data from the locked device, here are the tips.
# Recover Data From Samsung S6 When Fail to Enter Password
There are three methods that you should try to recover data from locked Samsung S6. These methods can also apply to other Samsung models, like S8/S8 Plus/ S7/S5/Note5/Note4.
Unlock S6 & Transfer Data
If you can't enter password because some parts of your phone screen stops working while other parts still response to your taps, you can try to unlock your Samsung by getting past the lock screen. You can unlock your S6 by:
Contacting Samsung to see if you can unlock the phone for you (I wouldn't put much hope on that but it is still worth a try)

Using Google account when "Forgotten the password" window comes up. However, the method only works when you have signed in a Google account on your Galaxy phone and the phone can access the Internet.
(Check out specific steps on how to unlock Android phone with Google account (opens new window))
After your Samsung S6 is unlocked, you can then transfer the needed data to your new device.
Restore Backup from Google Account in Your New Device
If you have backed up your Samsung S6 to Google account or have synced photos and videos to your Google Photos library, you can restore the backup in your new Android device by adding the Google account to the device.
Go to Settings > Accounts > Add Account > Google;

Type the Google account that is used to back up your Samsung S6 and tap Next;

Enter the password for the account.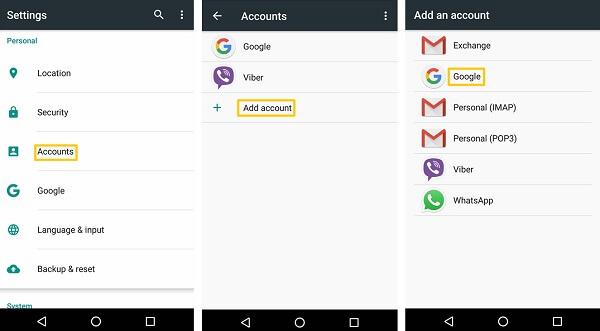 Use Tool to Extract Data From Screen-broken Samsung S6
If you don't have a backup in your Google account and your phone screen is completely not working, there is still hope to recover your data. Broken Android Data Extraction (opens new window) is a program that can extract data from screen-broken Samsung phone. It can:
Scan out data for you with no need to enter password on your broken Samsung S6.

Better than recovering backup from Google account, the program can retrieve more data including messages, contacts, photos, music, videos, documents and WhatsApp messages.
Step 1. Download and install the program on your Windows PC.
Free Download Buy with 20% off
Step 2. Launch the program and connect your Samsung S6 to the computer with USB connector.
Step 3. The program will prompt you to enable USB debugging on S6. Since you can't, click Broken Android Data Extraction to continue.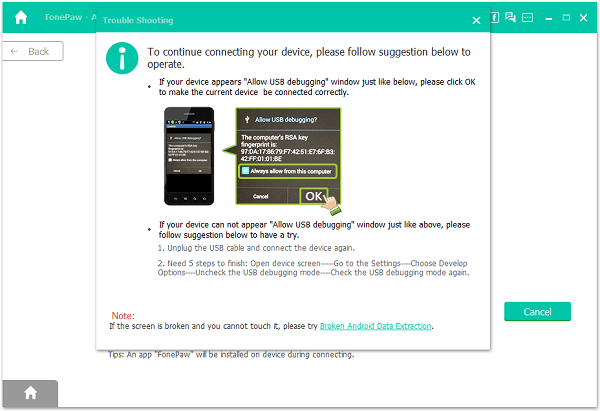 Step 4. Press on Start button.
Step 5. Choose S6 in the filed of device name. Check your device model and select the right one in second filed.
Step 6. Put your S6 into Download mode. Don't worry if you don't know how to do so, the program has step-to-step instruction.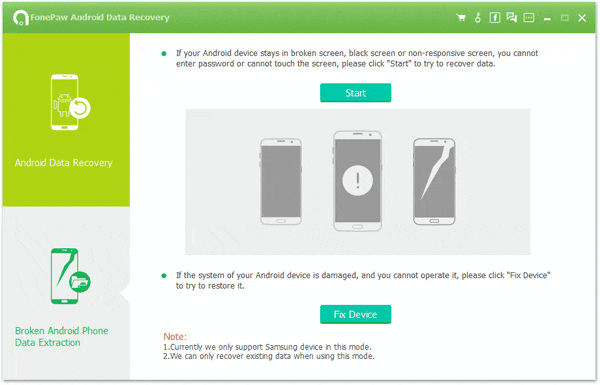 Step 7. The program will then begin to scan out phone data from the broken device. Do not disconnect your device during the process.
Step 8. When it is done, you'll see your phone data on the program. Tick all items that you want to recover and click Recover to save them on your computer.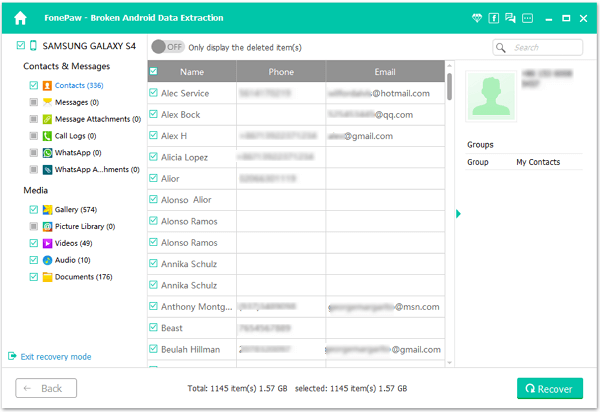 # Tip: An Overview of Android Lock Screen Options
Privacy security is a big concern for every body. Thus Android provides us with different lock screen options to protect our phones from unauthorized access. There are:
Passcode
Pin
Pattern
Fingerprint
Now with the development of technology, there are more new security methods to protect our phone. For example, the Galaxy S8's face-scanning feature allows you to unlock the device with your face. And some new models also let you scan your eye to unlock the phones. I am pretty excited about these new methods, at least unlocking phone won't be a problem if you broke the screen. What do you think?