Sometimes, it is not enough to recover merely the deleted pictures. For various reasons, there are users who need to get more from the recovered Android pictures, for example, date/location in which the photos were taken, with which devices the photos were taken. If you need to get more information from recovered Android pictures, restoring the pictures with FonePaw Android Data Recovery (opens new window).
The program can recover different types of photos on your Android phone: deleted phone photos, app photos, photos imported from iPhone or digital camera and more. What's more, the information about the photos(date, size, format, location, camera) are included.
# How to Recover Lost Pictures from Android?
Follow these steps to recover your lost Android photos. The recovery process is really as easy as ABC.
Step 1. Download Android Data Recovery on your Windows or Mac PC.
Free Download Buy with 20% off Free Download Buy with 20% off
Step 2. Connect your Android phone (Samsung, Sony, LG, HTC, Huawei, Motorola or other) to USB cable and plug it to the USB port of your computer.
Step 3. Enable USB debugging on your Android device.
Step 4. Select only photos to recover. Tick the file types "Gallery", "Photos Library", "WhatsApp Attachment".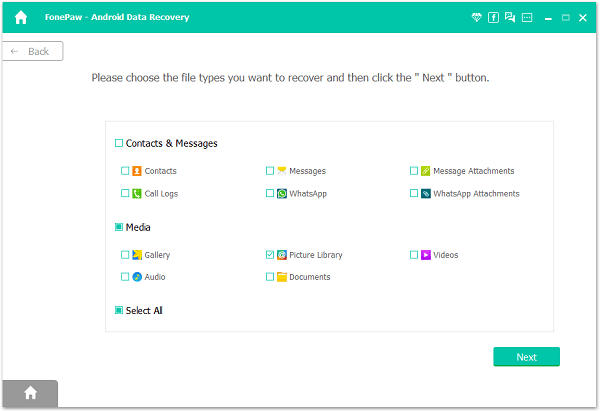 Step 5. A pop-up message will ask you to allow the program to access your phone data. Tap "Allow" on your phone.
Step 6. The program will scan and find out all deleted photos on your Android phone. Click "i" icon to view the information of the pictures and press "Recover" to recover the pictures.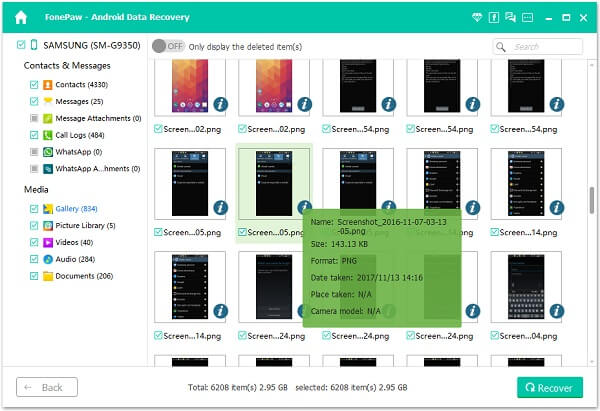 # What Can I Get From Recovered Android Pictures?
On Android Data Recovery, you can preview more than just the recovered pictures, but the basic and source information of the pictures. The followings are the information that you can get when viewing the recovered photos.
Name: the file name of the picture.
Size: how large is the original picture.
Format: the program can detect photos of different formats: JPG, PNG, GIF, TIF, etc.
Date taken: when the photo is taken or edited.
Place taken: if you have enabled GPS Geo-tagging when taking the photo, the program will also display the location on which the photo is taken.
Camera model:
For Android pictures imported from digital camera, it will shows the camera brand, camera model, and firmware version.

For Android pictures imported from iPhone, it will shows the iPhone model and iOS version.

For Android pictures taken/edited in an app, you can see the name of the app and its version information.
You can get more deleted information from Android phone with Android Data Recovery: messages (opens new window), contacts, notes, calendar and more.
Free Download Buy with 20% off Free Download Buy with 20% off