This post has been updated in February 2018
It is easier to backup photos, videos or contacts in your Galaxy phone/tablet. Many users may have backups of their phone photos on their computers or have synced their phone contacts to Google account. But not many of them have backups of the messages on their phones. So when the phones/tablets are damaged, some users ask desperately: how can I read or get text messages from my broken Samsung device?
This post is going to give a perfect answer to the question with this program called Broken Android Data Extraction (opens new window). The program can get text messages from your Samsung phone or tablet when the screen is cracked or stops working on the device. After installing the program on your Windows PC, you can:
Extract data from damaged Galaxy phone/tablet without enabling USB debugging;
Read text messages stored in your damaged device on the program;
Select only the needed text messages and recover them to your PC in HTML or CSV format.
Click Download and start to get messages from your damaged Galaxy device.
Free Download Buy with 20% off
# How to Retrieve Text Messages from Broken Samsung
After you download and install the Android broken data recovery tool on your computer, you can follow the below guide or the video tutorial to perform a broken Samsung message recovery.
Step 1. Connect Damaged Device to Broken Data Extractor
Start the program on your computer and choose Broken Android Data Extraction. Then connect your damaged Galaxy phone or tablet to the computer. Click Start to continue.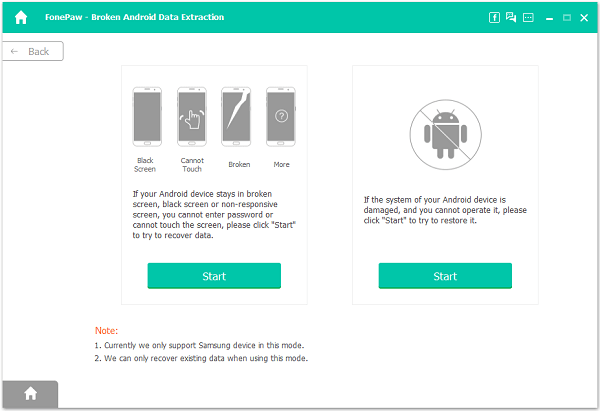 (Click Fix Device when your device is bricked and need to be unbricked (opens new window)in one click.)
Step 2. Select Device Name & Model
Check the device name and model of your Samsung phone/tablet. Then select the right name and model for your device. If you don't know how to check the information, click the question marks for tips.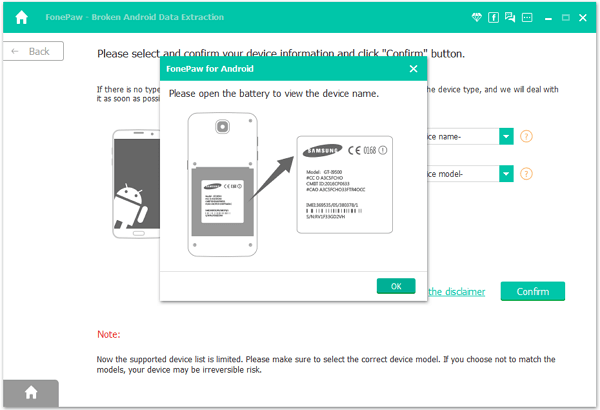 Step 3. Put Your Samsung Phone/Tablet in Download mode
Follow the instruction in the program to put your Galaxy device in Download mode. Then click Start.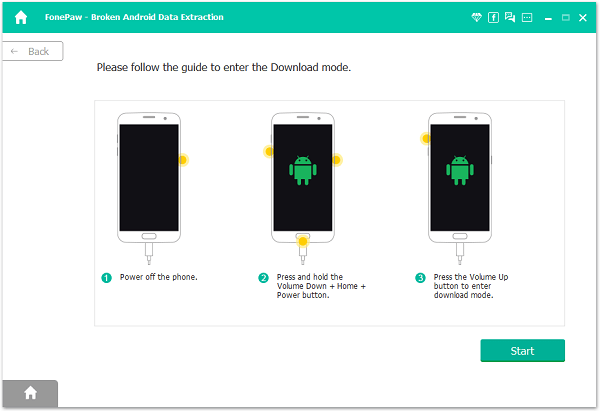 Step 4. Extract Data From Damaged Galaxy Phone
Under Download mode, your galaxy phone will be installed with recovery package. After that, the program will scan and extract data from the damaged device. The data will be displayed in different categories.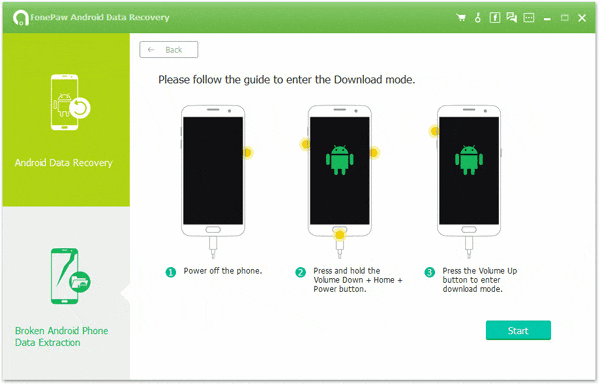 Step 5. Get Text Messages to Your PC
After the scanning is over, click Messages to view the text messages. Select the messages that you need and click Recover to get the messages to your PC.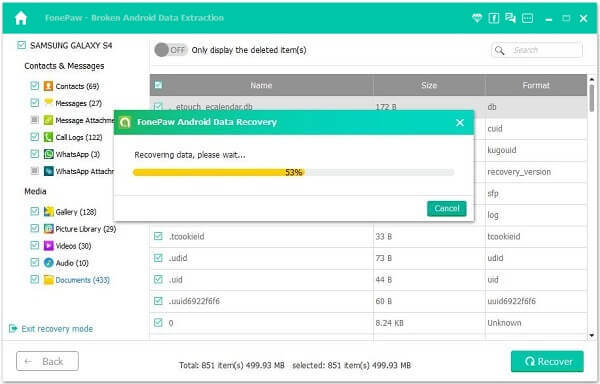 Besides text messages, you can also get WhatsApp messages (opens new window), call history, photos, videos, audio files and documents from damaged Galaxy phone with the program.
Supported Devices
Currently, Broken Android Data Extraction supports recovering data from the following devices. More devices will be supported in the future.
Samsung Galaxy S4/S5/S6
Samsung Galaxy Note 3/4/5
Samsung Galaxy Tab Pro 10.1
Learn more about the supported devices of Broken Android Data Extraction (opens new window).