Just bought Galaxy S7 not even a week later, it crashed in the middle of a text and won't come back up. I know it's on because when I hit the volume key it pings out the sound letting me know it's at full volume. What is wrong with it? The screen is black and the phone won't function.
- Posted on AndroidCentral
The case quoted above is one of the system crash problems. Sometimes your Samsung device might get stuck, freezes in a certain screen or even blacked out without your knowledge. Thankfully, as a rule, this is not a big deal. That may be caused by insufficient storage, overmuch apps running in the background or long time use.
Most system crash can be easily overcome. However, some might be quite a persistent trouble. In that case, it's important to extract existing data from a troubled Samsung (opens new window). Also, there are a few feasible methods for you to try out.
Part 1: Trustworthy Way to Retrieve Photos Currently on Your Samsung
FonePaw Broken Android Data Extraction (opens new window)n is well-designed to either get back data, like photos currently stored on an unresponsive device or fix kinds of system crash problems for Android, like black screen, debugging failed, locked screen and more. If you want to extract and restore data from a troubled Samsung, this tool is able to recover data when the phone is off or locked. Here's how:
Free Download Buy with 20% off
Step 1. Install and open Broken Android Data Extraction on WindowsPC.
Step 2. Click "Start" option and select your device info - "Device Name" and "Device Model". If you're not sure about your device model, you should click on the question mark for a further instruction.
Step 3. Follow the onscreen tutorial to boot your Samsung into "Download Mode (opens new window)" and hook up to the software with USB cable.
Step 4. Now, a related recovery package will be downloaded. When it completes, the program will automatically start repairing your device and restoring data on it.
Step 5. You're allowed to preview photos and to select desired ones to "Recover" to your computer with ease.
Don't Miss Out:
Part 2: Feasible Solutions to Fix System Crash
Generally speaking, once you bumped into system crash, you should force restart your Samsung S8/S7/S6 and see whether the problem persists. If not yet solved, try the following solutions.
Solution 1: Free Up Device Memory
As mentioned above, insufficient storage is a potential culprit. So, if your device is running out of memory, please remove unwanted and unnecessary data on your Samsung to lose its weight.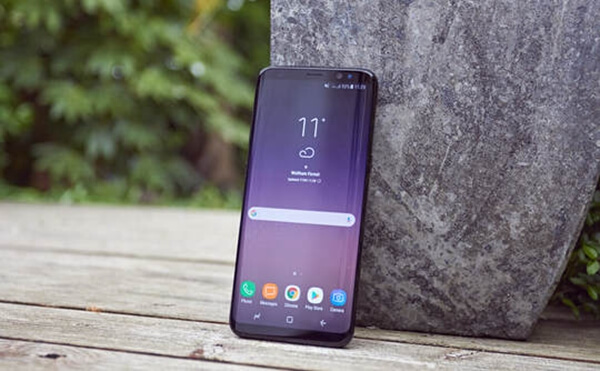 Solution 2: Clear Cached Data in the Faulted App
If the storage is still enough so far, perhaps it's the cached data who is making this nuisance. Please give it a try on clearing cache and data in the app that is acting up. To do so, please follow the instruction.
Step 1. Open the "Settings" app on your Samsung.
Step 2. Select the "Applications" option.
Step 3. Choose the faulted app and tap on "Storage".
Step 4. Tap on "CLEAR DATA" and "CLEAR CACHE" options.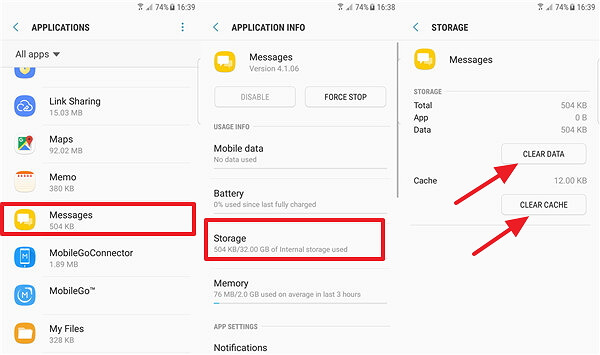 Solution 3: Remove/Re-install the Troubled App
If the system crash only occurs when you're using a certain app, you might need to delete the app and re-install it again. If you're not sure whether there is an app that is causing the problem, you can try Safe Mode. If the problem persists, then it's not an app problem.
Step 1. Power off your Samsung Galaxy.
Step 2. Press and hold the "Power" button for seconds to turn on the device.
Step 3. When the Animated Samsung logo displays (it should be the second Samsung logo that you see), press and hold the "Volume Down" button.
Step 4. You can see "Safe mode" shown in the lower-left corner of the screen when the device is on.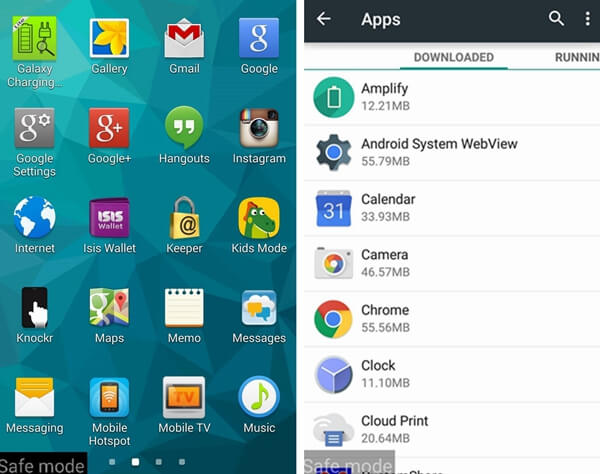 Solution 4: Factory Reset Your Samsung
The last resort is to reset your Samsung to factory settings. This workaround will get rid of the system crash beyond doubt. However, it'll result in all data loss, so it's strongly recommended to back up your Samsung device (opens new window) in advance. Then, you can follow the steps below.
Step 1. Launch "Settings" app on Samsung S8.
Step 2. Navigate to "Backup and reset" option.
Step 3. Tap "Factory data reset" and wait until it completes.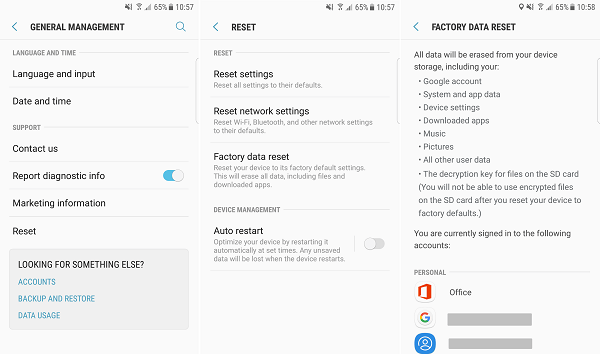 Reliable way provided already, what are you waiting for? If you're in trouble with other system issues or Android problems, FonePaw is your best online mobile consultant.