Developed by Google, Hangouts is a free messaging app for messaging, video chat, voice call, group talk. People can send messages via Hangouts on their Android, iOS devices as well as Windows computers. When communicating with families, friends, co-workers, clients on Hangouts, we could mistakenly delete important messages. This article is to introduce you a fast way to extract hangouts audio messages on Android.
FonePaw Android Data Recovery (opens new window) is a program that can be downloaded on PC and used for recovering deleted text messages as well as audio messages on Android devices. It can automatically extract the deleted messages from detected mobile devices and recover the messages on computer. When you realize that some important audio messages have been deleted on Hangouts, stop using your Android handsets and use the recovery program on your PC to extract the Hangouts messages. Samsung, Nexus, HTC, LG, Motorola, Huawei, etc. are supported.
The following is step-by-step guide to extract audio messages from Hangouts on Android.
Step 1. Install and Launch Android Data Recovery
Download FonePaw Android Data Recovery on your PC. Install and launch the program.
Free Download Buy with 20% off Free Download Buy with 20% off
Step 2. Connect Android Device to PC
Use USB cable to connect the Android device with Hangouts audio messages to the PC. The program will quickly detect the connected device and prompt you to enable USB debugging (opens new window) on the device if the USB debugging is off. Follow the instruction on the program to get this step done.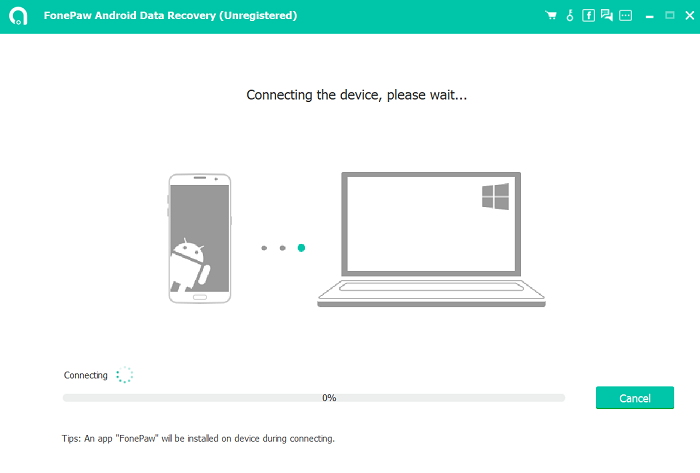 Step 3. Choose Audio Messages to Extract
The program can extract various types of data from Android device, for example, audio files, photos, text messages, contacts. If you only need to extract Hangouts audio messages, tick "Audio" to save time when you see this window: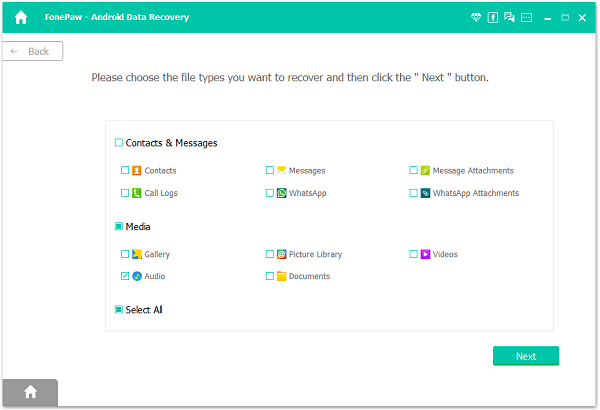 Step 4. Grant Permission for Data Extraction
Before the program can extract Hangouts audio messages from your Android, it need to get permission from your device. Therefore, tap "Allow"/"Grant" when a pop-up message appearing on your Android device asking for permission.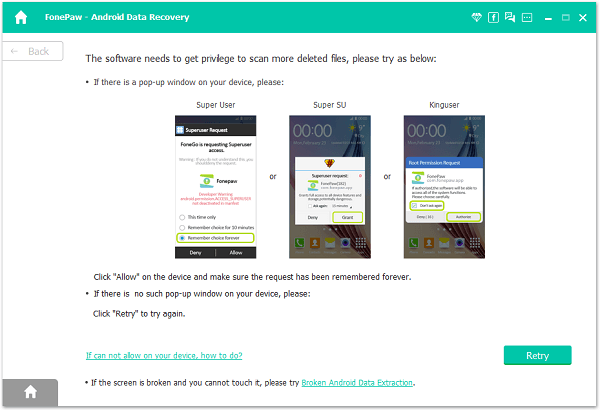 Step 5. Extract Hangouts Audio Messages from Android
The program will begin to scan your Android phone. Wait for a while until the scanning is completed and the Hangouts audio messages are extracted. Click "Audio" and find the messages that you need. The Hangouts audio messages are saved in .ogg format. Click "Recover" to extract the audio messages from Android phone to your computer.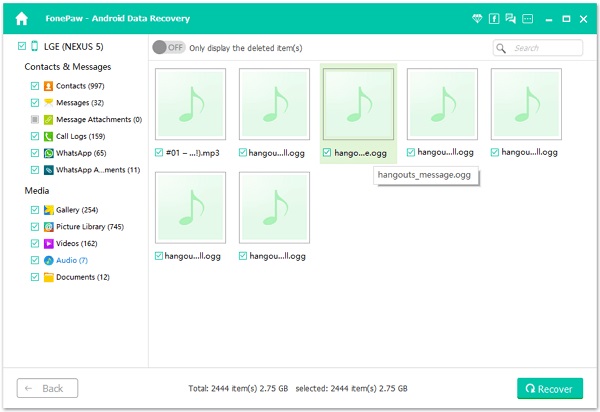 Other than Hangouts audio messages, FonePaw Android Data Recovery can also extract text messages, photos from Hangouts on Android phone.
Free Download Buy with 20% off Free Download Buy with 20% off