It is a disaster when your Samsung is screen-broken, bricked, frozen, or black screen. But what's done is done. Instead of mourning for the damaged Samsung device, you are more desperate for a solution to extract important data out of the device. And there are many data recovery software to help you to do so. With so many options, you may hesitate and wonder which is the best data recovery tool for your broken Samsung.
To make the best decision, you need to keep in mind 3 elements that make up an excellent data recovery program.
Effectiveness: recover data from damaged device effectively;
Compatibility: work with a wide range of Samsung models;
Supported data: support the recovery of all types of data that you need.
Based on the above criteria, we have concluded 3 best data recovery program that you can ever find in the market. Hope you'll find them helpful.
# No. 1 FonePaw Broken Android Data Extraction
FonePaw has been focusing on developing professional data recovery tools for Android/iPhone users. And its Broken Android Data Extraction (opens new window) has been proved effective to recover data from different models of Samsung devices.
Free Download Buy with 20% off
Features
Extract data from Samsung devices with broken screen, black screen, non-responsive screen, locked screen in 3 simple steps: connect your device to PC, put the device in Download mode, and wait until the software scan out all data in your device.
Recover all data in your Samsung device, including contacts, SMS/WhatsApp messages, call logs, photos, videos/audios, documents.
Support data recovery from damaged Samsung Note 3/Note 4/Note 5/S4/S5/S6/Tab Pro 10.1.
Restart system broken Samsung device in one click, for example, device stuck at startup screen, Download mode, black screen.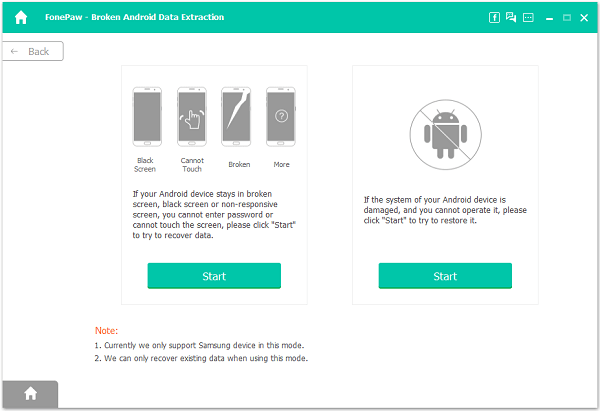 Price: Single-user license (1PC + 6 devices): $39.95; Multi-user license (1PC + 6 devices): $59.95
Pros & Cons
We has tested the FonePaw tool with Samsung devices of different models and it work really good. The scanning is really quick and the steps is easy to follow for even an greenhand. I personally like the way how the program organizes the scanned data: you can either preview the data on program or export the data to your computer so that you can import them to your new phone. And the feature - one click to exit download mode is stunning.
But it is a pity that newer models like Samsung S7, Samsung S8 is not supported by the program yet.
# No. 2 Dr. Fone - Broken Android Data Recovery
Dr. Fone - Broken Android Data Recovery is another excellent data recovery tool in the market. It is very similar to the FonePaw program but is different in the specific steps and supported devices. Check out its main features.
Features
The Dr. Fone tool can also recover data from smartphones that are unresponsive to any taps. Here is the procedure: connect your device to PC, select data types that you need, select the symptom of your damaged device, recover the scanned data.
Work with Samsung Galaxy device including Note 2/Note 3/Note 4/Note 4 Edge/Note 5/Note 5 DUOS, Samsung S3/S4/S5, Samsung Tab 2.7/Tab Pro 10.1/ Tab Pro 8.4/Tab S 8.4/Tab2 10.1.
Repair broken devices that get stuck at boot screen, black screen, Download mode.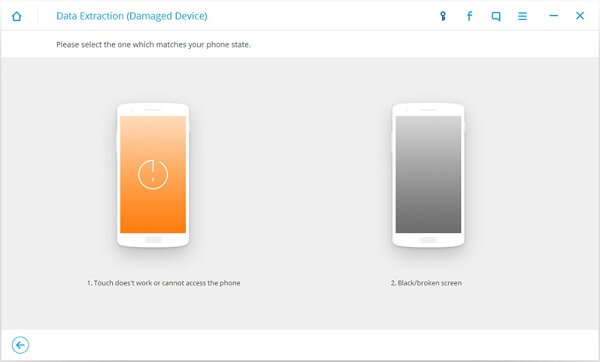 Price: $49.95 for single-user license
Pros & Cons
The Dr. Fone supports more Samsung tablet models and it allows you to select data types before scanning the phone, which can help you to save time. And it is as easy-to-use as the FonePaw tool so you don't have to be a techie to get back your data from broken device.
But it doesn't support Samsung S6 like FonePaw does. And during our tests, Dr. Fone failed to scan out data in some of the models like Tab 2 10.1. Moreover, the fix damaged device option is not so obvious in Dr. Fone. So if you want to get your phone out of Download mode/black screen, you may need to spend a while to find the option. More importantly, it is much more expensive.
# No. 3 FoneLab Broken Android Phone Data Extraction
FoneLab Broken Android Phone Data Extraction is another data recovery tool that you may like. It is simple and well-designed at lower price.
Features
Allows users to recover data from broken android device or memory card;
Capable of recovering contacts, messages, call history, WhatsApp, WhatsApp attachments, photos/video/audios from Gallery, documents.
Provided in two modes:extract data from damaged device or fix damaged device back to normal.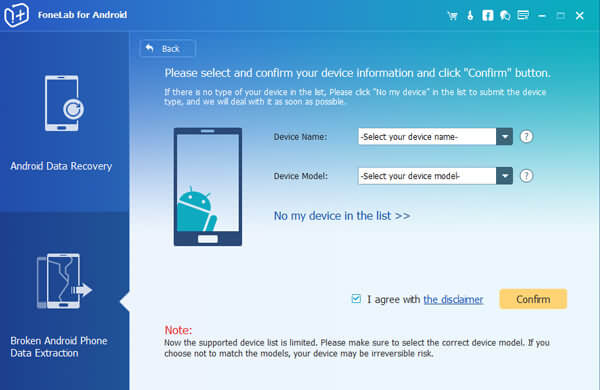 Price: Single-user license (1PC + 6 devices): $31.96; Multi-user license (3 PC + 18 devices): $68.76
Pros & Cons
The FoneLab tool is cheaper in single-user license and it is said that it can recover the data from memory card, which is very tempting. However, when we tested the tool in a Samsung device inserted with SD card, it didn't scan out data from the memory card. And the FoneLab needs longer time to scan out data from device.
These are the 3 best data recovery tool for Samsung device. Which one is your favorite? Share your opinion below.