QuickTime can help us record Mac screen, and by connecting an iPhone, iPad to a Mac, you can record iPhone, iPad screen with QuickTime, too.
However, QuickTime screen recording doesn't always go well. When doing Mac, iPhone, iPad screen recording with QuickTime, the recorder is not working sometimes, for example, QuickTime cannot stop the screen record or is unable to save your work, showing errors that say "Cannot Open" or "This operation could not be completed".

If you are having trouble to stop QuickTime screen recording or recover the unsaved QuickTime screen recording, the following tips will be helpful for you.
After your QuickTime trouble is fixed, a no lag screen recorder for Mac is recommended for you, which is smaller in size and can handle screen recording without lag even when CPU intensive tasks are running on your Mac. The best way to avoid losing your hours of recording in QuickTime is switch to a better screen recorder.
---
You May Like:
[2019]Screen Recorder for Mac: Record Screen Videos on MacBook/iMac (opens new window)
How to Record QuickTime Videos without Lags in Small Size (opens new window)
---
1. How to Stop QuickTime Screen Recording on Mac
"I started a screen recording in QuickTime. And when I wanna stop, there is no"stop recording" button which is supposed to be in the menu bar. How can I stop QuickTime screen recording without the button? BTW, I have MacBook Pro on Mac OS X 10.7.5, QuickTime 10.4."
How to stop QuickTime screen recording? It sounds like a simple question but a lot of people get stuck like the user above. If you are one of them, you can pause or quit QuickTime screen recording in the following ways.
Stop Recording with Keyboard Shortcut
When there is no stop recording button, you can try to stop QuickTime screen recording with the keyboard shortcut:
If the QuickTime still keeps recording or it gets frozen and won't quit, you may try to force quit the recorder.
Force Quit QuickTime
You can force QuickTime to quit if it is stuck. However, by this way, the application might not be able to save your screen recording.
Click the Apple menu and select Force Quit, which will open the Force Quit Applications menu (Command + Option + Esc shortcut can also access the menu).
Find QuickTime and highlight it.
Then click Force Quit button in the lower right corner of the window. QuickTime player should be closed and the on-going screen recording thus stops.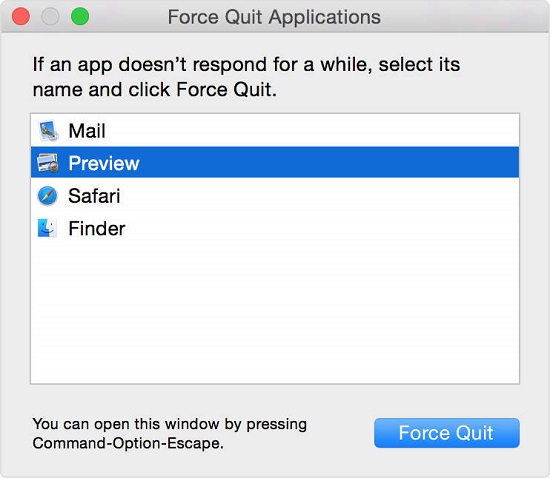 If force quit applications doesn't do the trick, try the next method.
Close QuickTime in Activity Monitor
The ultimate method will be close QuickTime process in Activity Monitor.
Open Activity Monitor: Go to Finder > Applications > Utilities > Activity Monitor. (Or simply open the app with Spotlight).
Click the CPU tab, locate QuickTime and click on it. Then click the X in the upper left of the app.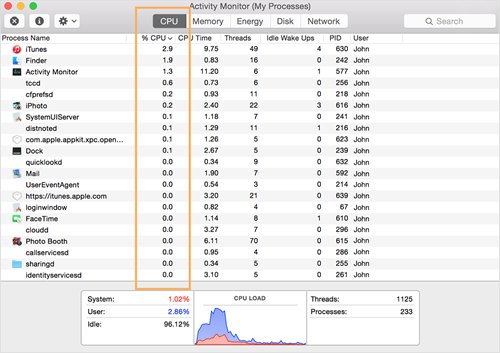 As I have mentioned above, force quitting or closing QuickTime in Activity Monitor may leave your screen recording unsaved. So you may want to avoid QuickTime errors in the first place. To do that, you should:
Try not to run CPU-hogging tasks(gameplay, Photoshop, etc.) when doing a QuickTime screen recording on your Mac;
Try not to record videos with QuickTime for hours.
Switch to a better screen recorder

(opens new window)

that can guarantee smooth screen recording.
2. QuickTime Screen Recording Not Saved, How to Recover?
Case 1 - "I have done several screen recordings with QuickTime and none of can't be saved. QuickTime said:"This operation could not be completed." QuickTime version: 10.3.
Case 2 - "QuickTime was saving my screen recording and when the progress bar got to about 30%, an error popped up that said "Cannot Open" and the video is not successfully saved. Can I recover the unsaved QuickTime screen videos? It's on MacBook Air (macOS High Sierra. 10.13)."

When QuickTime fails to save your movies or screen recordings, don't worry, there are 3 ways you can try to recover the unsaved QuickTime screen recording.
Go to AutoSave Folder
The first place that could possibly have your unsaved QuickTime recordings is QuickTime AutoSave folder. Here you could find Mac screen video, iPhone/iPad screen video, audio recorded by QuickTime.
Press Command+Shift+G to open Go To Folder window and enter the following path: ~/Library/Containers/com.apple.QuickTimePlayerX/Data/Library/Autosave Information/
In this folder, you should look for files that are named as something like: Unsaved QuickTime Player Document 2.qtpxcomposition
Once you find a file that looks like your lost QuickTime recording (you may identify the right file based on modified date and file size), right click the file and select "Show Package Contents", which will open the package and reveal a .mov file.
Open the .mov file. And if it is the unsaved QuickTime recording you are looking for, drag it to your desktop.

Inspect Process in Activity Monitor
Another way that you may find the unsaved recording when QuickTime is frozen or stuck is through Activity Monitor. Here is how.
Launch the Activity Monitor and choose Quicktime Under the "CPU" tab, select info icon, which will open a new window.
Click "Open Files and Ports" on the new window. A list of folders will show up.
You should look for .mov files. There may be multiple .mov files and it is no way to find out which one is what you are looking for. So you have to try it one by one.
Copy the path of one of the .mov file. It should be something like this: /private/var/folders/r1/1hxdx7yj3h3gqylz1zmcf83r0000gp/T/TemporaryItems/53686840 5.640005112.mov.
Then press Command+Shift+G to open Go To Folder and paste the path you have copied.
The folder that contains the .mov file should be opened. Open the .mov file and see if it is the lost QuickTime recording that you need. If it is not, repeat the above steps until you find the one you need.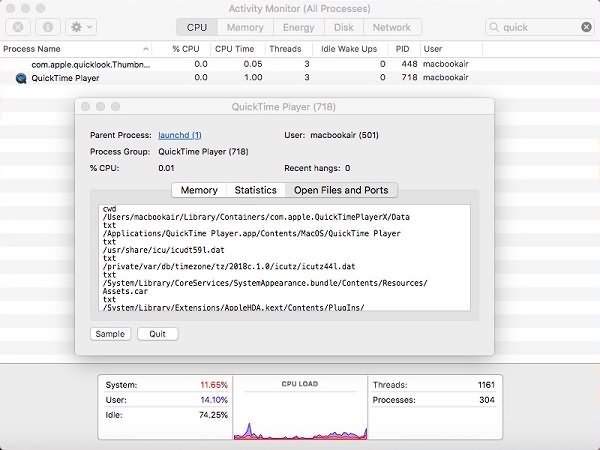 Share to Mail
If neither of the above tricks can help you find the lost recording, there is a little trick you can try.
When QuickTime says "This operation could not be completed" or "Cannot open" and fails to save your recording, do not close the window but click the Share button. Then select Mail. It should open a new mail window and you might surprisingly find that the unsaved video appears as an attachment. ave the attachment.
If unfortunately, none of the three methods can find your files, the recordings are truly unsaved. You have no choice but start a new recording. This time, you may want to quit QuickTime and try a no lag recorder that won't get you in trouble.
Alternative: How to Record Screen on Mac without QuickTime
QuickTime is not the only way to record your screen on Mac. There are many other screen recording software that allows you to record Mac screen without QuickTime. The tool that we are introducing here is FonePaw Screen Recorder (opens new window).
The FonePaw recorder is recommendable because comparing to QuickTime, it is smaller in size and can run smoothly even when recording screen of CPU-intensive tasks, such as gameplay, speed painting, webinar.
More than that, it can record Mac screen in HD quality (at up to 60 Frames per Second) and supports recording audio and webcam. Mouse action effects, real-time annotation in recording, hotkeys to start/stop screen recording, are supported.
With a simple interface, FonePaw Screen Recorder enables you to record screen videos on Mac within 3 steps.
Video Tutorial: How to Record Your Computer Screen with Audio?
Step 1 Free download FonePaw Screen Recorder on your Mac. Run the recorder.
Free Download Buy with 20% off
Step 2 Select any area of screen (full screen or custom screen) that your want to record. Then choose to enable webcam and audio if you need them. When you are ready, click REC button to start.

Step 3 As you are doing your thing, the recorder will capture the screen activities smoothly without lag. If you need, you can adjust volume, use annotation tool to draw or write in the recording. When what you want to record is finished, click Stop button to save the recording.
You can then view your screen recording. You'll see that the FonePaw recorder can actually record screen for hours without lag.
Note: By clicking the gear icon, you can get to the Preference settings, where you can have options such as hide panel during recording, show mouse clicks in recording, count down before recording, add hotkeys to start/stop screen recording, etc.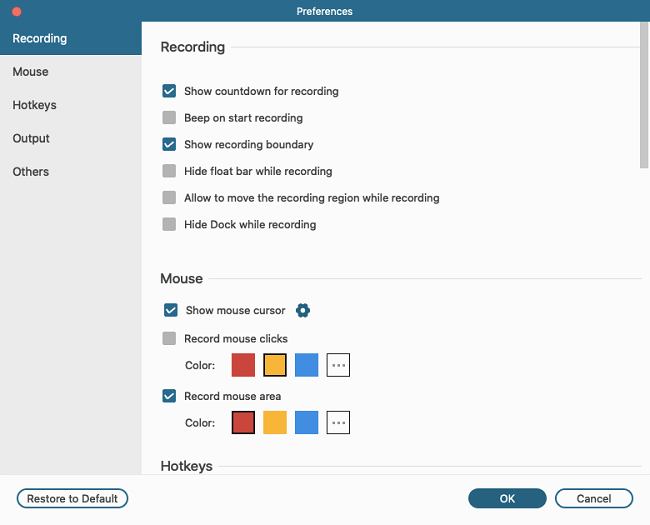 Any question about recording screen on Mac, leave your question below.