Some YouTubers can manage to add facecam to an iOS screen recording, which is pretty cool. How can they do that? Most iOS screen recorders can record what is on the iPhone, iPad screen, but none of them can record face and screen at the same time. Therefore, if you are hoping to record iPhone screen along with facecam, you need to take some extra steps to accomplish that.
This post is showing you two methods to record screen with facecam on iPhone, iPad. One is to mirror the iOS screen to a computer and then record the screen with your face; the other is to use two devices to record iOS screen and your face separately and then combine the two recorded videos together.
Record iOS Screen with Facecam on PC
To use method 1, you'll need:
A program to mirror iPhone/iPad to PC;
A screen recorder with facecam for PC/Mac.
Step 1: Mirror iPhone/iPad screen to computer
If you are using a Mac computer, you can easily project your iPhone, iPad screen to the Mac with QuickTime: connect your device to Mac with a USB lightning cable, open QuickTime, click New Movie Recording and select the connected iOS device. Your iPhone/iPad screen will be mirrored on Mac.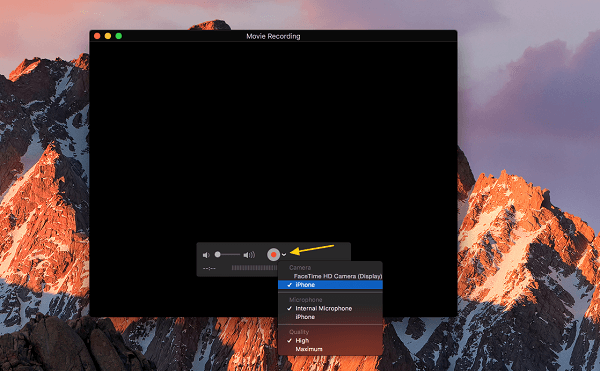 If you are using a Windows PC, which runs on a non-Apple operating system, you need to install a Windows Airplay receiver - FonePaw ScreenMo (opens new window), a program that enables Windows computer to build a wireless connection with iOS devices and project the iOS screen activities.
Free Download Buy with 20% off
Run ScreenMo on your computer;
Put your iPhone and PC into the same Wi-Fi;
On iPhone, open Control Panel, tap Screen Mirroring > FonePaw ScreenMo.
The iPhone screen will be displayed on the PC immediately.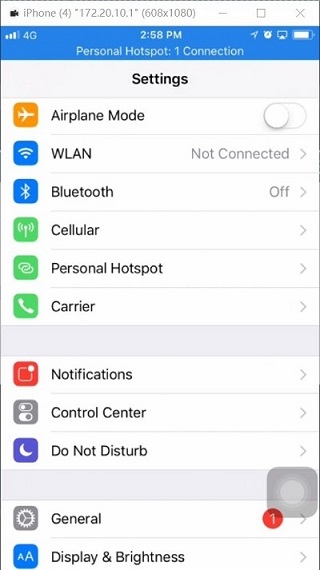 Step 2: Record iPhone screen with Facecam
Now you should open a screen recorder that can capture facecam as well on your computer. For example, FonePaw Screen Recorder (opens new window), which can record anything on a computer screen with facecam, audio, etc.
Free Download Buy with 20% off Free Download Buy with 20% off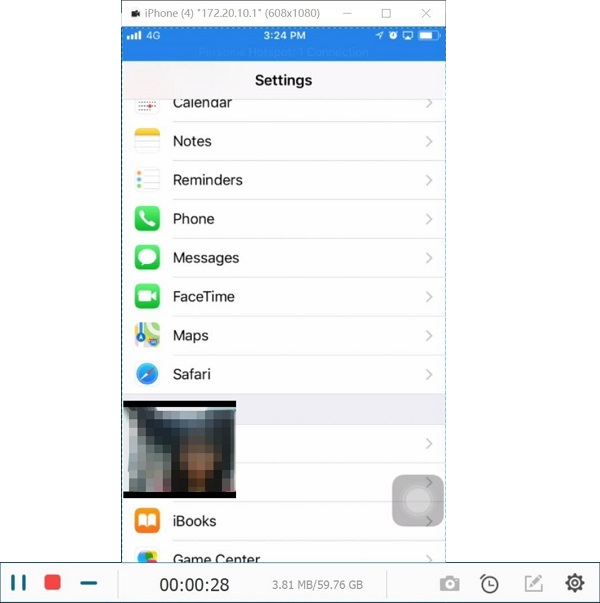 Open FonePaw Screen Recorder on your PC.
Select Custom display and move the recording frame around your iPhone/iPad screen.
Enable webcam to record your face. Make the facecam smaller and put it wherever you like on the iOS screen.
Turn on system sound or microphone if you like.
Tap Rec to start recording. After recording, you can view the iOS screen video with facecam.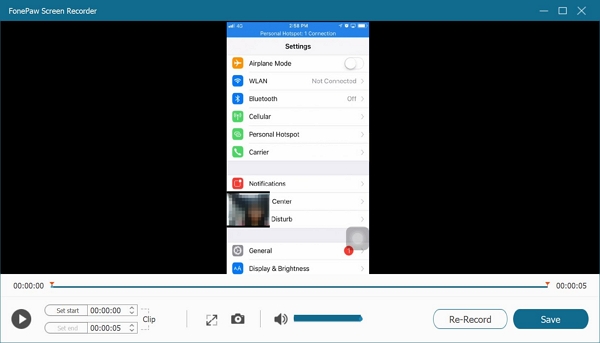 In this way, both your iPhone/iPad screen and facecam can be recorded simultaneously. Also, FonePaw Screen Recorder has annotation tools that you can use to add text, rectangle, arrow, etc. to the recording.
Record iOS Screen and Facecam with 2 Devices
What you need to record iPhone screen with facecam in this method includes:
Two mobile devices, for example, an iPhone and an iPad, an iPhone and an Android phone;
A video editor.
Step 1: Record screen and facecam
Open a screen recorder on your iPhone or if you are using iOS 12, use iPhone's built-in screen recording function.
While you are recording screen activities on your iPhone, iPad, use a second device to record your face.
Step 2: Combine the screen video with the facecam video
You'll need a video combiner to combine the two videos together. iMovie can do that.
Get iMovie from App Store.
Open iMovie and add the two videos you have recorded into iMovie Library.
Add the screen video of your iOS device to the first track.
Then select the facecam video of your face, tap three dot icon > picture-in-picture mode to add the facecam video to the second track. You can adjust the size and position of the facecam above the screen video.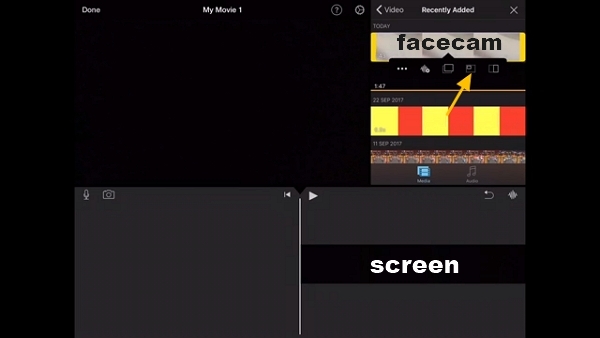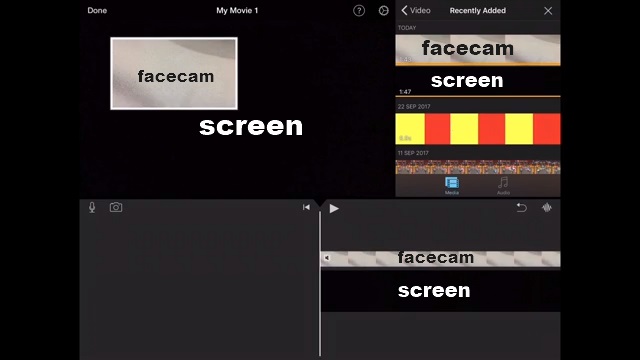 You can make your iOS screen video more persuasive and interactive by adding facecam. Try to record iOS screen with facecam on your own.