It is very convenient to record iPhone, iPad, Mac screen with QuickTime on iMac/MacBook. But like any other applications, sometimes QuickTime screen recording is not working on Mac. You may be unable to record screen with QuickTime because of one of following these errors. Here is the troubleshooting. If none of the methods work, try to update your iPhone/iPad or Mac or record screen with a third-party recorder.
Troubleshooting QuickTime Screen Recording Problems
1. QuickTime Player quit unexpectedly
Q: During the screen recording, QuickTime stops and shows the error: QuickTime Player quit unexpectedly.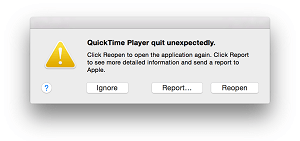 This is likely to be a storage issue. Make sure that there is sufficient storage in your Mac's hard drive. And if you have plenty of space, try repairing the disk permissions.
Open Disk Utility;
Select your hard drive and click Repair > Repair Disk Permissions.
2. QuickTime recording stopped try recording again
Q: When pressing "Stop Screen Recording", Quicktime give you this error saying "Cannot Record. Try recording again."
The error sometimes comes up when you are recording screen video with external audio. Therefore:
If you don't need to record audio, change the sound input to the internal microphone.
If QuickTime won't work with your microphone, switch to the different microphone.
3. QuickTime won't recognizing iPhone/iPad
Q: You try to record iPhone/iPad screen with QuickTime but QT cannot recognize your iPhone/iPad. Your iPhone/iPad is connected to the Mac but does not show up in QuickTime. It only shows the FaceTime camera and you cannot choose iPhone/iPad as the camera.
Check if you are using a 30-pin to USB cable to connect iPhone/iPad to the iMac or MacBook. If you are, switch it to Apple's lightning cable. QuickTime should recognize your device with the lightning cable.
If you are using applications like Micro Snitch on your Mac, quit the application.
Update Mac OS to the latest macOS 10.12 Sierra or macOS 10.13 High Sierra.
4. QuickTime screen recording is stuck on finishing
Q: After clicking stop recording, QuickTime is stuck at "Finishing Recording" progress bar and won't complete.
If your Mac is totally stuck and you are unable to close QuickTime, please try:
Launch Terminal;
Type this command: top -u and press Enter;
Find the process ID(PID) of QuickTime Player. Note the ID;
Type in: sudo kill [PID]; Press Enter to quit QuickTime.
If you don't want to lose the recorded video, you may find the screen video here:
$HOME/Library/Containers/com.apple.QuickTimePlayerX/Data/Library/Autosave Information/Unsaved QuickTime Player Document.qtpxcomposition/Screen\ Recording.mov
Remember: This .mov file is not a regular QT video file, but a container. To open the container, use Finder to locate the file and control-click on the file to open it.
5. QuickTime screen recording freezes
Q: QuickTime screen recording freezes suddenly. You are taking a video with QuickTime, suddenly the app just freezes.
This screen recording not working problem probably happen because of low RAM on your Mac. There is not much you can do about it. A Mac OS system update may help.
6. QuickTime movie recording: operation could not be completed
Q: When trying to start a new movie recording, QuickTime pops up an error: the operation could not be completed.

This is actually a bug. Many users with iPhone 5s, iPad Air on iOS 10.3 and MacBook on macOS 10.12 reported such a QT recording problem. You can try:
Restart iPhone/iPad;
Make a backup and reset iPhone/iPad;
Update iOS devices and Mac system.
---
You May Like:
(2022) Screen Recorder for Mac: Record Screen Videos on MacBook/iMac (opens new window)
How to Record QuickTime Videos without Lags in Small Size (opens new window)
---
Get Mac/iOS Update & Reinstall QuickTime
In many occasions, QuickTime screen recording stops working because of a system bugs. Therefore, getting system updates is believed to be cure-all.
Update your MacBook, iMac to latest macOS.
If you are trying to record iPhone/iPad screen via QuickTime, update iPhone/iPad to iOS 11.
Reinstall QuickTime to keep the application up-to-date.
Get A Third-Party QuickTime Alternative
If your software is already up-to-date and there is no other solution to get QuickTime recording working again, you should record screen video with a third-party recorder: FonePaw ScreenMo (opens new window). The recorder can record iPhone, iPad, iPod Touch, Mac screen with audio. And it supports screen recording for multiple devices simultaneously. By using Airplay, you can record iOS screen video wirelessly.
Step 1 Download iOS Screen Recorder on your PC.
Free Download Buy with 20% off
Step 2 Put your iPhone/iPad/Mac and PC in the same Wi-Fi network.
Step 3 Follow the instruction on the program and airplay iPhone/iPad/Mac to PC.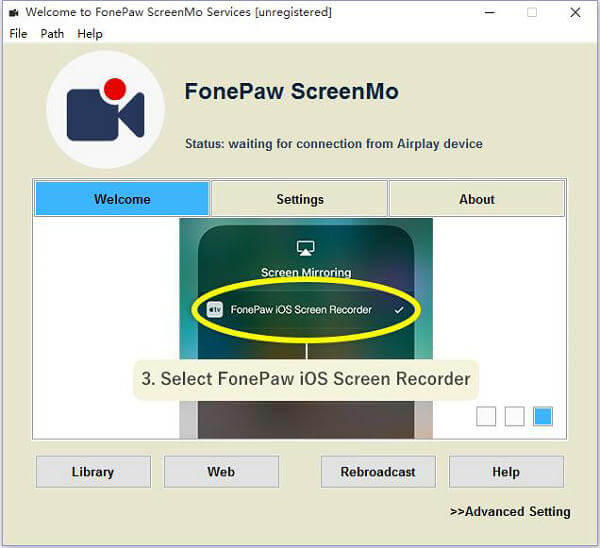 Step 4 Your iPhone/iPad/Mac will be mirrored on PC. Click record button to start recording. If you need audio, click microphone icon to record screen video with audio.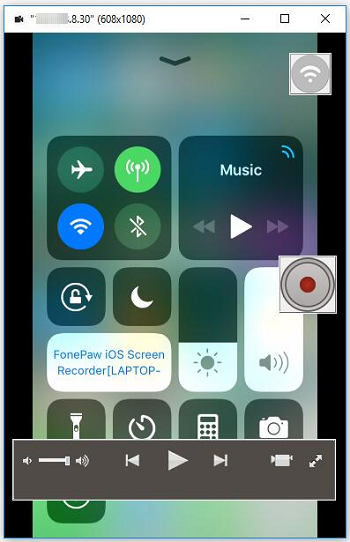 Step 5 To stop recording, click record button again. A window pops up and you can choose Start Export to save the screen video.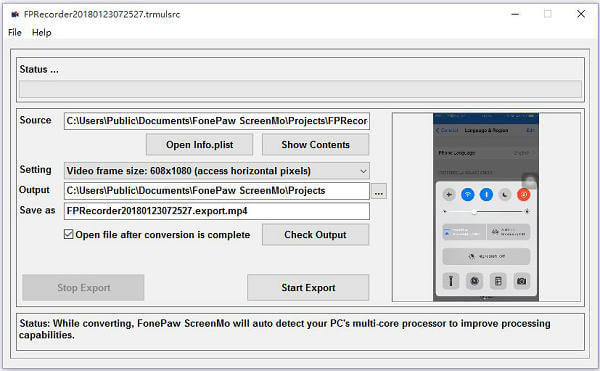 Note: If you tend to record Mac screen with audio, the method above is good for you or you can try FonePaw Screen Recorder (opens new window) to capture Mac screen directly.
If you have other question about recording iPhone/iPad/Mac screen with QuickTime, leave your comment below.