Problem: "I have a 13-inch MacBook Air and a 24-inch Dell all-in-one desktop. Now I would like to mirror the MacBook screen to the larger PC monitor with any HDMI or DisplayPort cable. Can I airplay Mac screen to PC wirelessly? "
Troubleshooting: It is not a common problem but there are users who need to mirror Mac screen to a Windows PC occasionally. For example, to mirror a small MacBook (e.g. 11-inch MacBook air) to a larger Windows screen, to share mac screen with another computer, to share Mac screen to a PC so that the mac screen can be mirrored to a smart TV (Samsung, Sony TV).
If you are looking for a workable solution to mirror MacBook screen to Windows PC, you can try FonePaw ScreenMo (opens new window), an Airplay receiver that is widely used to mirror and record iPhone/iPad screen on PC. Recently, a few users discovered that the software can also airplay Mac screen to PC. Some of them even used it as a workaround to mirror Mac to Samsung TV: they use ScreenMo to share Mac screen with a Windows computer, then mirror the screen to Samsung TV with an HDMI Cable.
It is quite simple to mirroring iMac, MacBook screen to Windows with the FonePaw Airplay receiver (opens new window). Here are the detailed steps.
You May Like: How to Record Mac Screen with Audio (opens new window)
# Steps to Mirror Mac Screen to Windows PC
Step 1 Download FonePaw ScreenMo on a Windows PC.
Free Download Buy with 20% off
Step 2 Open the program, click Settings. Remember to tick "Optimize Airplay display size" and set the display resolution as 1920 x 1080 Full HD. This will make sure that whether your MacBook is projected to a bigger screen or your iMac shares screen to a smaller PC, the mirrored screen will be displayed with high-resolution quality.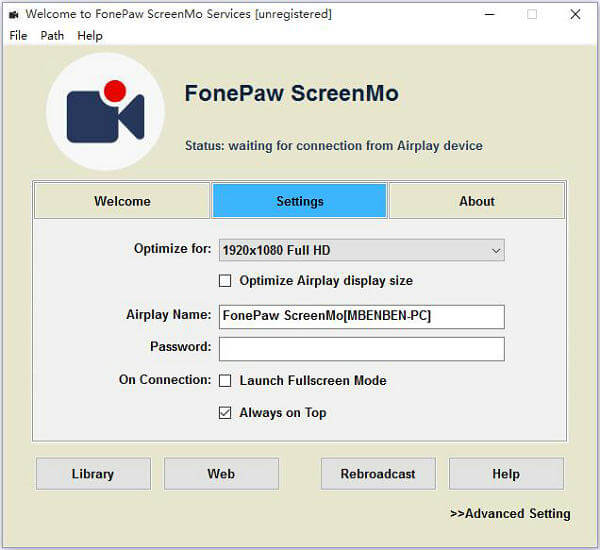 Step 3 Make sure that your MacBook and the Windows computer are connected to the same Wi-Fi network.
Step 4 On your MacBook screen, click Airplay icon and then choose the Airplay name of the program. The Airplay is available on OS X Mountain Lion and above.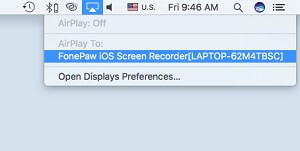 Step 5 The MacBook screen will be immediately displayed on the Windows screen.
Step 6 You can then enjoy videos, photos, games of Mac on a bigger screen. When playing a video on Mac, iOS Screen Record allows you to control the progress bar, pause the video, decrease/increase volume of video directly on PC.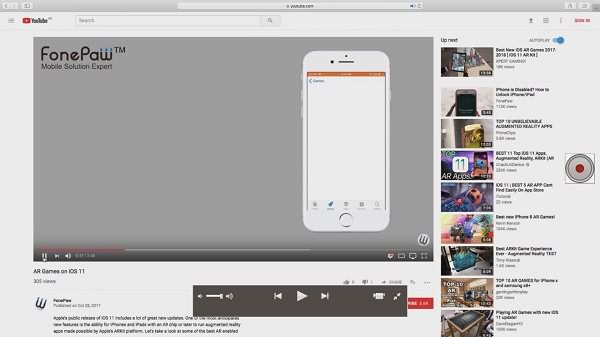 If you need to record Mac screen, click the red record button to start recording Mac screen on PC.
Tip: If you would like to mirror the Mac screen to a smart TV, connect the PC to the TV with cable or wirelessly, the mirrored Mac screen will display on the TV screen via PC. (Also: How to Mirror Mac Screen to Apple TV (opens new window))
FonePaw ScreenMo can also mirror iPhone, iPad screen on PC and help you record iPhone/iPad screen with audio in one click. Now the free trial version is available. Download it and explore more.