We loves playing games on our iPads. And sometimes we would like to record gameplay on iPad Pro/Air/Mini for YouTube, Twitch.tv, etc. If you have no clue how to do so, this post will share with you two easy methods to record iPad gameplay without jailbreak. You can record Minecraft PE, Clash of Clans, Super Mario Bros, League of legends, Clash Royale effortlessly while playing the game.
Capture GamePlay on iPad Pro/Air/Mini with Mac
At iOS 9, Apple introduced ReplayKitframewor, with which players can capture screen on iPhone/iPad during the game if the developers have added it to the game. However, not many games support ReplayKit and for those that don't enable ReplayKit, including Minecraft, Clash of Clans, you need to record iPad gameplay with a computer.
If you have a iMac or MacBook, you can use QuickTime, Mac's default video player, to record iPad/iPhone screen while playing a game. But you need a Mac with Mac OS X Yosemite and an iPad installed with iOS 8 and above.
To capture gameplay on iPad/iPhone with QuickTime, please follow these steps.
Step 1 Launch QuickTime on your Mac and connect your iPad to the Mac with a USB cable.
Step 2 Choose File > New Movie Recording. A recording window will show up.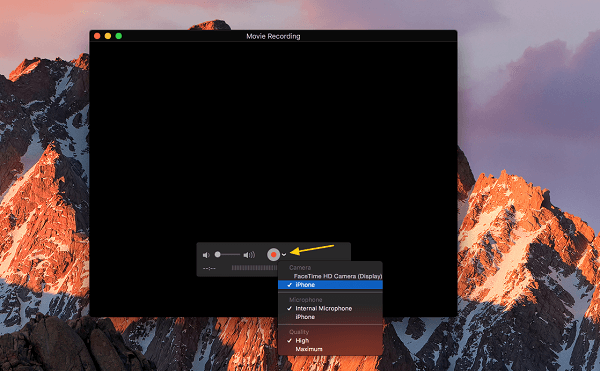 Step 3 Click the arrow down icon next to the Record button. And choose your iPad from the available camera.
Tip: You can also choose to whether to enable microphone on your iPad to record video with game audio.
Step 4 When you are ready, click Record button to begin recording gameplay on your iPad screen.
Step 5 Click the Record button to end the gameplay recording and click File > Save to save the video on your Mac. Or you can click Share button to directly share the video to YouTube or other platforms.
Record iPad GamePlay on iPad Pro/Air/Mini with PC
If you don't have a Mac computer or QuickTime screen recording doesn't work on your computer, you may want to use FonePaw ScreenMo (opens new window) to record iPad/iPhone gameplay footage with PC. iOS Screen Recorder is a super easy-to-use screen recorder for iOS devices to capture screen video with audio in high quality. It can record gameplay in MP4 format with or without sound and you can convert the video into any other formats (opens new window). Here is how to use it.
Step 1 Free download iOS Screen Recorder on your PC.
Free Download Buy with 20% off
Step 2 Make sure that both your iPad and PC are on the same Wi-Fi network.
Step 3 Click Settings to set up the video format, resolution, Airplay name, etc.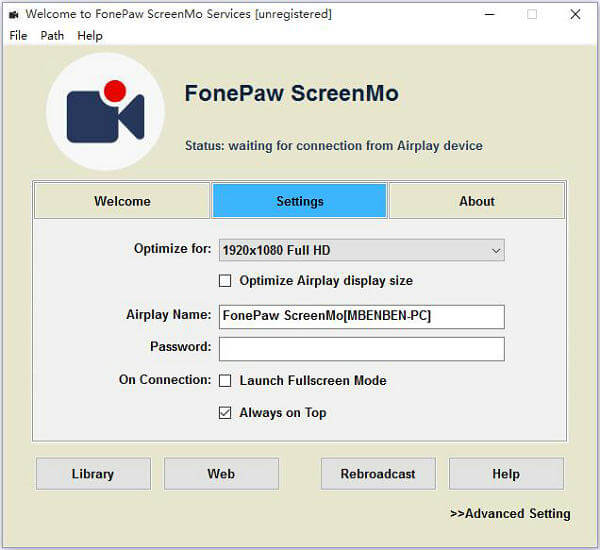 Step 4 Open iOS Screen Recorder on PC. Then enable Screen Mirroring on your iPad's Control Center and choose your PC. The iPad screen will be projected to PC display immediately.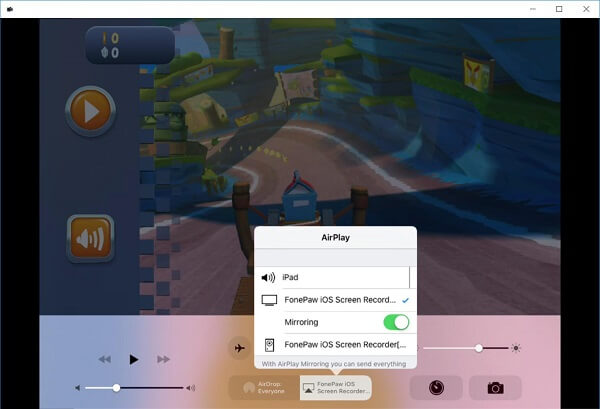 Step 5 When you are all set, click Record button to start recording gameplay on your PC.
Step 6 When you are finished, click the red Record button to stop the recording.
The recorder will save the video to the computer, which you can stream to YouTube Gaming, Twitch.tv and other services.
Extra Tip: Disable Screen Recording for Game on iPad
If you are playing a ReplayKit-compatible game and don't need the screen recording feature, you can disable screen recording for game in two ways.
Go to Settings > General > Restrictions. Enter your passcode and scroll down to Game Center and turn on the button for Screen Recording.
Go to Settings > Game Center and sign out with your Apple ID.
Any question about recording gameplay on iPad/iPhone, leave your message below. And if you find this post useful, share it to your friend via FaceBook, Twitter, Instagram, Google +.