To mirror iPhone screen to PC or a smart TV, you need a good screen mirroring software to help you. In this post, you are going to learn 5 best screen mirroring software to project iPhone/iPad screen to Windows PC. With these mirroring tools, you can display and control iPhone screen on a big screen for work presentation, product demonstration, teaching tutorial, entertainment, etc. The latest iPhone X, 8, 8 Plus can also be mirrored to PC, TV easily.
# What's The Best iPhone Mirroring Tool? Here're Our Standards
Compatibility
A good iPhone mirroring application should support screen mirroring for iPhone of all generations, from the older iPhone 4/5/5s/6/6s to the latest iPhone 7/7 Plus/8/8 Plus/X. And it should work well with different iOS and Windows versions.
Functions
Powerful. We need this screen mirroring application not only to display iPhone/iPad screen on PC or TV but also control iPhone on PC, record iPhone screen video etc.
Smooth. We don't want to experience mirroring lag or a slow connection during an important presentation. Therefore, the mirroring software must keep running stably and smoothly.
Simple interface. The software should be easy-to-use and anyone can start screen mirroring on PC right away without extra help.
Price
Many users are teachers, students, employers who have a limited budget for a screen mirroring software.
# Best Software to Mirror iPhone on PC
FonePaw ScreenMo
Free Download Buy with 20% off
With the FonePaw ScreenMo (opens new window) on your PC, the PC becomes a mirroring receiver, which can display your iPhone screen by using iOS built-in Airplay (Screen Mirroring on iOS 11). No extra application is required. And By connecting to a TV, you can then view iPhone screen on the TV screen.
What's great about the software is that it can airplay iPhone/iPad to PC wirelessly in high picture quality (1080 x 1920 full HD) without lag. And it supports screen mirroring for multiple iOS devices simultaneously and allows you to record iPhone screen in one click. When playing iPhone video on PC with the mirroring software, you can pause the playing, move the video forward or backward, volume up/volume down directly on PC.
The interface of the software is not pretty but with step-to-step guide displayed, users can easily start sharing iPhone screen to PC by following the guide.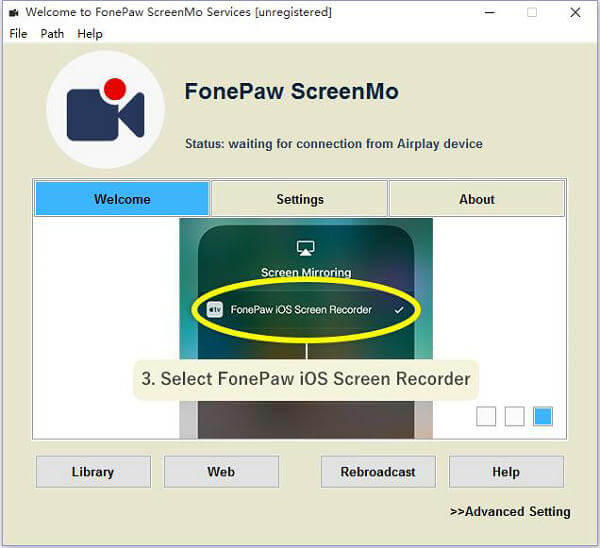 And the price is quite reasonable, with 7-day free trial and $14.95 to get a lifetime license.
AirServer
AirServer is another great AirPlay receiver. It also casts iPhone screen to PC with iPhone's built-in Airplay. It is available in both PC version and Mac version. So if you would like to mirror iPhone screen to Mac, you can try its Mac version.
And besides Airplay, the software can also receive Google Cast and Miracast streams so that you can mirror compatible Android device to PC. However, since the software comes with more functionality, it takes about 30 minutes to install the application and the mirroring lags sometimes.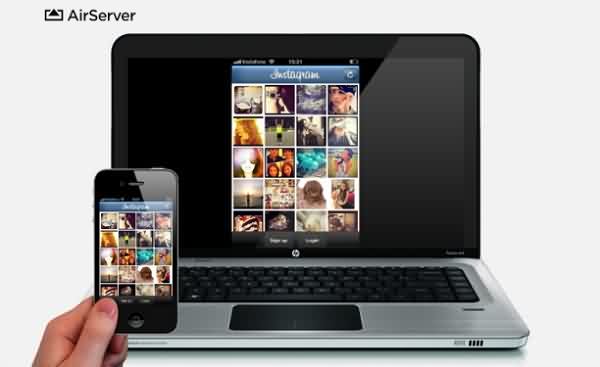 The software offers 14-day free trial but the screen recording function is disabled in free version. It takes $14.99 to get an individuals license.
Apowersoft iPhone/iPad Recorder
The software is specially designed to mirror and record iPhone screen on PC. Besides streaming video, audio, iPhone screen to a computer, it also allows you to take a screenshot of the iPhone screen. And its new version is added with iOS 11.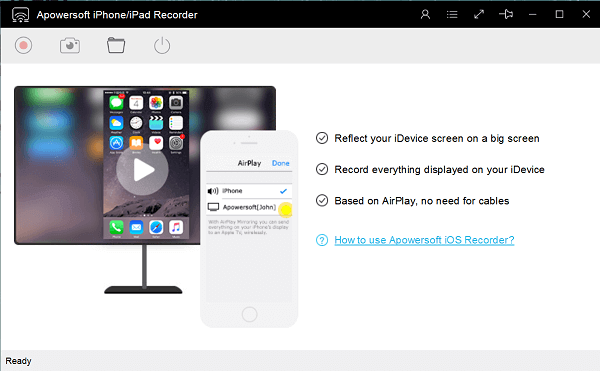 It is a shame that the software doesn't support screen mirroring for multiple devices. And the software is very expensive. It takes $39.95 to get a one-year license.
Reflector
Reflector can mirror your mobile device (iPhone included) to PC via Google Cast, AirPlay and AirParrot 2. It also has a streaming feature that can stream your iPhone screens to YouTube for audiences to watch live.
And like other mirroring software, Reflector also present multiple iPhone screen on PC at the same time. And unlike other software, the program can spotlight the screen that matter most, add device frame to the displayed screens, hide mirroring devices without disconnecting them, giving you more controls on mirroring multiple iOS devices on PC.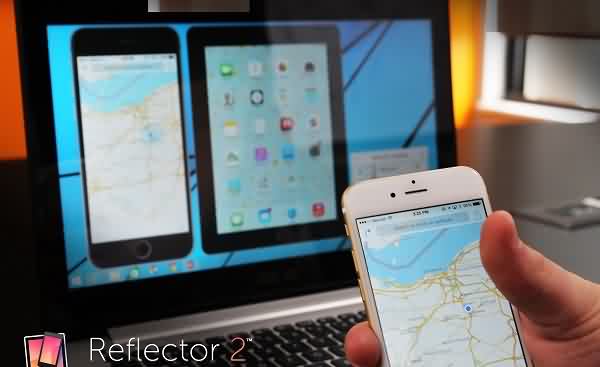 To get Reflector on one PC, it costs $14.99.
Mirroring 360
Mirroring 360 can be used to mirror, share and record iPad, iPhone screen to PC. What distinguishes it from other mirroring software is that it can share computer screen to up to 40 remote or in-room devices, which means your audiences can watch what's on your screen on their devices. It is a very useful feature for a business conference. However, the feature is exclusive to Pro subscription, which costs $29.99 per year.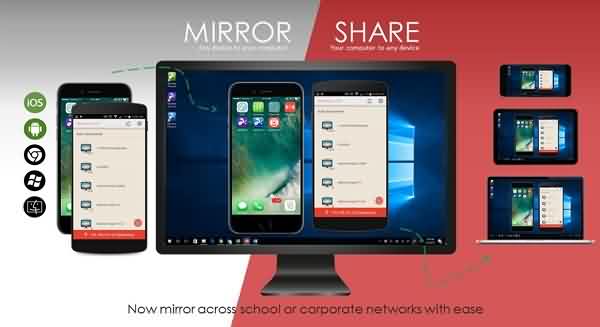 If you just need to mirror iPhone screen on a computer monitor, you may purchase its standard version ($11.99).