Summary: This guide aims to introduce the best alternative to AirShou to capture iOS screen as some of the users reported that there were something wrong when using the AirShou App, and thus are looking for its best alternative to record screen on iPhone/iPad.
People also read:
Fix iOS 11 Screen Recording Not Working Problem (opens new window)
How to Record GamePlay on iPhone 8/8 Plus (opens new window)
There are tons of iPhone/iPad screen recorders in the market for your choice. AirShou is a prevalent one. For some reasons (you can continue to read and learn what exactly they are), AirShou users may want to swift to another iOS screen recorder. Now, let's see what the best alternative is and how it works.
Part 1: What Is AirShou?
What is AirShou? Some of you may ask. To put it briefly, Airshou is a screen recorder App that is available for iOS devices as well as android without computer. And the App doesn't require iOS users to jailbreak, which most of the screen recorders in the market may require users to do so. In this way, if you don't want to or unable to jailbreak your iOS devices because of the version you are on, Airshou app can be your good choice.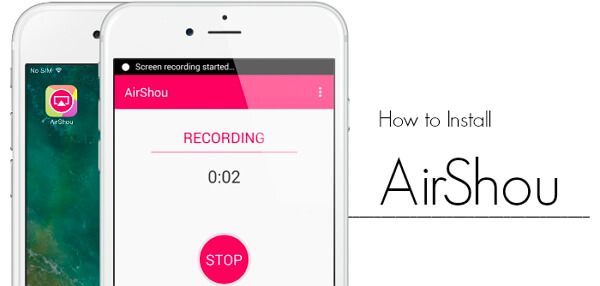 With Airshou App, you don't need to go through many complicated settings. However, one of the features I don't like would be: to use it successfully, users are also required to download another App called Shou.TV (you can find it from App Store on your iOS device), which you may be not interested in using it but it is a prerequisite of using the Airshou App.
Part 2: Disadvantages of AirShou to Record Screen on iPhone/iPad
Though Airshou is convenient to use in a way, you should also notice its disadvantages. Now, I will list some of the downsides of AirShou below.
Before you can use the AirShou app, you need to firstly download Shou.TV app on your phone, which may be useless to you.

AirShou app cannot be found on the App store and there are different download sources on the Internet. So some of the users may download bundled software you don't need or the malware.

Voice distortion.

Being crushed when you download it on iOS 10 and onwards.

In most of the cases, it hangs after 30 seconds of recording.
…
I will continue to introduce another tool to capture iOS screen below. You can choose the one that fit you most after the comparison.
Part 3: Best Alternative to AirShou to Capture iOS Screen
To make up the downsides of AirShou, I would like to introduce an effective and powerful app to record iPhone without jailbreak. FonePaw ScreenMo (opens new window) program is tested to be the best alternative to AirShou app. It is a program that should be downloaded and installed on computer and the program not only allow you to record your iOS screen easily, but also mirror it on computer, which is a feature you can't find in AirShou app.
Now, let's see how this FonePaw ScreenMo program works when you try to record iPhone screen in iOS 11/10/9 on Windows.
Step 1 Download and access FonePaw ScreenMo program by clicking the button below.
Free Download Buy with 20% off
Step 2 You should make sure you have connected both the iOS device and your computer to the same Wi-Fi network.
Step 3 On the iPhone/iPad, you need to swipe up to reveal Control Center and choose "AirPay (or Screen Mirroring)". Now you can see the "FonePaw ScreenMo" displayed on your phone screen. Tap on it and you will get your iOS screen mirrored on the computer.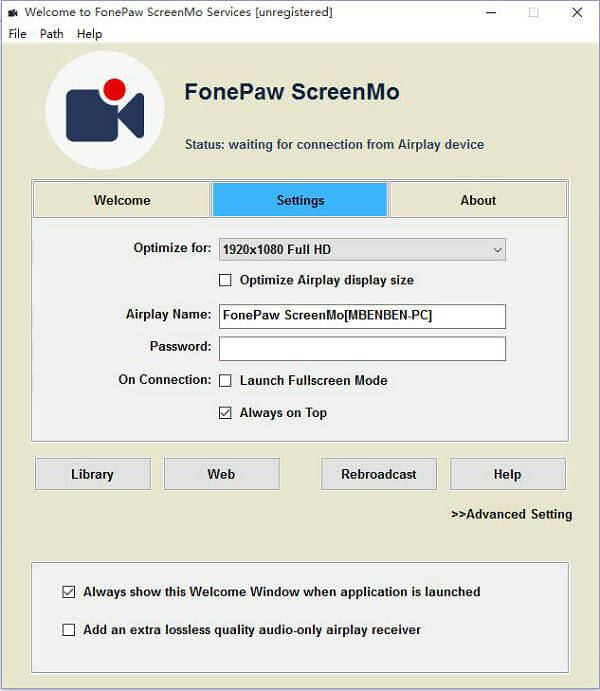 Step 4 Click on the red circle button to start recording. To stop it, you should click on the button again.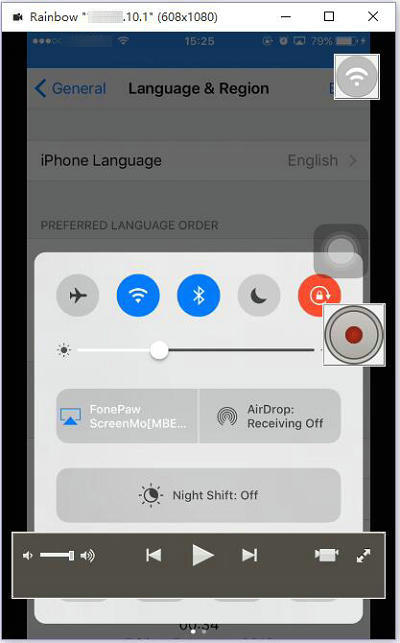 After you finish recording iPhone/iPad screen, the recorded iOS videos would be saved as MP4 on your computer. In the interface as below, you can set up your output items such as the video frame size, location and name of the exported video, etc.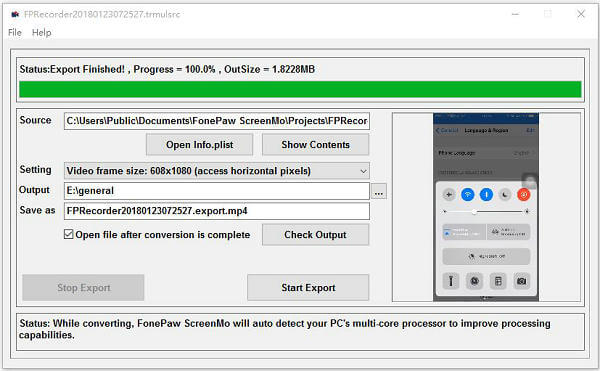 So do you think FonePaw ScreenMo is the best alternative to AirShou to record screen on iPhone or iPad? If you want to share your ideas, just drop us a comment below!