If there is something wrong with your iPhone 6/6s/7/8/iPad, generally you can simply solve the problem by connecting your iPhone/iPad to iTunes and get your iPhone/iPad restored. But if after you connect your iPhone to PC, iTunes cannot recognize your device and alerts that "iTunes could not connect to this iPhone because an unknown error occurred (0xE8000015)", you may need to fix this iTunes Error 0xe8000015 for iPhone 6/6s/7/8/X or iPad on Windows 10 through the following solutions.

1. Basic Troubleshooting for iTunes Error 0xe8000015
Before using assisting software and complex ways, you can try some simple and easy ways to fix iTunes Error 0xe8000015. Try to connect your iPhone/iPad again to see whether iTunes recognizes your device after each step.
Step 1: Make sure your iPhone/iPad is unlocked and turned on.
Step 2: Update iTunes, your iOS system, your computer system to the latest version.
Step 3: Unlock your iPhone/iPad and tap Trust when you see the notification "Trust this Computer" on your phone.
Step 4: Disconnect all devices to your computer except your iPhone/iPad. Try each USB port to connect your device and use a different USB cable.
Step 5: Make sure the network connection is working.
Step 6: Make sure there is enough space left on your iPhone/iPad.
Step 7: Reboot your computer and iPhone/iPad.
Step 8: Try to connect your device to another computer.
2. Use iTunes Alternative to Fix iPhone/iPad
Use iTunes Alternative --FonePaw iOS System Recovery (opens new window) to fix your iPhone/iPad. FonePaw iOS System Recovery is an expert at fixing iOS devices with system problems. If your iPhone 6/6s/7/8/X/iPad is disabled/locked/stuck, FonePaw iOS System Recovery can help you connect your iPhone/iPad to PC and fix the device without dealing the error 0xe8000015 you encounter in iTunes. The steps below show you how to use this software to fix your iPhone/iPad.
Step 1: Download FonePaw iOS System Recovery to your computer and install it.
Free Download Buy with 20% off Free Download Buy with 20% off
Step 2: Launch FonePaw iOS System Recovery, connect your disabled/locked iPhone to PC with a USB cable and the program will detect your abnormal iPhone. Select standard mode and click Confirm.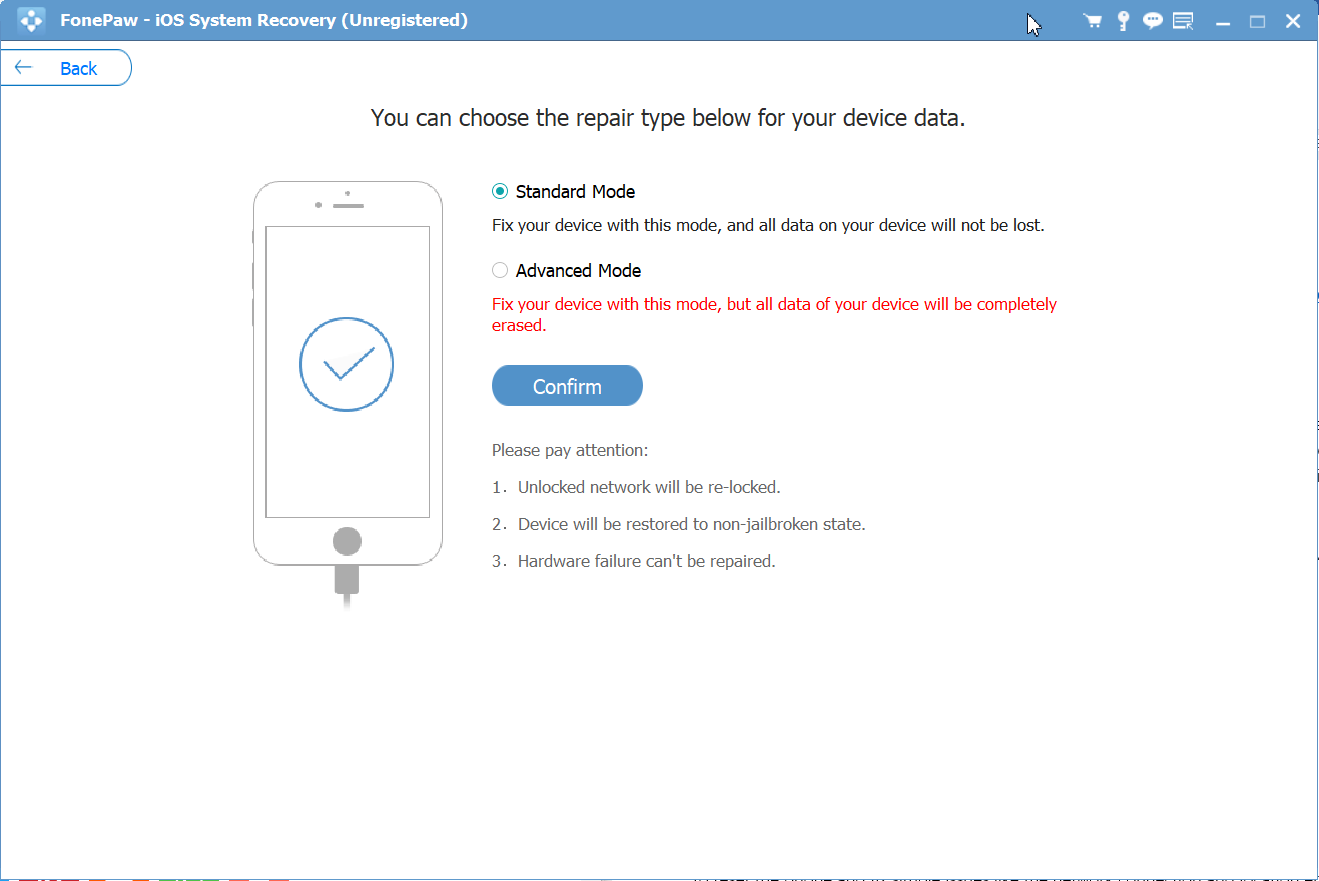 Step 3: Follow the instruction to put your phone into Recovery mode.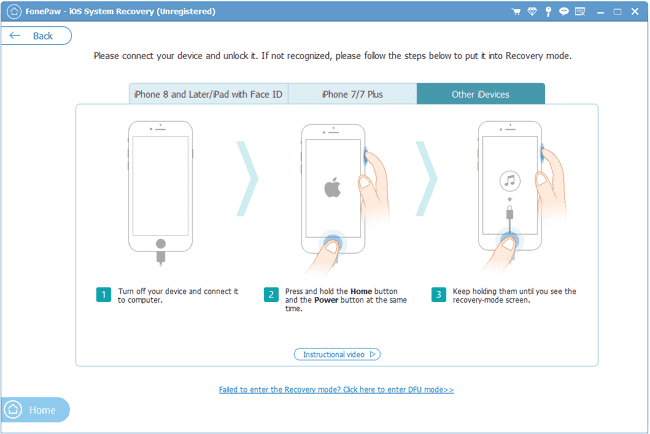 Step 4: Check the information of your iOS device and click Repair to download the corresponding firmware package.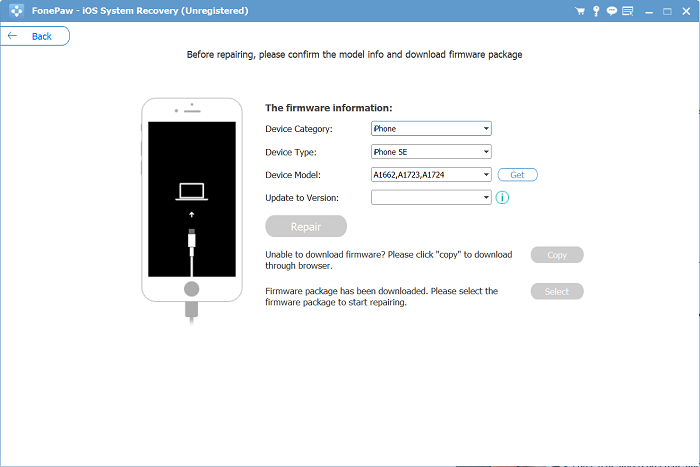 Step 5: Wait for the processing bar to go to 100%, and your iPhone/iPad/iPod Touch will be back to normal.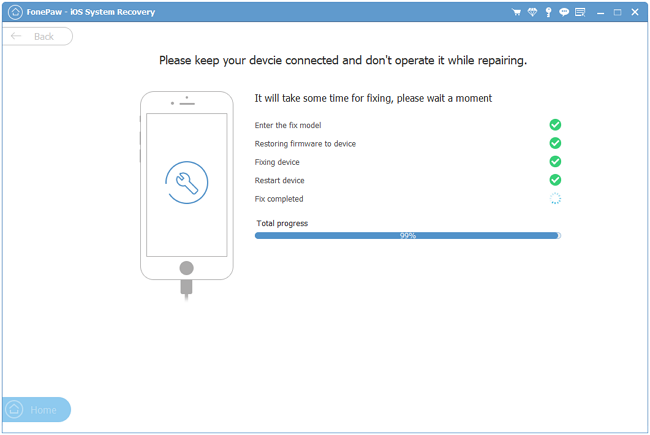 3. Connect to iTunes in Recovery Mode
If you cannot simply restore your iPhone/iPad with iTunes because of iTunes Error 0xe8000015, you can firstly set your device to recovery mode and then use iTunes to restore it.
Step 1: Connect your iPhone/iPad to your PC and run iTunes on your PC.
Step 2: Put your iPhone/iPad to recovery mode.
Take iPhone 8 for example. Power off iPhone 8, connect it to a computer and open iTunes. Press and release Volume up button first, and then press and release Volume Down button. Then hold the Side button quickly till iTunes logo appears on your iPhone. Here is how to get into recovery mode (opens new window) for different iPhones models.
Step 3: After the iTunes logo appears on your device, click the Restore button in the dialog box on PC and confirm your choice when you are asked again.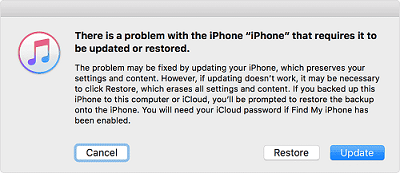 Step 4: Wait for iTunes to process the restoring.
4. Disable Restrictions on iPhone/iPad
Another possible reason for iTunes Error 0xe8000015 is that you have enabled Restriction on your iPhone/iPad. In this case, just disable Restriction on your phone to fix the problem.
Step 1: Go to Settings > General > Restriction.
Step 2: Check whether Restriction is enabled.
Step 3: If Restriction is enabled, tap Restriction and enter your Restriction passcode you have set before.
Step 4: Tap Disable Restrictions and then enter Restrictions passcode.
Note: If you cannot find the options above in General, that's because your iPhone is on the newer version of iOS. Try Settings > Screen Time > Content & Privacy Restrictions to disable it.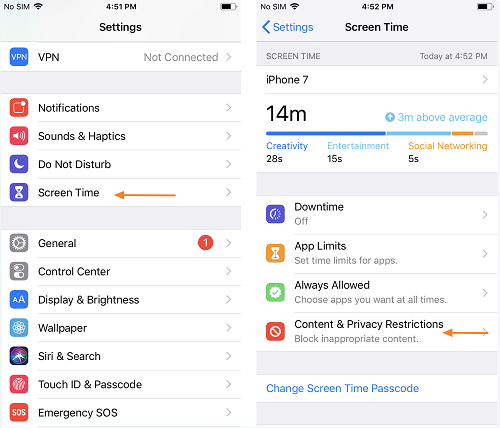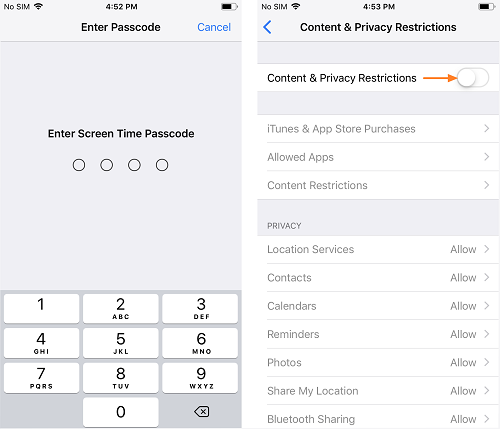 5. Delete Apple Lockdown Folder
By deleting the Lockdown Folder on your computer, iTunes will recreate the directory, which is likely to fix iTunes error 0xE8000015.
On Windows:
Step 1: Go to the directory C:\ProgramData\Apple\Lockdown.
Step 2: Delete the Lockdown folder from your computer.
On Mac:
Step 1: Go to Finder > Go > Go to Folder from your Mac.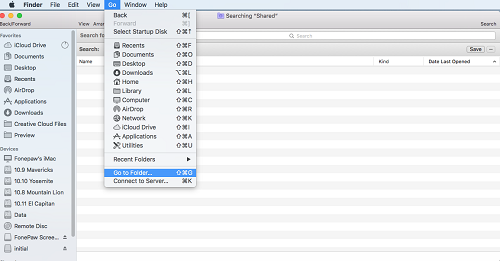 Step 2: Enter /private/var/db/ lockdown and click go or press the return button.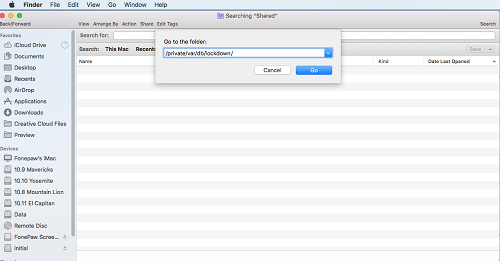 Step 3: Select all the items in the Lockdown folder and remove them from your computer.
6. Reinstall the Apple Mobile Device USB Driver
If the methods above do not work, try reinstalling the Apple Mobile Device USB Driver. Note that there are different methods of reinstalling the Apple Mobile Device USB Driver according to where you download iTunes (Microsoft Store/Apple). If you do not know how to reinstall the Apple Mobile Device USB Driver. Read how to [reinstall the Apple Mobile Device USB Driver.](