Some iPhone users notice that sometimes iTunes cannot connect to iPhone 6/7/8/X due to the invalid response. No matter how many times you try to plug in or plug out the USB cable, the results are the same. Actually, I myself also encountered this kind of problem and found out some useful solutions to fix the problem that iTunes could not connect because of invalid response from iPhone 6/7/8/X.
Part 1 Solutions to Fix iTunes Could Not Connect Because an Invalid Response
When you see the message: "iTunes could not connect to [iPhone/iPad] because an invalid response was received from the device", it really means that USB connection between iTunes and your iPhone/iPad has been broken, which can be caused by a faulty cord or a system error. To fix iTunes invalid response error, here are four solutions.
1.1 Try Another Cable or Ports
Sometimes, if the USB cable that connects your iPhone to iTunes is incompatible or broken, iTunes cannot connect to your iPhone. So the first solution introduced would be changing a new or another cable or port and see whether it works or not. Also at the same time, close the iTunes and open it again.
1.2 Reboot/Reset iPhone
Maybe there is something wrong with your phone that you don't notice, in terms of this, you can reboot or reset your iPhone. At the same time, you also can restart the computer to fix glitches on iTunes.
P.S. When you connect your iPhone to iTunes again, please make sure it is unlocked.
1.3 Update or Reinstall iTunes
To update iTunes, if your computer is Mac system, then select "Menu", open iTunes and then tap "Check for Updates";
If you have a Windows PC, go to "Help" on iTunes, and then click "Check for Updates".
1.4 Delete Lockdown Folder
There are two ways available about how to delete Apple lockdown folder, both on Windows or Mac.
On Windows:
STEP 1 On Windows 10/8/7/XP, lick Start and
STEP 2 Type "%ProgramData%" and press Return button;
STEP 3 Double click Apple folder and open it;
STEP 4 Delete the Lockdown folder (P.S. Before this, you have to sign in as the administrator).
On Mac:
STEP 1 Tap Go >> Go to Folder from the Finder;
STEP 2 Type "/var/db/lockdown" and then press the return button;
STEP 3 Tap "View as Icons" to show the files;
STEP 4 Choose all the files and delete them. There is one thing need to be noticed that it is not required to delete the lockdown folder but only the files inside it. Therefore, you should remember to leave the lockdown folder.
Part 2 Backup iPhone to PC without iTunes
There are several people online would ask such a question "How can I backup my iPhone 8 to PC but without iTunes?" Here I suggest one tool: FonePaw iOS Data Backup & Restore (opens new window).
Free Download Buy with 20% off Free Download Buy with 20% off
It is a utility that enables you to do a whole backup for your iPhone or iPad data, for instance, contacts, iMessages, photos, videos, music and so on only by ONE CLICK. The backup files are saved on PC in small size.
Meanwhile, before restoring, all the backup files can be previewed; you also can choose to restore part of or all of the data from backup to iPhone.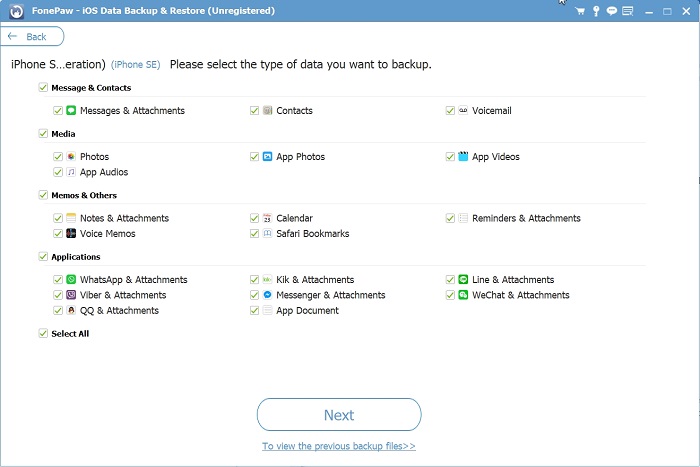 Read how to backup iPhone to PC without iTunes (opens new window)to learn the specific steps to back up iPhone to PC
Part 3 Transfer Data from iPhone to PC Without iTunes
When you tried all that solutions given above, your iPhone still cannot link to iTunes, then you should try this one: Transfer Data from iPhone to PC without iTunes by FonePaw iOS Transfer.
FonePaw iOS Transfer (opens new window)enables you to transfer music, photos, videos, contacts, SMS and so on from iOS device to computer without iTunes. Besides, the program also supports transferring data from computer to iPhone, from iPhone/iPad to iPhone/iPad.
With only 3 steps then can achieve transferring data from iPhone to PC without iTunes.
STEP 1 Download and install FonePaw iOS Transfer;
STEP 2 Connect iPhone to PC via USB cable, select photos, audios, contacts or other data you would like transfer and click Export to PC;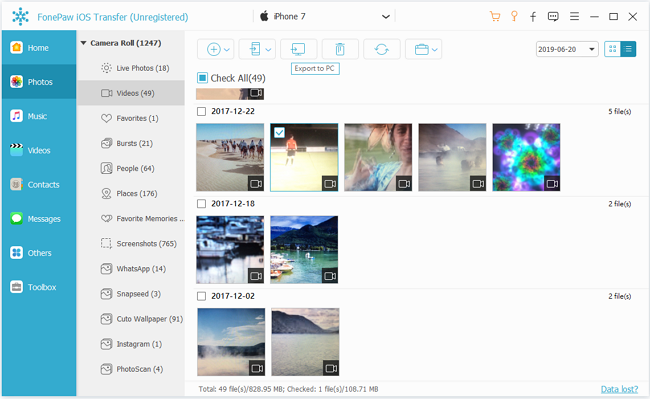 STEP 3 Get iPhone files on computer.
A passage is provided for reference: How to transfer files from iPhone to PC (opens new window).
With 4 basic solutions I think at least one of them can solve your problem that iTunes cannot connect to iPhone 6/7/8/X because of invalid response. If you still cannot connect to iTunes or find iTunes too complicated to use, you can use third-party programs on the post to backup or transfer iPhone data to PC. Share this article if it helps you out.