I was trying to back up WhatsApp data to iCloud. However, before long after I tapped on the "Back Up Now" button, there is a warning error saying that 'Couldn't complete backup. Tap "Back Up Now" or decrease the Auto Backup frequency.' I've done as suggested, however, nothing seems to work out. Any ideas?
Are you encountering a similar situation as the above case shows? It turns out to be common trouble that comes to a number of iPhone users. Why is this happening? There are a few potential reasons.
iCloud have no enough storage.

Network error occurs.

Users did not give permission for iCloud to back up WhatsApp.
Don't Miss Out:
Notes: Do These Before You Go Any Further
There are two feasible ways below. However, before you get down to them, you should really check out these things ahead of time.
Wi-Fi network is working well.

Make sure that your iCloud has sufficient storage.

Don't forget to authorize iCloud backup over WhatsApp in "Settings" > "iCloud" > Toggle on "WhatsApp".

Restart your iPhone and tap on the "Back Up Now" button again.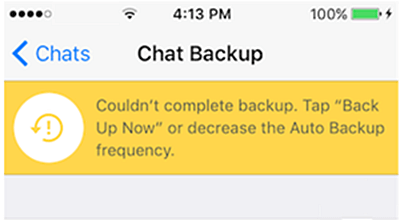 Method 1: Decrease the Auto Backup Frequency As Required
As prompted, there is a simple way to go is decrease the auto backup frequency. Perhaps the backup is too frequent for iCloud to handle these instructions. You should follow the steps below to lower the frequency.
Step 1. Launch your WhatsApp on your iPhone.
Step 2. Select the "Settings" option on the lower right.
Step 3. Touch "Chats" and tap "Chat Backup".
Step 4. Tap "Auto Backup" and then switch it to "Daily".
Note that if you've already set the frequency to "Daily", you may consider disabling auto backup to see whether the problem is fixed.
Method 2: Backup WhatsApp without iCloud
Except for backing up WhatsApp with iCloud, you can also choose a more professional and safe way to back up your WhatsApp data.
For example, FonePaw WhatsApp Transfer (opens new window) is a program made for transferring, backing up, and restoring WhatsApp data. Comparing with iCloud, it focuses more on WhatsApp data management and it is easier to use. Follow the steps to back up without WhatsApp and you will find out how convenient it is.
Step 1 Download the program.
Free Download Buy with 20% off Free Download Buy with 20% off
Step 2 Connect iPhone to the computer and choose Backup from the 3 options.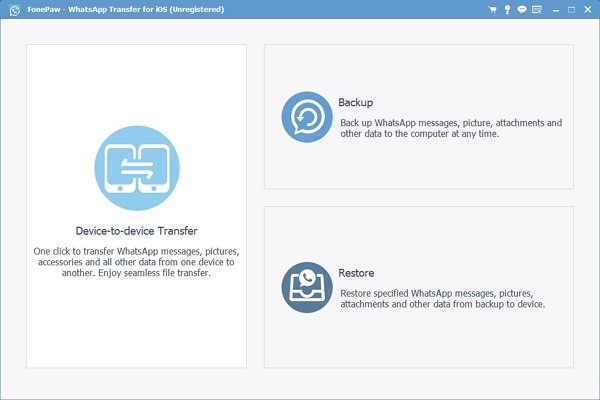 Step 3 Choose the storage path.
You can create a new file folder to store the backup files.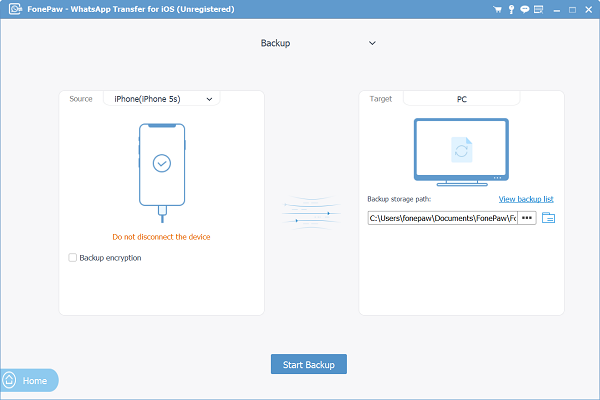 Step 4 Click Start Backup to begin.
When the process finishes, you will see the backup files shown as .data file type.
When you need to restore the backup to your device, just use the Restore to get them back to your phone in one click.
Method 3: Alternative to Back Up WhatsApp to iCloud
If it still fails to back up your WhatsApp to iCloud, you may consider using other alternatives like iTunes or iOS Data Backup & Restore. To know how they work, you can follow these tutorials.
Alternative 1: Backup WhatsApp to iCloud via iTunes
Many know that iTunes is a way to back up an iPhone to a computer (opens new window) or do an encrypted backup. However, seldom do people know that iTunes is an alternative to back up data to iCloud as well. Let's see how it works.
Step 1. Launch the latest version of iTunes on your Win/Mac.
Step 2. Hook up your iPhone to the computer via the USB connector.
Step 3. Click the "Phone-like" icon to enter the summary page.
Step 4. Under the "Backups" title, highlight "iCloud" and hit the "Back Up Now" button.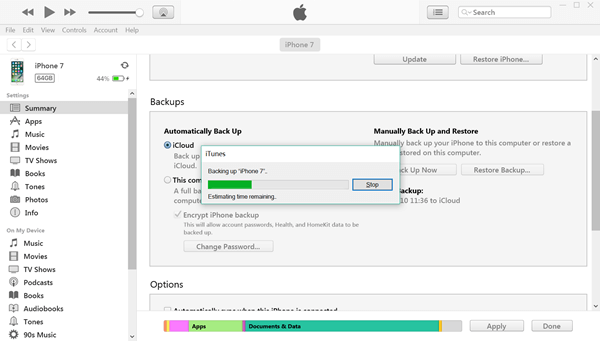 Alternative 2: Backup WhatsApp with iOS Data Backup & Restore
iOS Data Backup & Restore (opens new window) is a freeware to back up iPhone/iPad/iPod with up-to-14 types of data supported including WhatsApp & its attachments. What's more, it allows users to protect the backup with an extra security layer of an exclusive password as well as easy access and preview the backup files anytime. To know your way around this software, let's dive in.
Free Download Buy with 20% off
Supported Data:
| Photos | Videos | Audios | Messages | Contacts |
| Call History | Voicemail | WhatsApp | Notes | Calendar |
| Reminders | Safari History/Bookmarks | Voice Memos | App Document |
Step 1. Install iOS Data Backup & Restore
Above all, you should download and install iOS Data Backup & Restore on your computer. Then, launch the program and go to "More Tools" > "iOS Data Backup & Restore". Here list two options: iOS Data Backup and iOS Data Restore. Please give it a click over the left one.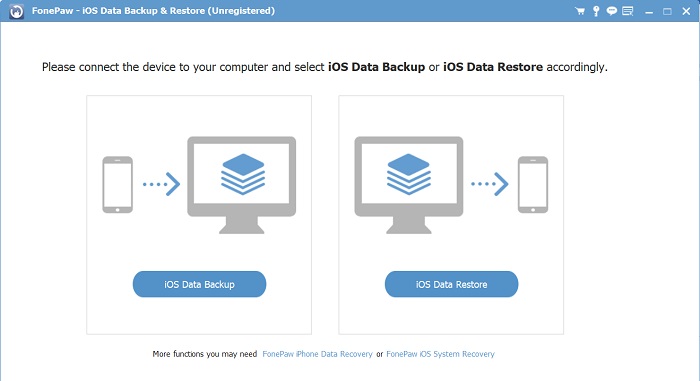 Step 2. Select WhatsApp to Backup
There are two modes to back up your iOS devices, of which respectively are "Standard backup" and "Encrypted backup". Pick one up and go with the "Start" button. If you want to protect your backup file with a password, you need to set a password that you can truly remember in mind.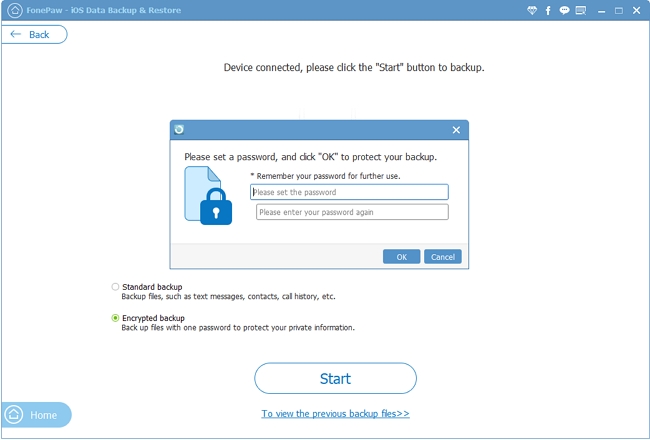 Now, you need to highlight the types of data you want to backup, for example, "WhatsApp & Attachments" and click "Next" to select an output folder to store selected data from iPhone to a computer. You can select the default path in the "Preferences" settings.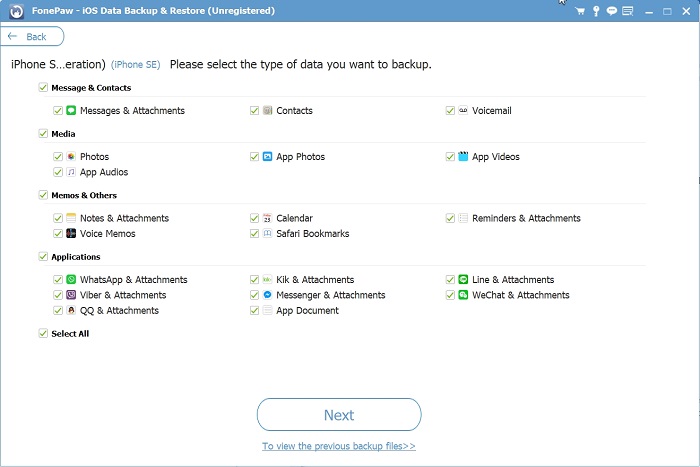 Step 3. Finish Backup
The backup process will complete in a while. The process bar will show you how it goes at the moment. When done, you will get a "Congratulations!" message. The backup file is saved as a ".data" file which can only be opened and viewed via iOS Data Backup & Restore.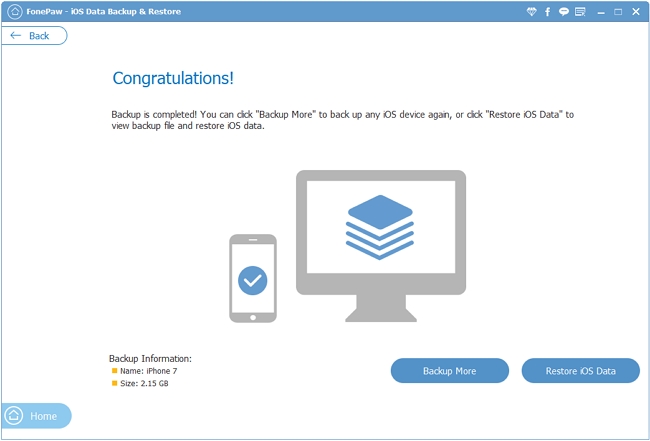 If you don't upgrade your iCloud storage plan, the storage must be insufficient for all iPhone content. Therefore, it's a good idea to store desired data on your computer. You can freely back up them via iTunes or iOS Data Backup & Restore, but the former is not allowed you to look up the backup file. So, I assume your choice is settled, right?