When you boot your iPad but find the screen shows "iPad is disabled". Now you cannot unlock and play with your iPad unless you fix the problem. Scratching you head about it? Don't worry, in this post, we will figure out how to make your iPad connect to iTunes again.
Why my iPad is disabled?
First and foremost, you may be extremely curious why your iPad is disabled.
The reason is simple: it is because you or your naughty children entered the wrong passcode too many times. To protect your privacy and device, iOS will disable your device to prevent someone else from breaking into your iPad.
What will happen if the iPad is disabled?
If your iPad is disabled, you are not able to enter the passcode anymore. Usually, when you enter the incorrect password for 1-5 times, everything is fine.
However, the iPad will be disabled and you will need to wait for 1, 5, 15, and 60 minutes respectively if you enter the wrong codes for 6, 7, 8, and 9 times.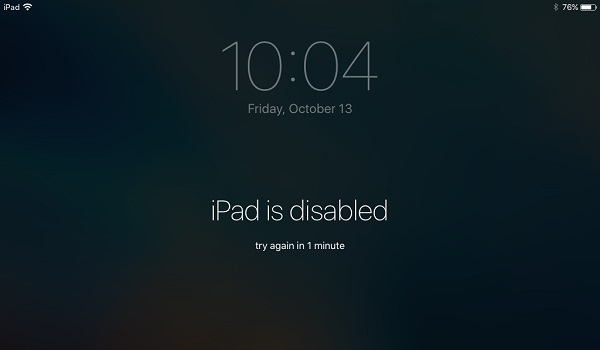 When it reaches 10 times, your iPad will be disabled forever and the screen shows: "iPad is disabled. Connect to iTunes".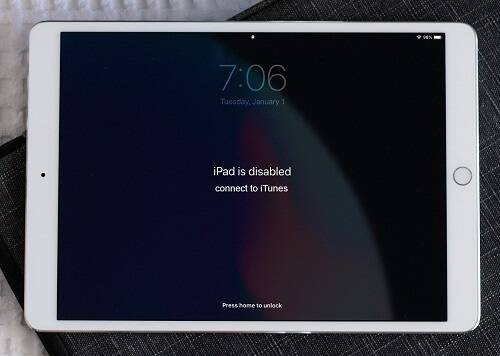 Although it is frustrating and troublesome, we still have methods to undisable the iPad. Follow the instructions below to fix the problem step by step.
Fix disabled iPad with iTunes
Using iTunes will be one of the most useful and common ways. To undisable iPad with iTunes, you need a computer and a USB cable.
You should know that this method only works if you have synced your iPad with iTunes before.
Step 1 Connect your disabled iPad to your computer via USB cable. And open iTunes.
Step 2 Click the connected device in the upper-right corner. Click on Back Up Now.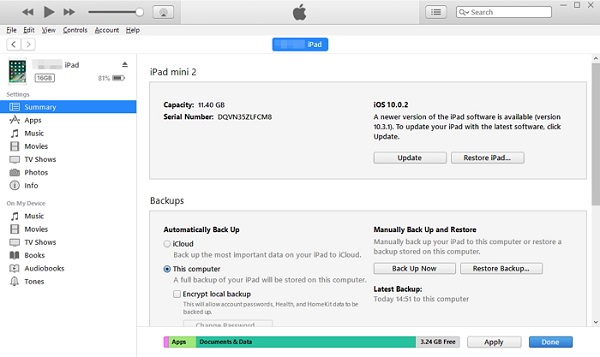 Step 3 In your iPad, a prompt will show up and ask you to enter your passcode to start the sync.
If you remember the passcode, then you can enter the code to access your iPad and cancel the backup. If this way doesn't work, continue with the steps.
Step 4 When the backup completes, choose Restore from iTunes Backup in your device.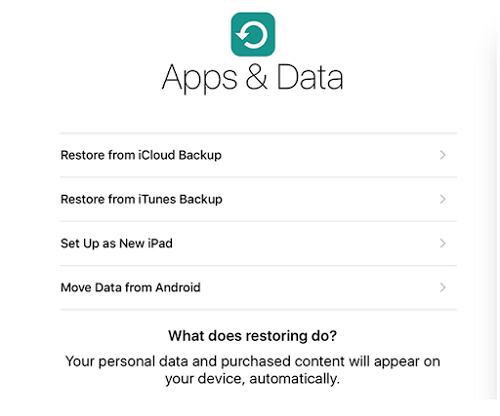 Step 5 In iTunes, click on Restore Backup and wait till the process finishes.
When the restore completes, the disabled iPad will be enabled and you can type the correct passcode to enter your iPad.
iTunes not recognizing disabled iPad, how to fix?
It is possible that when you connect your iPad to the computer, it shows "iTunes could not connect to this iPad because it is locked with a passcode."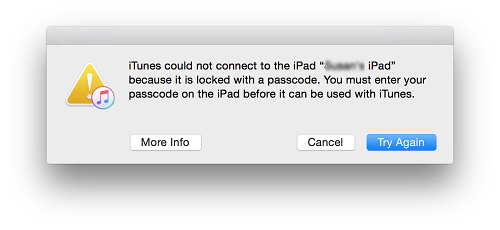 That's because your iPad hasn't been synced with the iTunes before and you need to enter the passcode so that iTunes can recognize the iPad. However, since the iPad is disabled, you need to put the disabled iPad in recovery mode for iTunes to recognize and fix it. Try steps below:
Step 1 Make sure your iPad is not connected to the computer.
Step 2 Turn off your iPad and connect it to the computer.
For iPad with Face ID:
Press and hold the Top button and volume button until the power off slider shows.
Drag the slider to turn off the iPad. Connect the iPad to the computer via USB cable and meanwhile, hold the Top button.
Keep holding it till you see the recovery-mode screen.
For iPad with Home button:
Press and hold the Side button till the power off slider shows. Drag the slider to turn off the device. Connect the iPad to the computer while holding the Home button.
Step 3 Find your device on the computer.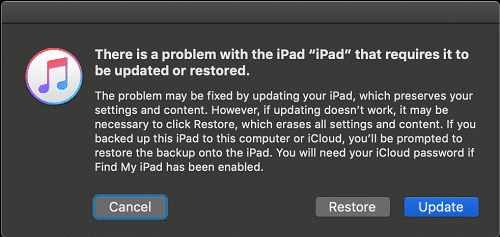 You will see a pop-up window that asks you to choose either Restore or Update. Choose Restore and iTunes will restore the iPad to factory settings, which will remove the disabled screen.
Wait for the process to finish. When it is done, you can set up your device again. But you should be noticed that it will erase all settings and content on your iPad.
Fix disabled iPad without iTunes
Sometimes the steps of fixing the disabled iPad with iTunes are a little complicated. Thus, here I' d like to use a more convenient and clearer way to get into the disabled iPad: FonePaw iOS Unlocker (opens new window).
It is a program that mainly used to wipe the forgotten screen passcode, Apple ID, and Screen Time passcode of your iOS devices. Steps are so simple that even if you are a computer novice, you can fix the disabled iPad with it.
Step 1 Download and install FonePaw iOS unlocker (opens new window).
Free Download Buy with 20% off Free Download Buy with 20% off
Step 2 Enable the program and you will see three options. Choose Wipe Passcode and continue.
Note: Remove Apple ID can help you get into the device normally without entering the forgotten Apple ID and passcode.
​ Screen Time is used to unlock the Screen Time and retrieve the Restrictions passcode. So you can set the password later.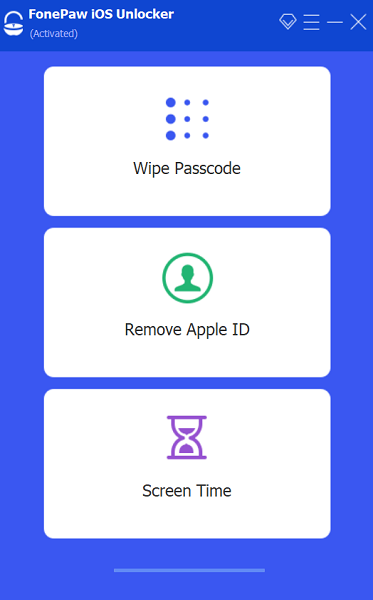 Step 3 Connect your phone to the computer and the software will detect your device type and model automatically. Make sure the information is correct and click Start. It will begin downloading the firmware package for the device.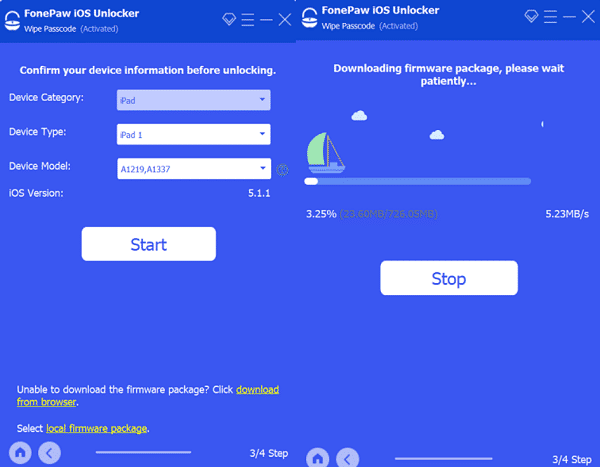 Step 4 When it is downloaded, a prompt will inform you to enter "0000" to confirm the unlocking.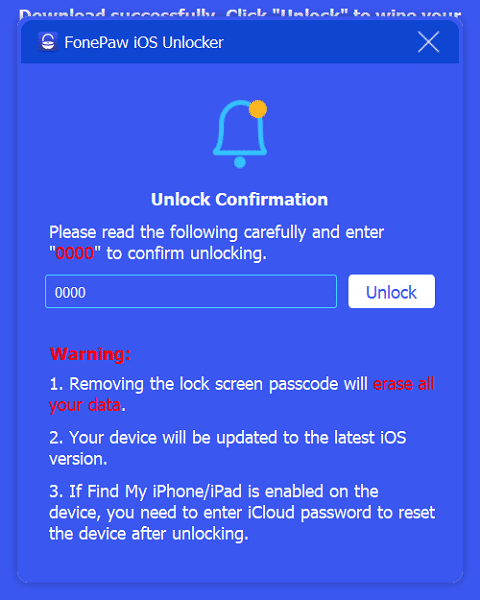 When you confirm, the unlocking process will continue. You will see a progress bar and when it goes to 20%, a popup window will show up to instruct you to put your iPad into recovery mode.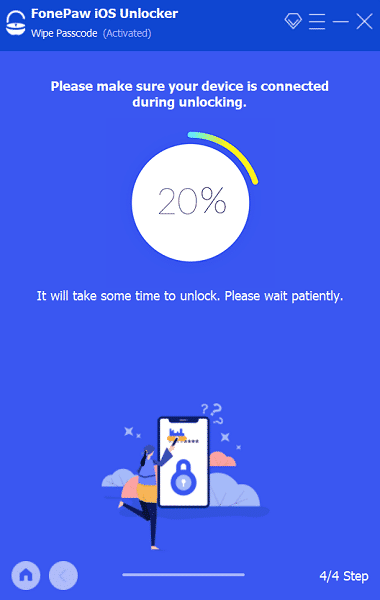 Step 5 After the iPad is in Recovery Mode, the process will continue until it unlocks the disabled iPad successfully.
Now you can start and get into the iPad and set the screen passcode again.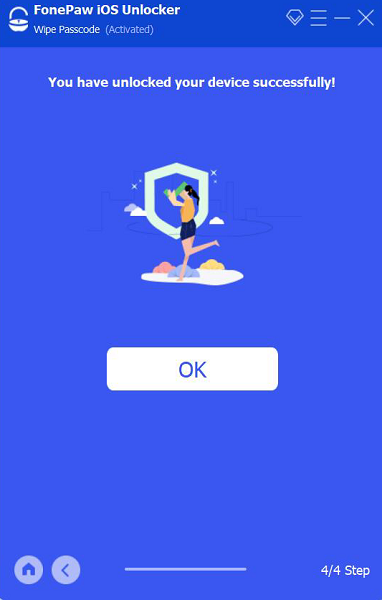 Isn't it really easy to try? Also, here are a few things that I should warn you in advance:
First, FonePaw iOS Unlocker (opens new window) is free to download and remember to register before unlocking.
Second, all data will be erased after the unlocking. Make sure you have backed up the important data on iCloud or other devices.
Third, you'd better turn off Find My iPad feature in advance to improve the success rate. If Find My iPad is enabled, you should enter the iCloud passcode to reset the iPad after unlocking.
Fourth, your iPad will be updated to the latest iOS version after unlocking.
Fix disabled iPad without losing data
As mentioned above, using iTunes to restore your iPad will erase everything on it. Thus, if you have backed up your device, you can restore the data and settings after restoring the iPad. But if you have never backed up your device, you could not save the data. In this case, a hard reset is an alternative way.
First, for iPad with the Home button: press the Home button and your Lock button.
Hold them till the iPad turns off and turns back on.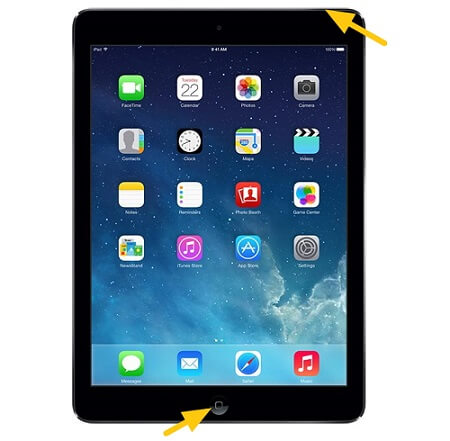 For the iPad without Home button: press the volume up and down button. Then long-press the Top button.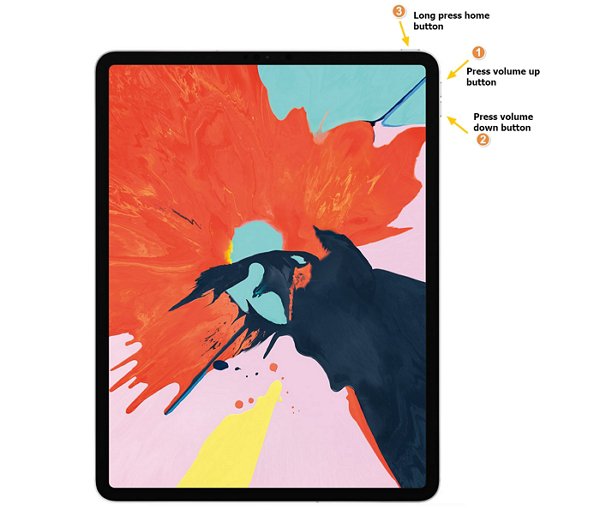 Second, once you see the blank screen on the iPad, release the buttons.
Third, press the Power button until you see the Apple logo on your screen. It will reset to "iPad is disabled. Try again in 60 minutes." Wait for 60 minutes and make sure this time your password is correct. Otherwise, it will be disabled again.
Fix disabled iPad without computer
Sometimes it may be inconvenient for you to get a PC, which means you cannot connect your iPad to the computer and using iTunes to undisable the iPad.
Luckily, we can solve it with iCloud.
iCloud is designed to store your iOS data in the cloud servers. Therefore, it is possible to reset your disabled iPad without a computer. But still, you will need another device that can browse the internet. If your iPad is signed in to iCloud, and the Find My iPad feature was turned on before it is disabled, follow the steps to reset it:
Step 1 Open Browser in your device and go to www.icloud.com, enter your Apple ID and Password.
Step 2 Navigate to "Find iPhone".
Step 3 Find your iPad and click Erase iPad.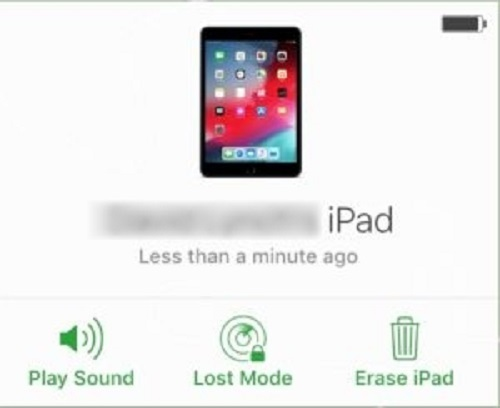 Step 4 Set up your iPad again.
Important:
Your iPad must be signed in with your iCloud account and has Find My iPhone enabled.
Your iPad must connect to the network or it can't be remotely restored.
All done! When your disabled iPad is reset, it will be as good as new.