Instagram is no doubt one of the most popular social media around the world. People post photos, follow interesting celebrity or non-celebrity accounts every day. One thing about Instagram drives some users crazy, that is it doesn't allow us to save Instagram photos on our iPhone or PC.
Normally, when browsing photos in Safari or other apps on the iPhone, we will have the option "Save Image" by long pressing on the photos. But on Instagram, there is no similar option. In order to protect copyright on photos Instagram does not allow you to keep someone else's photo directly from the app.
Don't Miss:
Instagram Video Downloader: Save Instagram Videos to PC/Mac (opens new window)
How to Post YouTube Videos on Instagram (opens new window)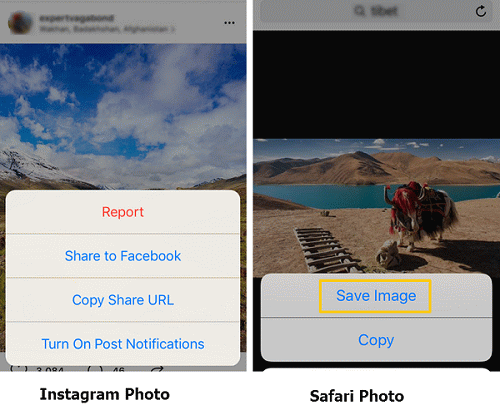 So what should we do if we want to save Instagram photos to Camera Roll or PC? It happens when we want to make a backup of the photos that we post or look back at the terrific photos posted by others. If you are troubled by this matter, here are the solutions.
Save Instagram Photos on iPhone
Save Instagram Photos of Your Own
You can save photos you've filtered and edited on Instagram to your iPhone byturning on "Save Original Photos" feature:
On Instagram, go to your profile, click the "Settings" icon on the top left corner.
Scroll down the "Options" list, find "Save Original Photos" button and toggle the button on.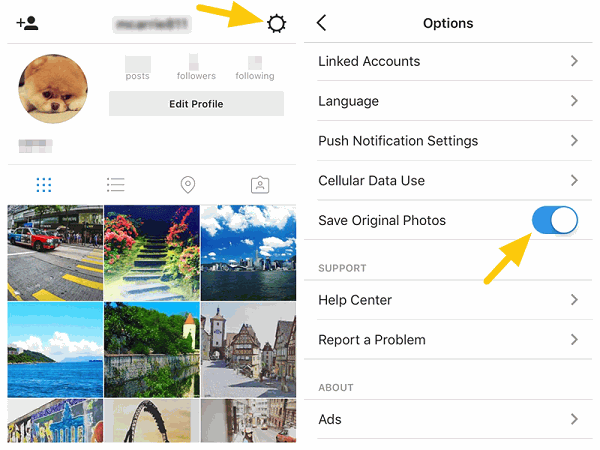 From then on, every time you post a photo on Instagram, the photo will be automatically downloaded to Camera Roll. You can find it on the album named Instagram.
Save Some Else's Instagram Photos
There is no direct way of saving photos of your Instagram friends to your iPhone. If you want to download just one or two pictures, taking a screenshot can do the job.
Find the photos you want to save, press Home + Power button on the same time to take a screenshot.
Open Photo on your iPhone, click the screenshot you have just captured and tap "Crop" button on the bottom.
After you have cut out the background, tap "Done". You then have a copy of the Instagram photo.
Save Instagram Photos to Camera Roll
If you want to save Instagram without taking a screenshot, there is a little trick that you can use.
Navigate to the Instagram photo that you want to save. Tap three-dot icon on the top right corner and choose "Copy Share URL".
Open a browser and paste the URL to go to the page.
Long press the photo and copy it.
Open Note on your iPhone and long press to paste the photo.
Click the Share button and choose "Save Image" to save the Instagram photo to Camera Roll.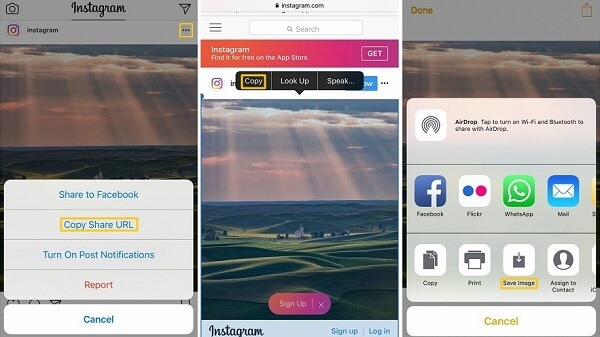 If you find the above methods too troublesome, there are also Instagram photo savers out there to help you to save Instagram to iPhone without taking a screenshot, such as InstaSave, SaveGram, Instagrab, GramDrive.
Save Instagram Photos on Computer
Use HTML Code to Save Photos
This method can be applied to save both your and other person's Instagram photos.
Log in your account at instagram.com. Find the photo you want to keep on your or other publisher's profile.
Select the photo, right-click on it and choose "View Page Source". You will open a page with HTML code of the profile.
Press "Ctrl"+"F" button combination ('Command + F' for Mac), there will be a small input filed popping up. Type "jpg" and click "Enter". The first highlighted line with "jpg" you see is the link of the picture that you want to download.
Copy the link, paste the link into a new window, and click "Enter". You'll see the photo. Right-click the photo and choose "Save Image As" to download the photo on your computer.
Use Instagram Downloader to Save Photos
If HTML code sounds too complicated to you, you can use Instagram downloader to save Instagram photos in bulk to PC. There are many software programs that can help you. For example 4K Stogram, InstagramSaver, InstagramSaver, InstagramDownloader. To use these Instagram downloaders, you should:
Install an Instagram downloader on your PC;
Enter an Instagram username or photo link;
Save all photos that come up.
Most of these downloaders allow free trial for a limited number of photos. You'll need to purchase a license to download Instagram photos unlimitedly.
Tips: If you want to quickly download Instagram videos on computer with an online downloader, check How to Download Instagram Videos (opens new window).
Transfer Instagram Photos to PC
You may also use a tool - FonePaw iPhone Data Recovery (opens new window) to save your Instagram photos in bulk on the computer.
Free Download Buy with 20% off Free Download Buy with 20% off
Download iPhone Data Recovery on your computer. Open the program and connect your iPhone to the computer via USB cable.
The program will detect your iPhone quickly. Click "Start Scan" and the program then begin to scan the files on the iPhone.
After the scanning, click "App Photo". There should be a folder named "Instagram" contained all your Instagram photos. If not, you might find the photos on "Camera Roll".
Choose the photos you want, and click "Recover". All your Instagram photos will be saved on computer in one click.
Besides backing up your Instagram photos, FonePaw iPhone Data Recovery is also capable of recovering deleted photos, videos, messages, call logs, contacts on your iPhone.