"My iPod Touch 5th generation was suddenly dead. Its screen went black and the iPod wouldn't turn on. When it was plugged into a charger or computer, it didn't charge too. What's going wrong and how to fix the dead iPod? "
iPod Touch won't turn on or charge. This problem has happened to many iPod users. As the problem often comes with no warning sign, we are thrown into a panic and don't know what to do. If you have an iPod Touch 1st /2nd/3rd/4th/5th/6th that won't turn on, let me show to how to restart the completely dead iPod Touch.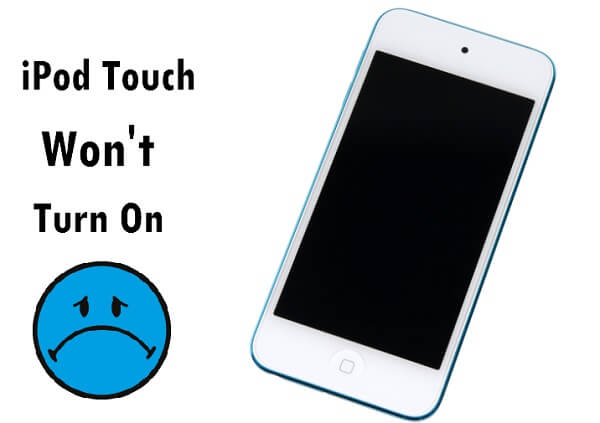 You May Need:
iTunes Won't Recognize iPhone, iPad and iPod, How to Fix? (opens new window)
Why Is My iPod Touch Not Turning on Even When Plugged in?
There is no certain explanation for why iPod Touch won't turn on or charge, yet there are several possible reasons that you can refer to.
Your iPod Touch's battery is completely dead. If you put your iPod Touch aside and haven't used the device for months or even years, iPod touch could be in extremely low battery and won't be woken up by pressing the power button.
System glitches. If your iPod Touch was working fine and just became dead in the next minute, it may be caused by system glitches and can be easily fixed.
Bad battery or other damaged hardware. If an iPod Touch has been dropped or water damaged, it could have a bad battery or something that makes it unable to turn on. To make sure that it wasn't a hardware problem, please try the following methods. If your iPod Touch still won't turn on with these methods, maybe it is time to call Apple service for hardware diagnostics.
iOS system problems. You can fix the dead iPod Touch back to normal by updating iOS system or restoring it with iTunes.
Method 1. Force Start iPod Touch
Forcing start iPod Touch, also called a soft reset, is very useful to fix system glitches in iPod Touch, iPhone, iPad. So if your iPod Touch just becomes unresponsive for no reason and you are sure that there is enough battery left in the iPod, a soft reset will be a perfect fix.
Press and hold both Power button and Home button for 15 seconds until the apple logo appears.

If the screen is still black after 15 seconds, please give it more patience and keep holding the buttons for more seconds until you see Apple logo screen.

Some users didn't restart the iPod touch until holding the power + home buttons for 40 or even 50 seconds.
Method 2. iPod Touch Won't Turn on Even When Plugged in? Try This
If your iPod Touch won't turn on after a soft reset, maybe it is in a very low battery. So here is what you should do.
Step 1. Plug the iPod Touch in a charger. If you haven't use the iPod for months, please leave it to charge for at least 30 minutes.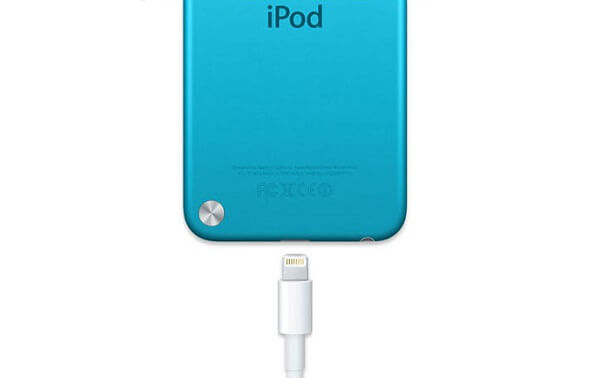 Step 2. When the iPod Touch is still plugged in, press and hold the Home button and Power button for at least 15 seconds. You should see a low battery icon at first, then the Apple logo and finally the locked screen/home screen.
Step 3. If you don't see anything when pressing the two buttons for more than 1 minutes, try another charger or plugging the iPod touch to a computer instead.
Method 3. iPod Won't Turn on and Home Button Is Broken? Try iTunes
Force restarting iPod Touch should be very helpful, however, there is an awkward situation: your iPod touch won't turn on but you are unable to perform a software reset because the home button is broken or stuck. In such cases, try to restore iPod Touch with iTunes.
Also, if you manage to force restart the iPod Touch but it won't boot past apple logo or you have noticed other system errors, such as a boot loop, before the iPod shut off completely, restoring the iPod device with iTunes should fix it.
Step 1. Connect your iPod to a computer with a USB cable.
Step 2. Launch iTunes on the computer and wait for the iTunes to recognize your iPod.
Step 3. Choose your iPod on iTunes and click Summary > Restore.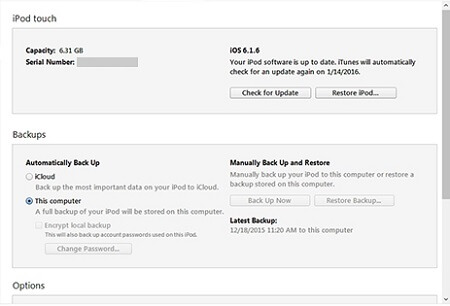 Step 4. If the iTunes won't recognize your iPod Touch, put the device in recovery mode while it is connected: press and hold the Home key and on/off key until you see the connect to iTunes logo.
Note: Restoring iPod Touch with iTunes will erase all songs, photos and other data on the iPod device. If you don't have a backup, you'll lose all data.
Method 4. Reboot iPod Touch Without iTunes
If iTunes doesn't detect your iPod Touch or you fail to restore iPod Touch with iTunes because of unknown error 3194, 3014, 2003, 1604, etc., you can restore iPod Touch without iTunes by using FonePaw iOS System Recovery.
iOS System Recovery (opens new window) is a PC/Mac program that can fix iPod Touch that is completely dead or gets stuck at a black screen, Apple logo, frozen screen, boot loop or other system problems. It provides 3 modes to fix iPod Touch that won't turn on: Free Quick Fix to save your device back to normal status without data loss; Standard Mode to restart the iPod without erasing any data and Advanced Mode if standard mode fails.
iPod Touch 1st/2rd/3rd/4th/5th/6th generation are supported by iOS System Recovery. Follow these simple steps to get your iPod Touch fixed in a few clicks.
Download the free trial version of FonePaw iOS System Recovery on your Windows PC or Mac.
Free Download Buy with 20% off Free Download Buy with 20% off
Step 1. Launch iOS System Recovery on your computer. And click Start on the program.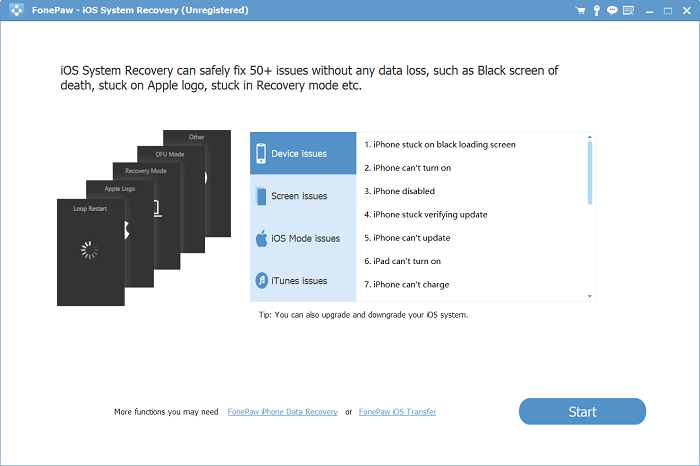 Step 2. Try Free Quick Fix to repair firstly. If the device is still in the abnormal state, select Standard Mode. Click Confirm to continue.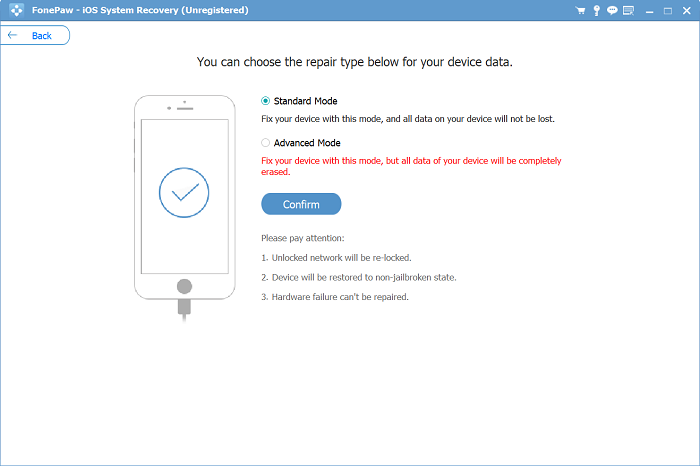 Step 4. The program will guide you to put the iPod Touch in recovery mode. If your iPod Touch won't get into recovery mode, enter DFU Mode.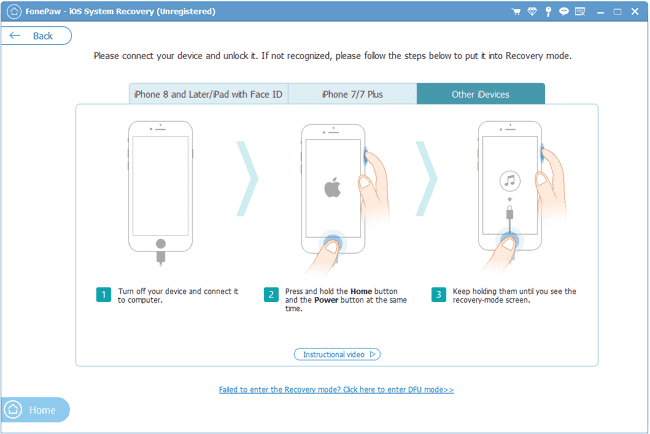 Step 5. Once the iPod Touch is in recovery mode, the program will present the info of your iPod Touch. Please check and make sure the infomation is correct.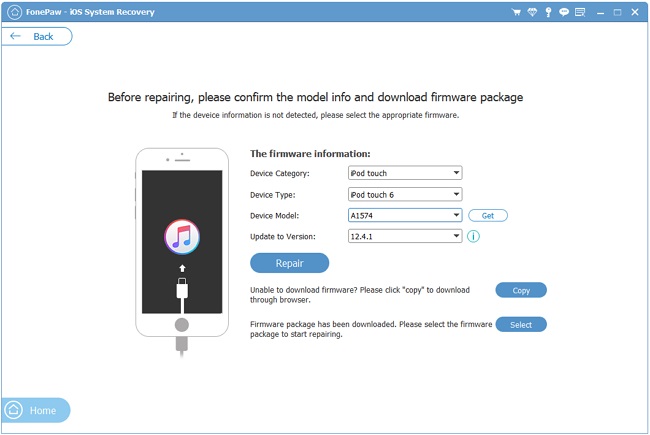 Step 6. Click Repair. And the program begins to fix the iPod Touch. The iPod Touch will boot up automatically once the repair is completed.
Now your iPod Touch is back to normal with all your data safe. After being fixed with iOS System Recovery, your iPod Touch will be updated to the latest iOS version and if it is jailbroken, it will be unjailbroken.
Do these methods help you fix your iPod Touch? Leave your comment below. If you find this post helpful, share it with your friends via Facebook, Instagram, Twitter, Google + and more.