Facebook Messenger must be one of the most popular social media around the world. However, thousands of users express their anger to Facebook Messenger because it is not working frequently. For instance, no conversation can be loaded in group chatting. Moreover, Messenger loads nothing in the inbox which will seriously affect users' daily life. In the following article, we will offer you a few reliable methods to find a way out of Facebook Messenger not working problem on Web/Android/iPhone.
Facebook Messenger Not Working on Android/iPhone
When Facebook Messenger is not working on mobile devices such as iPhone X/8/8 Plus/7/7 Plus or Samsung Galaxy, you might not be able to open or log on Facebook Messenger. Moreover, no conversation messages can be loaded which will lead to the loss of significant information. By following the methods below you definitely can definitely fix Messenger not working problem on your Android phone or iPhone.
Method 1. Quit and reboot your devices
When Facebook Messenger suddenly stops working on your phone, a restart may help to give the app a fresh restart and fix the glitch.
First, quit Facebook Messenger and switch off the phone;
And then, reboot Android/iPhone.
Method 2. Download the latest Messenger
As for iPhone, if an update is available, you are able to open App Store and find Messenger in "Updates" section. And then, tap "Update" button of Messenger in "Available Updates".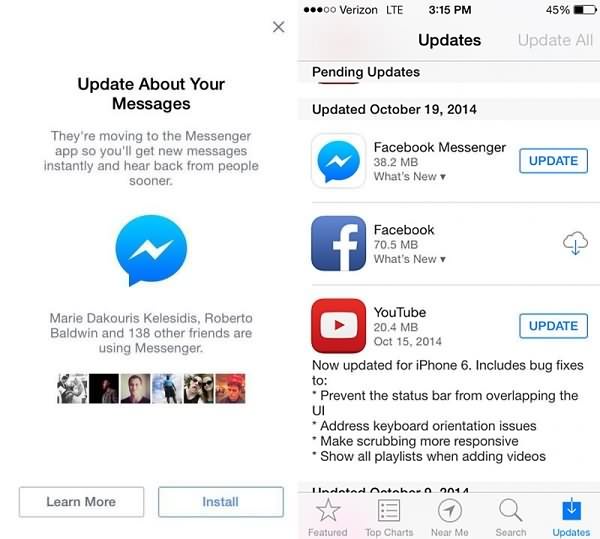 As for Android, open the Play Store and tap the menu button at the upper-left corner. Next, select "My apps & games". Applications that need to update will be listed in Installed section. If Messenger is listed, tap on "UPDATE" to get the latest Messenger on Android.
Make sure Facebook Messenger is up-to-date, or you can delete the application and reinstall it in App Store (iPhone) or Play Store(Android).
Method 3. Check out Network condition
Check if your phone is no connecting to the network. If your phone is on a WiFi connection, you can reconnect WiFi when Messenger is still down.
Turn WiFi off and wait for a couple of seconds;
Join the Wifi again.
Method 4. Clear cache (only available for Android)
Step 1. Tap on "Settings";
Step 2. Scroll down and choose "Application Manager";
Step 3. Select Messenger;
Step 4. Tap on "Clear cache" button.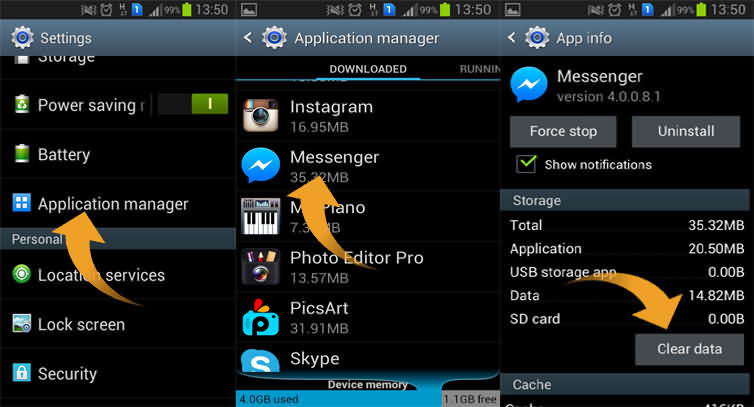 Method 5. Launch Facebook Messenger on PC
Log in to Facebook on a computer(Windows 10/8/7/Vista/XP or MacOS X/Sierra/High Sierra) in order to check if Facebook Messenger down problem is caused by account. If you can use Facebook on a computer, the problem is caused by the app on your phone. Reinstalling Facebook Messenger on your iPhone or Android will lead to Facebook Messenger troubleshooting.
Method 6. Factory Reset iPhone or Android
For Android(take Samsung Galaxy devices as an example):
Step 1. Open Setting menu and go to "Backup and Reset";
Step 2. Choose "Factory data reset";
Step 3. Tap on "RESET DEVICE", and then, "Erase Everything" to start resetting.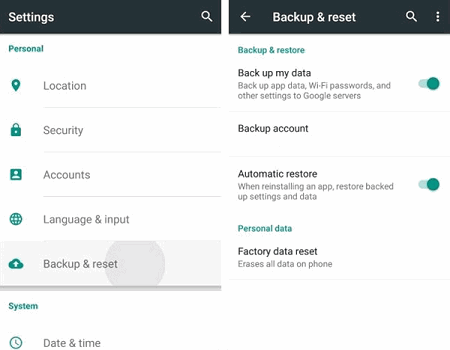 For iPhone:
Step 1. Tap on "Settings", and then, "General";
Step 2. Choose "Reset";
Step 3. Tap on "Erase All Content and Settings".
Method 7. Check if Facebook is down
In addition to an equipment problem, Facebook Messenger goes down probably because of the massive crashing. What's more, as a result, Facebook Messenger won't load old messages. Besides, you are able to check out the reporting problems of Facebook in Down Detector Website. If Facebook Messenger is down, you just need to wait for the restoration from Facebook. And then, make sure that you've downloaded the up-to-date Messenger which is designed to troubleshoot this issue.
Facebook Messenger Not Working on Chrome/Firefox/Safari
Likewise, Facebook Messenger is possibly unavailable on Web sometimes. And then, users can't load anything in Messages or Page window. What's worse, they are not able to send and receive any messages. Never mind, we will help you to troubleshoot Facebook on Google Chrome, Firefox or Safari with following methods.
Method 1. Check if the network is available or not. Or you can change another WiFi to have a try.
Method 2. Make sure the browser is up-to-date.
Method 3. Cleared browsing history/cache on Google Chrome, Firefox or Safari.
Method 4. Employ other browsers.
You might get freaked out when you first encounter the situation that Facebook Messenger stops working and don't know how to fix Messenger problems. However, we firmly believe that you will have the ability to solve this knotty problem easily after reading this article.
Bonus: Messenger Chat Backup on iPhone
Once you meet with "Facebook Messenger Down", your chat history may be lost. Thus you wouldmiss the important messages or images. To prevent the Messenger data loss, it is suggested that you back up the data firstly. Now, you will learn how to back up Messenger on iPhone
Use FonePaw iOS Data Backup & Restore (opens new window) on your computer, both Windows and Mac are supported.

Select the corresponding data types to get started.

After backup, please preview the Messenger messages and attachments to make sure the important data are saved.