For a lot of people, Facebook Messenger is the main instant messaging tool to contact their friends or families. However, sometimes users may all of a sudden find them unable to use Facebook Messenger on their iPhone (iPhone 6/6 Plus, iPhone 7/7 Plus, iPhone 8/8 Plus, iPhone X) or Android phones like Samsung. The app says: Messenger isn't responding.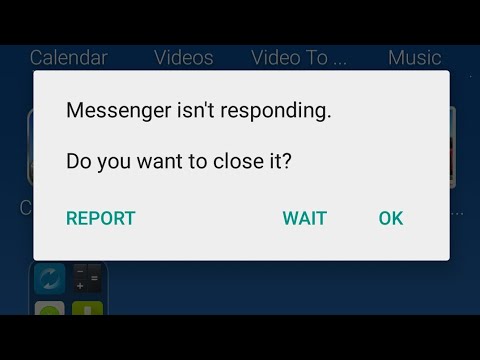 We have collected thousands of problems in which people are unable to use Facebook Messenger normally and we sort them out into two types:
Problem 1: Facebook Messenger Not Responding on Android/iPhone
This scenario often happens after people have Facebook and the Facebook Messenger apps updated. Many people complained that the moment they finished updating Facebook or the Messenger app, the apps would crash immediately on opening and was even causing the whole iOS or Android system to freeze up. For this problem, we figure out four workable solutions for you to try.
Solutions 1: Force stop and clear cache (Android only)
Generally speaking, to force stop and clear cache is the most commonly used method to deal with misbehaving apps on Android system. What is forcing stop and clearing cache? Put it simply, it means you say to your Android that you want the process of an app to stop and Android will obliterate it from memory so that you can renew the app to function again.
STEP 1: Go to "Settings" > "Application Manager".
STEP 2: Scroll down to find the Facebook Messenger program and select it.
STEP 3: Tap "Force Stop" button and accept the warning of possibly causing errors.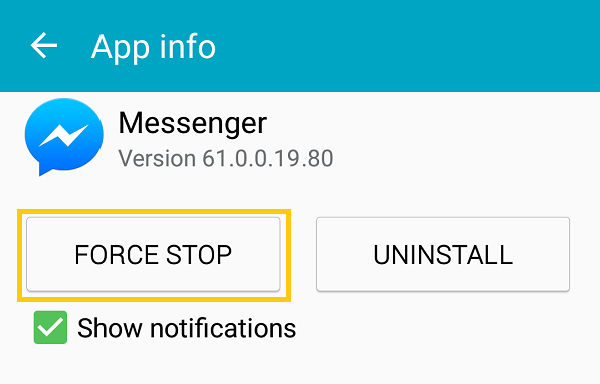 STEP 4: Tap "Clear Cache" button on the same page.
Solutions 2: Reboot your device (iOS and Android)
For both iOS and Android systems, rebooting is an effective way to fix unresponding Facebook Messenger.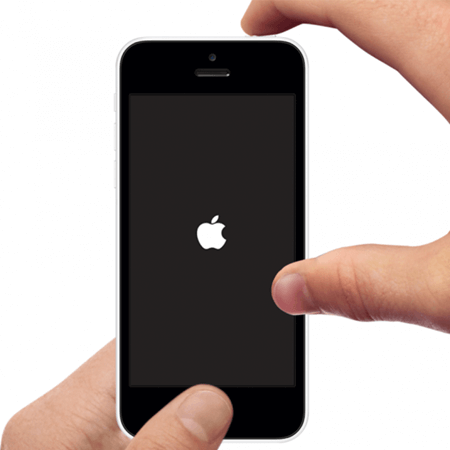 Solutions 3: Uninstall and reinstall Facebook Messenger app
In some cases, the Facebook Messenger version you are using may have bugs in it, all you need is to uninstall it and reinstall it again to have the functioning version.
Solutions 4: Use your browser (IE, Firefox, Chrome, Safari and so forth) for Messenger
If all these methods just mentioned can't fix your problem and you hurry to use Messenger to contact your friends, here is a workaround: log in Messenger on your browser.
Tip: Messenger Backup on iPhone in An Easy Way
When your Messenger is unresponsive and you cannot fix it immediately, you are unable to reach the vital info. At this time, you will know it would be perfect if you have a backup before. Don't hestitate and back it up now.
Download FonePaw iOS Data Backup & Restore (opens new window) and use it to detect your iOS device.

Select "Messenger" and "Messenger Attachments" to back up.

If you are not sure about backup results, preview the details, like messages, videos and photos.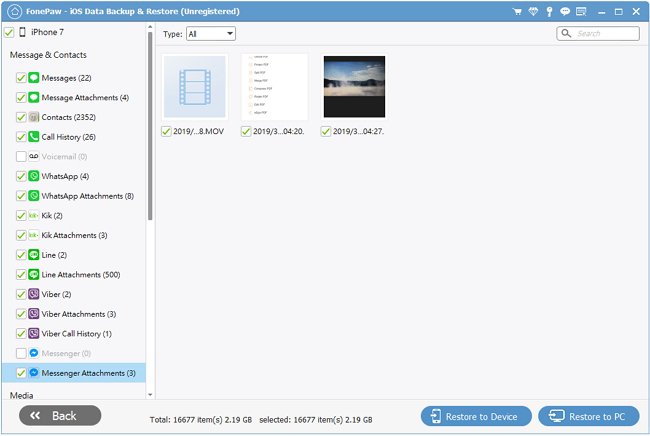 Video Guide: How to Backup & Restore iOS Device (Mac)
Problem 2: Facebook Messenger Keeps Freezing on Computer
As we just recommended, you can use Facebook Messenger on the web instead of on app. But what if the Facebook Messenger keeps freezing on the web? Does it mean a dead end? Of course not, we have another bunch of solutions for this issue, which works in Windows 10/8/7/XP and Mac.
Solutions 1: Clear the browser cache
Same as the solution 1 from problem 1, clearing cache in most cases is a workable way to fix the freezing, crashing and not responding problem on Facebook Messenger. Take Chrome for PC as an example.
STEP 1: In the browser bar, enter "chrome://settings/clearBrowserData".
STEP 2: Select the following:
Browsing history
Download history
Cookies and other site and plug-in data
Cached images and files
STEP 3: Select "clear browsing data".
STEP 4: Close all browser windows and re-open the browser.
Solutions 2: Uninstall incompatible add-ons
Let' s continue with Chrome as an example.
STEP 1: Click "Customize and control Google Chrome" icon (three vertically placed dots) in the top right corner of Chrome window.
STEP 2: On the drop-down menu, click on "New Incognito Window"

(Or use the keyboard shortcut "Ctrl + Shift + N" directly instead of step 1 and 2)
If browsing in Incognito Mode can fix the freezing problem, it may be the extensions of the browser that go wrong. Then we can go with the following steps to remove incompatible add-ons.
STEP 3: Go to "Customize and control Google Chrome" > "More tools" > "Extensions".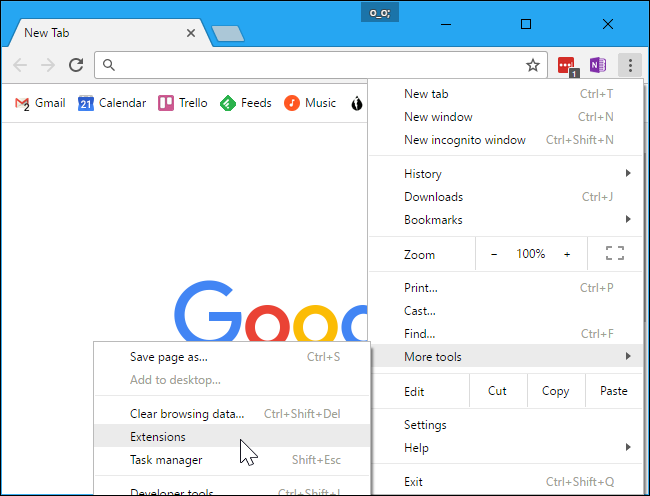 STEP 4: Locate the incompatible add-on and remove it.
Solution 3: Change your browser
Whether you have Internet Explorer, Firefox, Chrome or Safari on your computer, change your browser until Messenger works.
Solutions 4: Use the mobile browser instead
If after trying all kinds of browsers on PC (Windows 10/8/7/XP, Mac and so on) and still you have no access to Facebook Messenger, try it again on your iPhone or Android phone' s browser.
Do we solve your problem? Please let us know by leaving comments to us!