"I have no clue and it's such a pain. I rely on Messenger and it always worked fine for me apart from this update. Crashes and even after exiting the app, it will say that messenger stopped working and ask me to send a report or press OK every minute. Super annoying, removed it, reinstalled, restarted phone etc. to no avail. "
- User from Quora
"FB Messenger app keeps crashing in iOS, any idea how to resolve?"Facebook Messenger keeps crashing!"
- Users from Help Community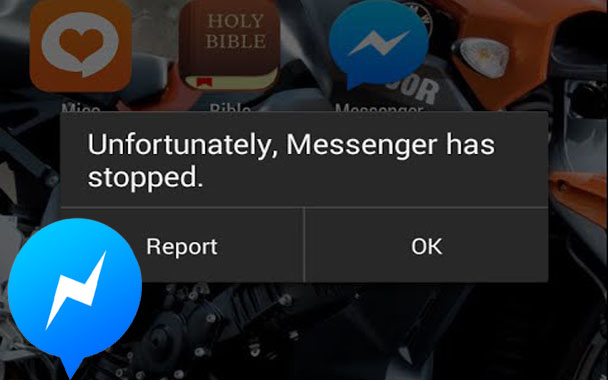 Have you ever met the frustrating situation that Facebook Messenger is crashing down before? A lot of similar questions, saying facebook app keeps crashing in 2017, can be found on social media or the Help Community of Facebook. Even though Facebook never ever has given an official explanation of this problem, a majority of users consider the incompatibility between Facebook Messenger and iOS or Android update is the main culprit for the crashing FB Messenger.
Don't Miss Here:
How to Download Facebook Videos to Computer or Phone (opens new window)
YouTube Recorder: How to Record YouTube Videos on PC (opens new window)
However, in addition of Facebook Messenger crashing on iOS and Android devices, Facebook Messenger Web crashes as well. Therefore, this article will show you how to fix FaceBook Messenger that keeps crashing on Android, iPhone, and website.
Part 1. Facebook Messenger Keeps Crashing on Android/iPhone
In most cases, it is that the app FaceBook Messenger that keeps crashing on iPhone and Android devices(e.g. Samsung, HTC, LG). In this part, we will show 6 amazing methods to help you to solve it.
Method 1. Reopen Facebook Messenger
Firstly, close out of Messenger and turn the phone off. Next, restart your phone and launch Messenger again.
Method 2. Release Internal Memory
Sometimes Facebook Messenger keeps closing is the reseult of the shortage of Storage in your cell phone. First of all, go to Settings, and then,Storage, to check the free spece of the Storage. If it is insuffient, you'd better delete some spare apllications, duplicate images or insignificant photos/videos to release the internal memory.
For iPhone:(take iOS 11 as an example)
Tap on Settings>General>iPhone Storage;
Check the available storage of your iPhone.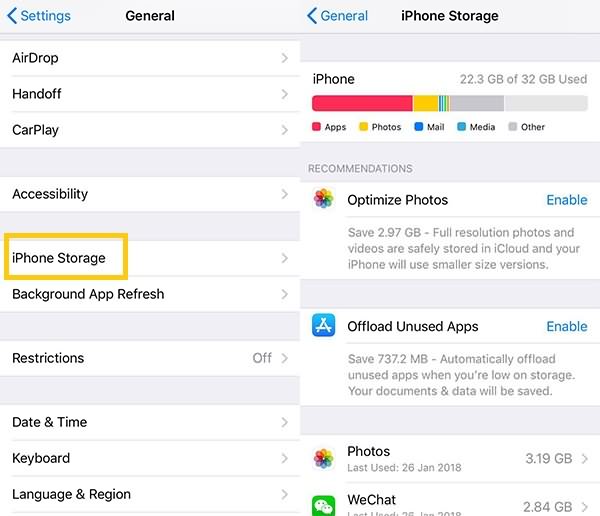 For Android:
Go to Settings>SD card & phone storage;
Total space and available space will be shown at the top of the menu, while Internal phone storage is at the bottom of the menu.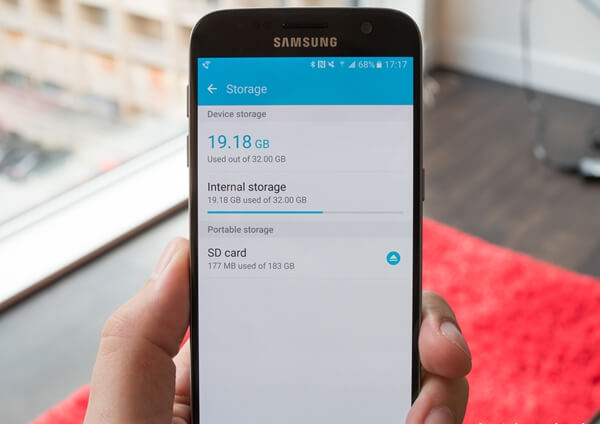 Method 3. Reinstall Facebook Messenger
Step 1. Log out Facebook Messenger.
Step 2. Remove the application from your phone.
For iPhone:
Long press the icon of Messenger and delete it;
For Android(take Samsung as an example):
Click on "Menu" button on the home page;
Touch "Setting" and go to "Application", and then "Manage applications";
Choose Facebook Messenger and hit on "Uninstall" button.
Step 3.Restart your phone.
Step 4. Reinstall Messenger at App store on iPhone and Play Store on Android devices.
Step 5. Log in Messenger.
Method 4. Wipe Cache (Only for Android)
With Recovery Mode
Step 1. Power off your Android phone.
Step 2. Press the Home, Power, and Volume Up buttons to activate the Recovery Mode.
Step 3. Use Volume Up/Down button to select "wipe cache partition".
Step 4. Press the Power button to enable it, and then, reboot your phone.
With Settings
Step 1.Tap on "Settings" icon and go to "Storage".
Step 2. Tap on "Cache data" and confirm it with "OK".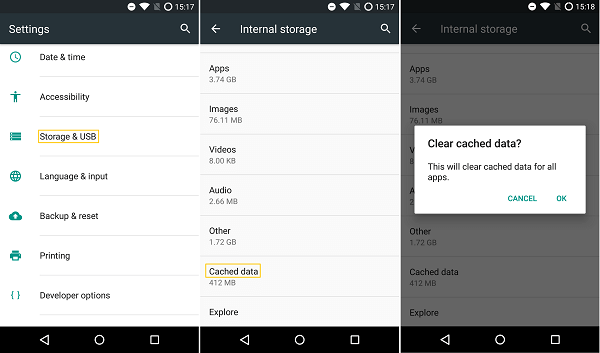 Method 5. Check the version of your phone
For iPhone:
Click on Settings>General>Software Update.
For Android:
Click on Settings>About Device/Device>Systems>Check for Updates.
If there is an update for you, install it to your phone.
Method 6. Reset your phone
For iPhone:
Go to Settings>General>Reset>Erase All Content and Settings>Enter your ID passcode>Erase iPhone.
For Android:
Go to Settings>Privacy>Factory Data Reset/Reset Settings>All/Restore Factory Settings> Yes.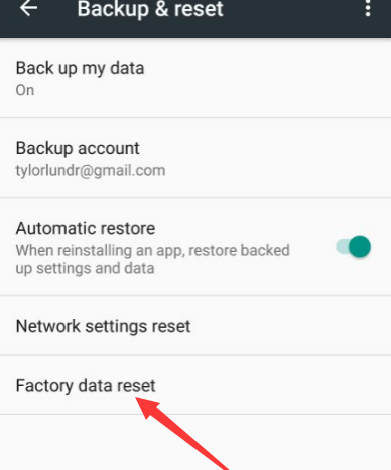 Tips
You'd better back up your phone data before resetting so that you will not lose any important information saved on your phone. iOS Data Backup & Restore (opens new window) and Android Data Backup & Restore (opens new window)from FonePaw might be helpful for you. And you are able to check more information from FonePaw website.
Part 2. Facebook Messenger Keeps Crashing on Web
Also, some people also complain that Facebook Messenger is cashing not only on iPhone/Android but also on computers. Don't worry! We will offer you 5 professional methods to deal with Facebook Messenger crashing problem on the web.
Method 1. Log in other devices with your account
For example, you can use Mac computer to check out Facebook Messenger instead of using your usual Windows computer.
Method 2. Restart your browser
If restarting browser doesn't work, you can try to log in Messenger with a different browser.
Method 3. Clean up browser cache regularly
To purge browser cache, press Ctrl+Shift+Delete(on Windows 10/8/7/Vista/XP) or Command+Shift+Delete(on MacOS X/Sierra/High Sierra) while the browser is running.
Method 4. Entry Facebook Messenger with Incognito mode
Step 1. Entry Facebook.com and open Messenger page.
Step 2. Click on the gear icon at the bottom of right corner of the page to activate a pop-up menu.
Step 3. Choose "Turn off Chat" in the pop-up menu.
Step 4. Select "Turn off chat for all contacts" and click "Okay".
Tip: Back up Your Messenger Chats on iOS Device
You may worry about the chat history loss after Messenger crashing. Now, here is a practical way for you to get those worries out. That is to back up your Messenger data, including messages, photos and videos. Just come and try how to do Messenger backup on your iPhone/iPad.
Launch FonePaw iOS Data Backup & Restore (opens new window) and connect your device to it.

Select "Messenger" and "Messenger Attachments" to back up now.

Check the backup results and preview the details. You will see all your chat history and the photos & videos are in the attachment folder.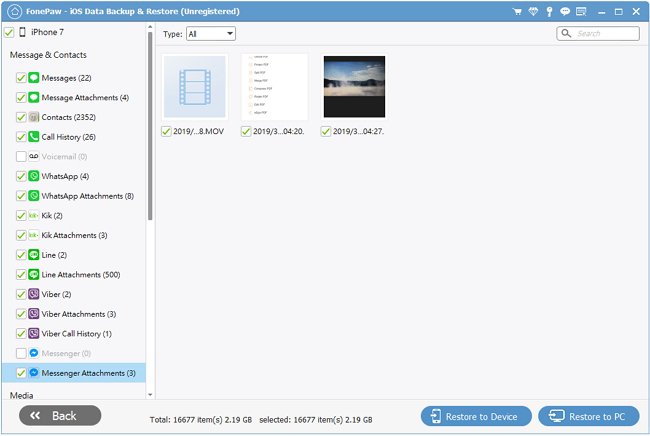 In closing, it's not difficult to solve this problem that Facebook Messenger keeps crashing. What's more, with the methods provided above, you are able to choose the most suitable solution to deal with it by yourself. Therefore, try it and enjoy Facebook Messenger.