Facebook holds many of the most important conversations of our lives, which can lead to unnecessary loss of important information if accidentally deleted. Therefore, in order to avoid any such mishaps, you may need to export and even print out Facebook messages. Some users even need to print Facebook messages for court.
This article will show you three very simple ways to download and export Facebook Messenger conversation so that you can print messages from Facebook for any uses. These are:
1. Export and print Facebook Messages from iPhone
If you are using Facebook Messenger on iPhone, you can export Facebook messages from iPhone to PC via FonePaw iOS Data Backup & Restore (opens new window)and then print out the Facebook messages on a PC.
Free Download Buy with 20% off Free Download Buy with 20% off
The tool can back up the whole chat history of Facebook Messenger on your iPhone and then allow you to export the Facebook messages that you need from the backup to your computer. In this way, you can export and print Facebook messages of a specific Facebook friend or a particular date.
Here is how to export and print messages from Messenger on iPhone, iPad with FonePaw iOS Data Backup & Restore.
Step 1: Connect iPhone to PC
Open FonePaw iOS Data Backup & Restore on PC and connect iPhone to PC.
Step 2: Start a Backup
When you see iOS Data Backup and iOS Data Restore, click "iOS Data Backup". Then select "Standard Backup" and "Encrypted Backup". The latter can protect your Facebook messages with a password.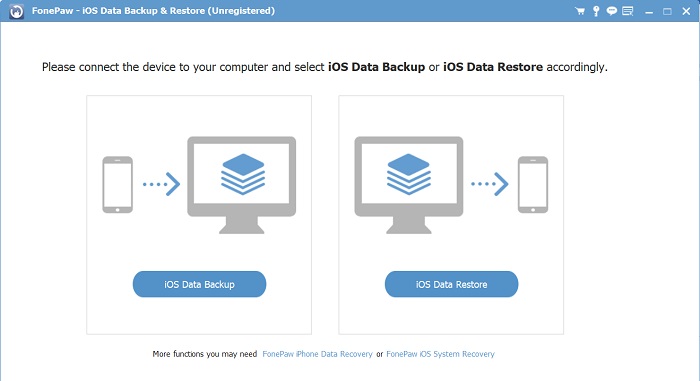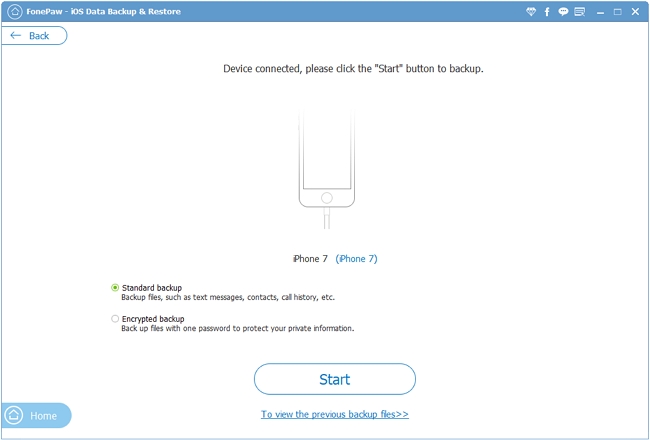 Step 3: Export Facebook Messages from iPhone
Click Messenger & Attachment since we need to export Facebook messages from iPhone.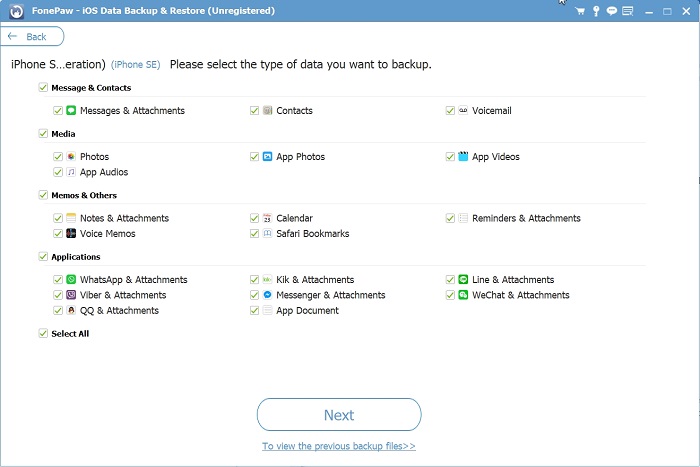 Step 4: View Facebook Messages
When it is done, click Restore iOS Data and you can then view the Facebook messages that are exported from iPhone. You can select a message conversation or select the whole chat history and click Restore to PC to save the Facebook messages as HTML or CSV file.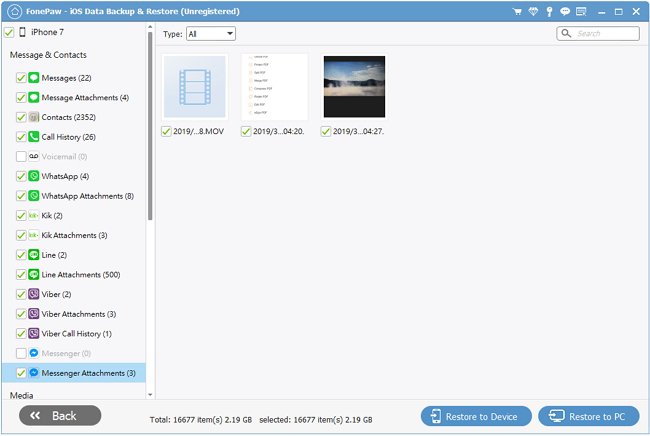 Step 5: Print out Facebook Messages
Open the file of the Facebook messages. Make sure your computer is connected with the printer and print out the file.
2. Export Facebook Messages to PDF and Print out from Android
Export Facebook Messages on Android
If you need to print out your facebook messages from Android, you can download an app called Exporter for Facebook since Facebook Messenger doesn't allow you to export Facebook messages on your Android device by default.
The app can export your Facebook Messenger chats as PDF, CSV, JPG, HTML files. Go to Google Play and download Exporter for Facebook on to your Android device. The Installation takes a few minutes depending on your internet connection. Launch the app on your device and you can then export messages from Messenger on Android.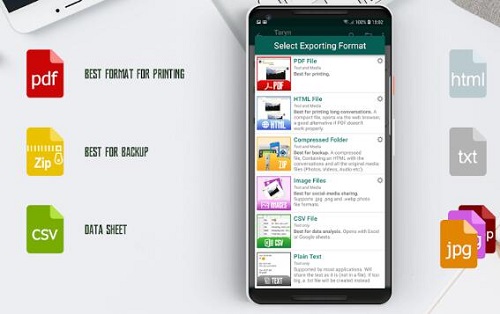 Print out Facebook Messages on Android
Firstly, depending on what format you choose to save the Facebook messages, you need to make sure the file can be opened on your Android device. For example, if you have exported the Facebook message conversations as CSV file, get an app, such as Google Sheets, which can open excel files.
Secondly, you need to connect your Android device to a printer so that you print out Facebook messages directly. Google Cloud Print is an app that let you print files from your phone to any printer.
Open your Facebook messages via Google Sheets, Google Doc or any other app that has the print option.
Tap Print and select Cloud Print. Set up options such as layout, paper size, sheets, etc to print out messages from Facebook in the way you like.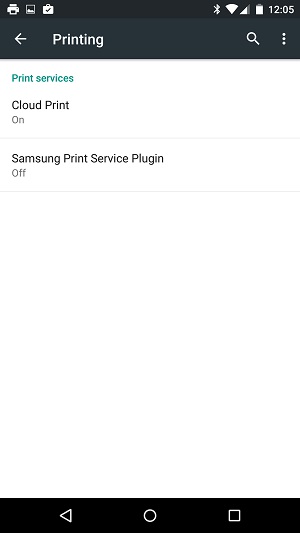 3. Download and Print Facebook Messenger Conversation from PC
Facebook itself provides a simple method which you can save, export and print Facebook conversation.
Step 1: Log in Facebook account.
Step 2: Go to Setting Menu.
Step 3: In General, click "Download the copy of your Facebook data" at the bottom.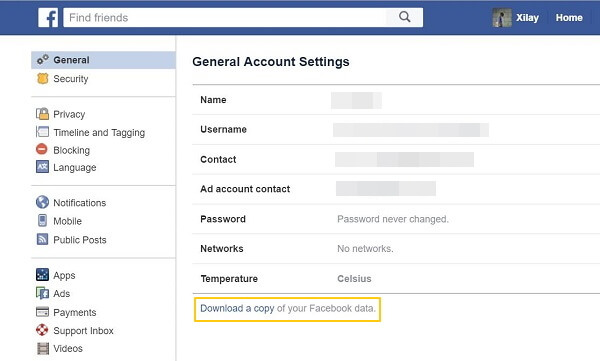 Step 4: Click on "Start my Archive" to download all data of your Facebook account. You will need to enter your Facebook password. Then click Submit.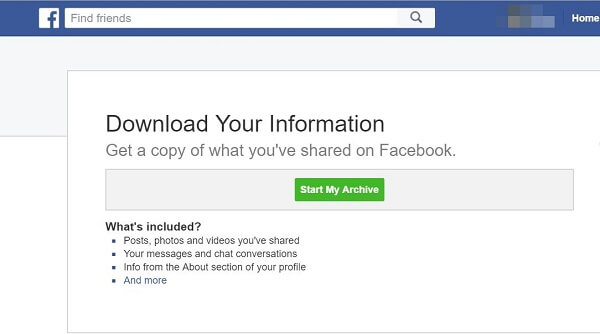 Step 5: Click "Start my Archive" again. And you'll be receiving emails from Facebook via the account that is linked with Facebook.
Step 6: Login to your email account and click on the link provided in that email to download your Facebook data.
Step 7: Your Facebook data will be downloaded in a ZIP file. To get your messages, unzip the ZIP file and local the file named messages.html.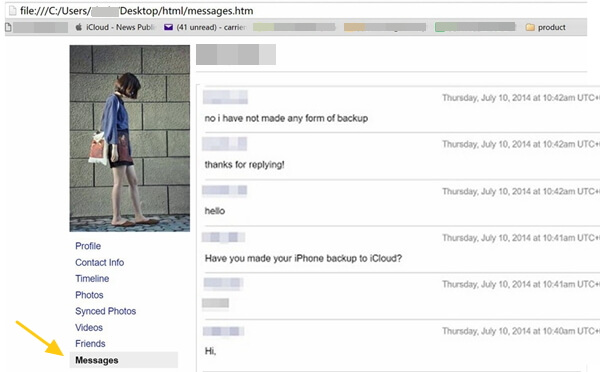 Step 8: Open the Facebook messages file and print it out.