Drag a file to Trash or Recycle Bin. Then empty Trash/Recycle Bin. That's it. The file is permanently deleted. Not so fast. Even after emptying the Trash or Recycle Bin, the deleted files still remain on your computer for a certain period of time so the files can be recovered by data recovery software like FonePaw Data Recovery.
What happens when you delete a file is that the system will mark the space that the file is occupying as writeable; therefore, the file itself is not removed until new data is written in and takes up its space. Only when the disk space of the deleted file is taken by new data does the deleted file completely disappear from the hard drive.
So if you have some sensitive information on your Windows, Mac or Android/iOS phone, you need to take extra steps to permanently delete the data from your computer or phone. Here in this post, you'll learn some proved ways to permanently delete files on Windows PC, Mac, Android, and iPhone, making the files unrecoverable by all means.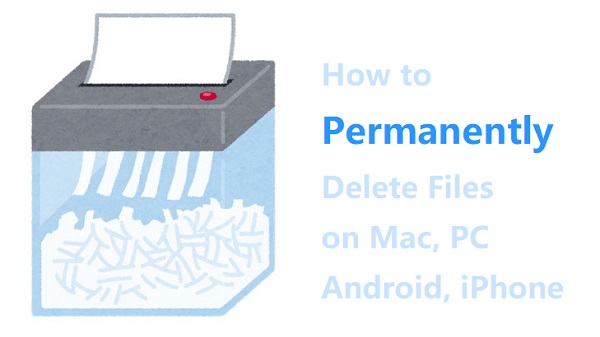 How to Permanently Delete Files on Mac
The methods to permanently delete files on Mac are different depending on the hard drive of your Mac and your macOS versions.
If your Mac runs on OS X 10.10 Yosemite or earlier, you can use a feature called Secure Empty Trash to permanently delete files on Mac. By apply Secure Empty Trash, the emptied files will be overwritten by random number 1 and 0 and become unrecoverable by data recovery software. To securely delete files on Mac:
Step 1 Click Trash when holding the Control key.
Step 2 Press the Command key (or Control-Option).
Step 3 You will see the "Secure Empty Trash" option.
Step 4 Click it to permanently delete the Trash files.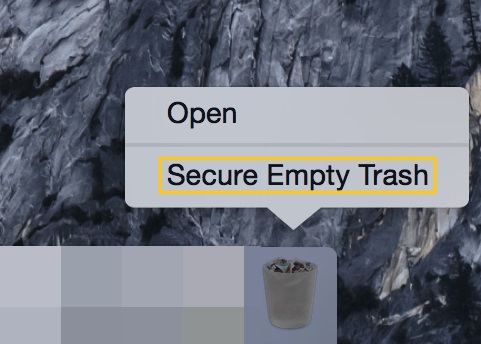 However, Secure Empty Trash feature is removed from Mac system since OS X 10.11 El Capitan. So to permanently delete files from Mac on macOS 10.14-10.11, you need a file shredder for Mac. FonePaw MacMaster (opens new window), a professional Mac cleaner, provides file eraser that can fully delete files from your Mac computer. Here is how it works.
Step 1 Download and install FonePaw MacMaster. The program is now free to download.
Step 2 Run MacMaster and on its main window, select Eraser.
Step 3 Click Select Files > Add Files to add the credential files that you want to securely removed.
Step 4 Click Erase to permanently delete the chosen files.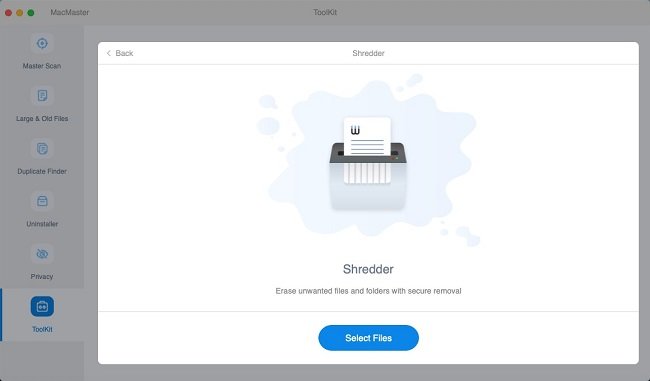 Not every Mac needs a file eraser. Mac equipped with a more advanced hard drive - solid state disk drive (SSD) is more secure, which is hard for data recovery program to recover deleted files from. When a file is deleted from SSD, Mac system will wipe the data of the file via TRIM command, making the deleted file much more difficult to recover than that on a traditional HDD. Therefore, on an SSD drive, once you delete a file, the file is gone for good. But if you are still concerned about the deleted file, use the file Eraser of FonePaw MacMaster.
If you have an older iMac or MacBook with a mechanical hard drive (HDD), a file eraser is a must if you want to completely remove the deleted files on Mac.
To tell if your Mac is using an SSD or HDD, go to About This Mac > Storage and see if the drive is a Solid State SATA Drive(SSD). Otherwise, you have an HDD.
How to Permanently Delete Files on Windows
Windows PC has a hidden built-in secure deletion tool - Cipher. Cipher is available on all Windows versions since Windows XP. The tool is less known because it is not easy to use and doesn't even have a launchable interface. But you can use PowerShell to permanently delete files on Windows with Cipher.
Note: Before using Cipher to permanently delete files from hard drive, you need to delete the files and empty them from Recycle Bin because what Cipher does is to overwrite all files from the disk space that are marked as writeable. Cipher won't delete an existing file that can be accessed on File Explorer, it just deletes the files that have been removed from Recycle Bin, making the files unrecoverable.
Step 1 Launch PowerShell.
Step 2 To permanently delete files on a hard drive, for example, C drive, type: cipher /w:C: and hit Enter key. This will completely remove all deleted files from C drive.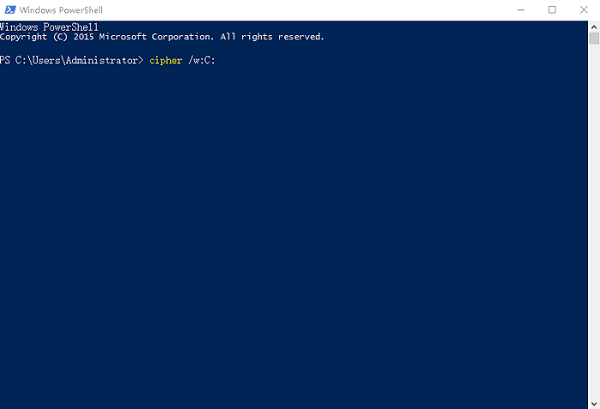 To permanently delete files of a folder, for example, the Document folder, type: Cipher /w:C:\Users\FonePaw\Documents. Replace FonePaw with your username.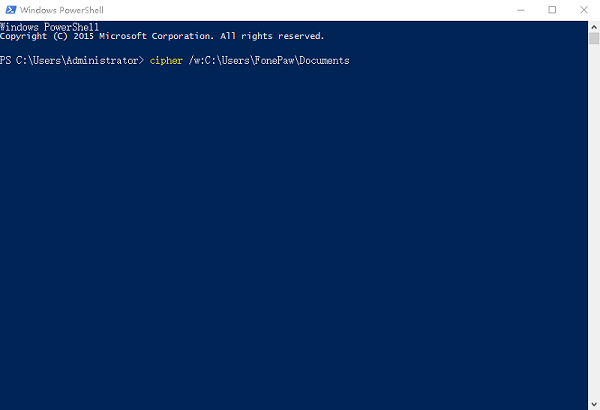 Secure Delete on Android
You may want to permanently delete photos, text messages or other sensitive information on Android phone in case that the information may fall into the wrong hands. It is not enough to just delete the photos or messages, you want to delete deleted photos, messages, videos, etc. to ensure no one can ever recover the data. Here is what you should do.
Step 1 Make sure your Android phone is encrypted. Android encryption encodes your personal data on the phone with encryption keys. If your phone is a new model, it is probably encrypted by default. For older Android phone, go to Settings > Security > Encrypt Phone and activate the encryption. If you can not find the option on Settings, your phone is encrypted by default.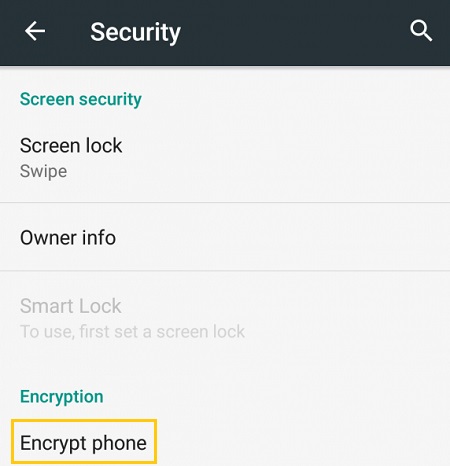 Step 2 Factory reset your Android device. If you no longer care about the data on your device, you want to reset the phone to factory settings, which will make it nearly impossible for regular android data recovery programs to recover data from the phone. To erase the phone, go to Settings > Backup & reset > factory data reset.
These two steps are enough to permanently delete data from your Android phone and no ordinary data recovery tool can get back the data. If you are still worried, you can use some third-party secure erase app to do the job.
How to Permanently Delete Data from iPhone
Most iPhones are encrypted by default. If you would like to permanently delete photos, messages, audios, etc. from the phone, go to Settings > General > Reset > Erase all Content and Settings to wipe the device. Also, if you use iTunes or iCloud to back up iPhone, you can delete iCloud/iTunes backups to make sure no one can access your iPhone data by using a data recovery program like FonePaw iPhone Data Recovery to extract data from iTunes/iCloud backup.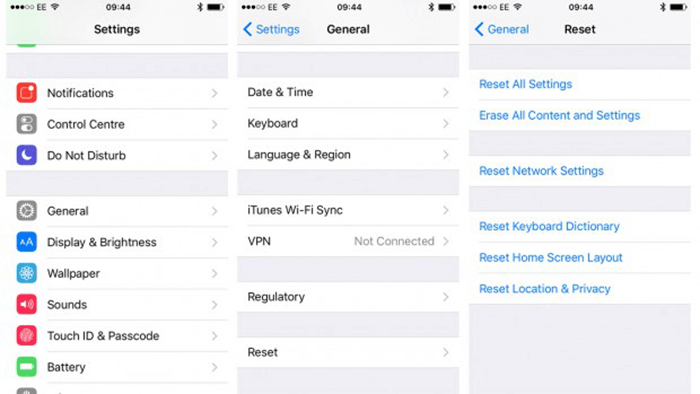 Any thought on permanently delete files from Mac, PC, Android or iPhone? Write down your idea below.