"I have installed some superfluous plugins that allow me to search within .c files and other source files. Now I always get tons of hits on whatever I type, as it always matches something inside some dark and uninteresting C or H or java file. How do I delete these Spotlight plugins?"
People also read:
How to Improve Safari Speed on Mac (opens new window)
Too Many Junk Files on Mac, Can I Delete in One Click? (opens new window)
Spotlight plugins aim to extend search utility and help you quickly locate files on your Mac. For instance, the Flashlight on Mac Sierra or El Capitan is one of the most popular Spotlight plugins that allows you to programmatically process queries and add additional results. Users may get tons of different Spotlight plugins on computer and those programs would bring about the disorder when you mistakenly tap on the keyboard shortcuts. Anyway, if you feel sick about the mass, it's time to manage Spotlight plugins on your MacBook or iMac.
How to Preview, Enable and Disable Spotlight Plugins on Mac
FonePaw MacMaster (opens new window) is a great plugin manager that worths recommending. With the program on your Mac, you can easily preview all of the installed extensions and enable or disable the plugins in a single click. Now, let's see how it works.
Step 1. Install MacMaster on Mac
First of all, you should click on the button below to download the FonePaw MacMaster on your Mac. Then follow the instructions to install it.
Free Download Buy with 20% off
Step 2. Scan for Spotlight Plugins on Mac
After the installation, you should select "Extensions" on the left pane of the interface and you will see a "Scan" button. Click on it and the program will start to scan your entire Mac looking for the extensions and plugins for you.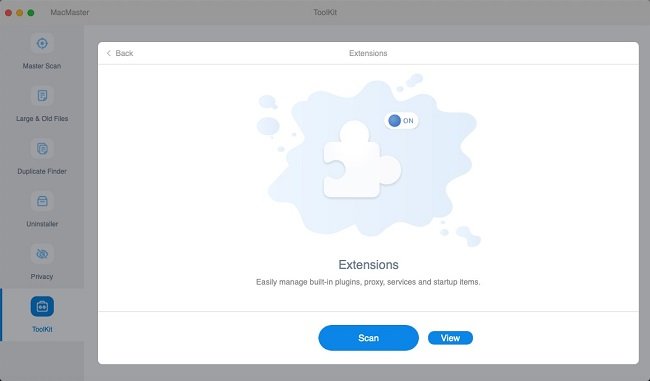 Step 3. Preview Spotlight Plugins
Once the scanning process is complete, you will see five catalogues: QuickLook, Spotlight, Proxy, Login, Services. Click on the "Spotlight" options and you can check all of the Spotlight plugins on your Mac.
Step 4. Enable or Disable Plugins in A click
Refer to the following screenshot, click on the button and when it turns to grey, it means the Spotlight plugins have been enabled.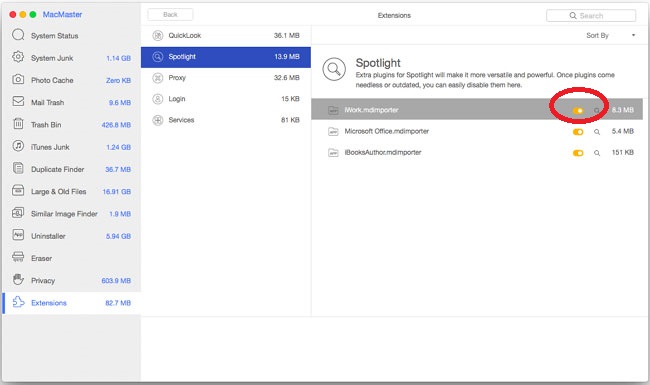 Remove Spotlight Plugins from Your Mac
If the Spotlight plugins are totally useless for you, you can remove or delete them off your Mac to release the storage space.
To do this, you should go to the location that the Spotlight plugins are stored. Go to "/Library/Spotlight" or "~/Library/Spotlight" and find out the plugins you want to remove. Then you can drag and move the selected items to Trash!
Note: The Spotlight plugins which are for all users would be saved to "/Library/Spotlight", while the "~/Library/Spotlight" is only for the current user account only.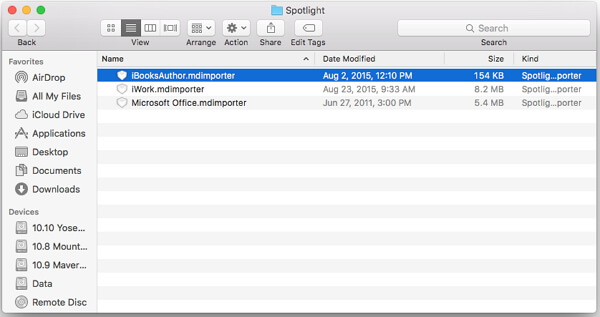 If you want to permanently delete a program from your Mac, you can try FonePaw MacMaster Shredder feature. Actually, this also a good way to remove a file, for example, the private file, that you don't want it to be recoverable.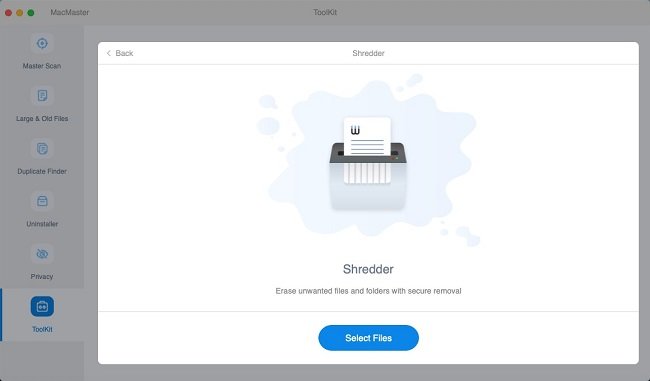 Above is the whole guide to manage Spotlight plugins on MacBook or iMac. If you have any idea want to share with us, just drop a comment below!