"REALLY need your help guys... So I tried to root my Galaxy S6 SM-G920F but failed. Then the device suddenly turned off. I have tried all the buttons but the phone won't turn on. And I have connected the phone to PC but the computer couldn't recognize the phone. It seems like that the phone is totally dead. Any suggestion?"
This is a desperate request that we have received from one of our users. And he is not alone. We got quite a few emails about black screen or sleep of death issues from Galaxy S6 users - some of they got unresponsive devices after failing to root with Odin while others just got black screen out of no reason. Since model SM-G920F makes up a large portion of the dead Galaxy S6, here we will focus on how to fix dead Galaxy S6, especially SM-G920F.
•How to Retrieve Data from Broken Android Phone (opens new window) •How to Get Pictures Off a Broken Samsung Phone (opens new window)
# Tip for Fixing Dead Samsung Galaxy S6 SM-G920F
There are various reasons that might cause dead screen problem on your Galaxy S6. If you want to identify the cause and fix the device by yourself, you probably need to try a bunch of tips that you find from forums, sites or blogs - and sometimes all your efforts go in vain.
So here we introduce you one straightforward method for dead screen problem caused by various system errors: using Broken Android Data Extraction (opens new window), a repair tool to get your phone out of frozen/dead screen in one click. After installing the program on your Windows PC, you can skip those complicated 'how-to' tutorials that you find online and just follow the instructions of the program to fix your dead S6 SM-G920F in these steps:
Connect your S6 to the program;
Put your S6 in Download mode;
Download recovery package on the S6 and repair the device.
Click this download button for Broken Android Data Extraction and start to fix the dead S6 in the following steps.
Free Download Buy with 20% off
Enter Broken Android Data Extraction
Launch the program on your PC and connect your S6 to the PC via USB connection. The PC probably doesn't recognize your device right now. But don't worry and click Broken Android Data Extraction > Fix Device to continue.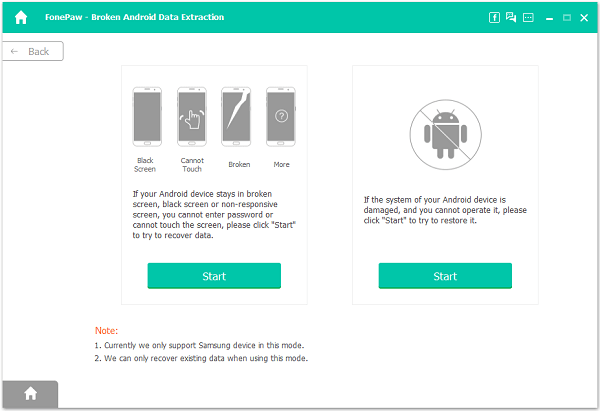 (Click Start when you need to extract data from Android devices with unresponsive screen.)
Choose Your S6 Problem
Broken Android Data Extraction can fix S6 stuck at startup screen, download mode, black screen and others. Since your S6 is dead, choose black screen and click Next.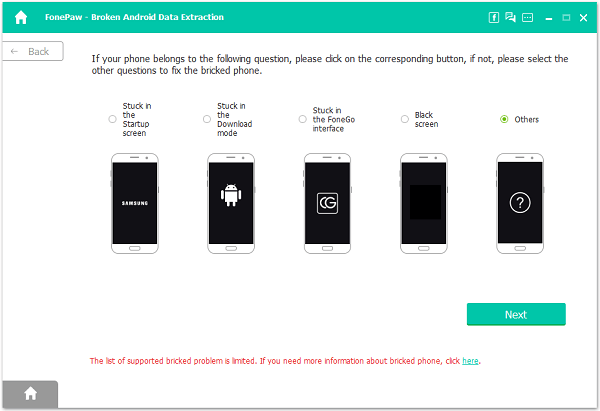 Select Device Name and Model
Since you are using S6 SM-G920F, select S6 as the device name and from models available, choose SM-G920F. Other S6 models, including SM-G9200, SM-G920T, SM-G920P, SM-G925F, SM-G925P, SM-G925T, SM-G928P, SM-G928T are also supported.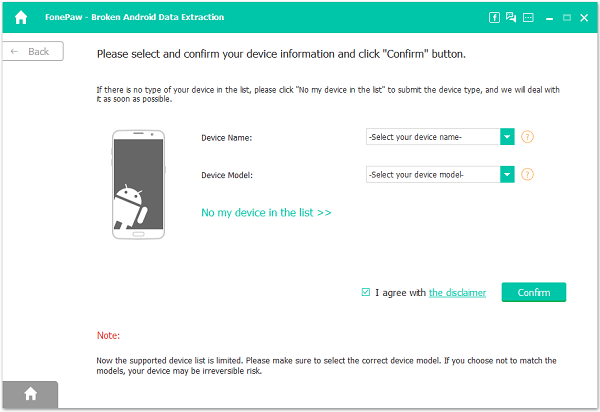 Put S6 in Download Mode
Follow the instruction on the program and put your S6 in Download mode with the combination of Volume Down + Home + Power buttons. And click Start.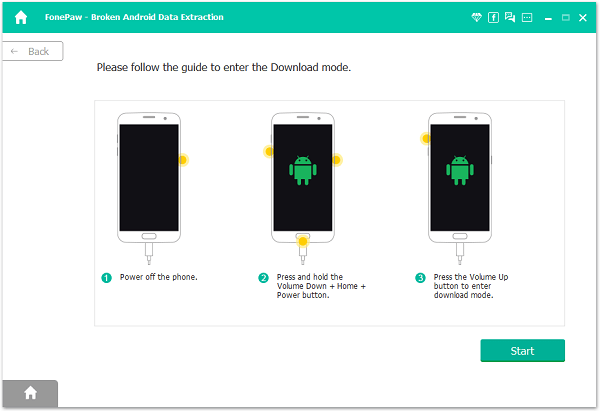 Repair Your Dead S6 SM-G920F
The program will begin to download recovery package on your S6 and repair the device. When you see "Repair completed" and your S6 reboots, the device is fixed.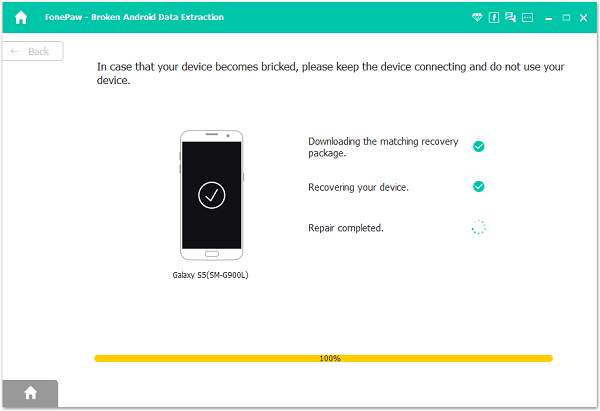 This is probably the quickest solution that you could find to get your dead S6 SM-G920F back to normal. Hope you find it helpful.