"My Galaxy S7 edge went black after I upgraded to the latest Android OS. Why did it ever happen? How do I fix my Galaxy with black screen? Any idea will be greatly appreciated."
- Posted on Reddit
Sometimes cell phones might go into black screen all of a sudden. Even high-end as Samsung Galaxy S8/S8 Plus is, it's of no exception. Sudden death syndrome of smart phones is a great annoyance that bothers a few Samsung users a lot. To help our readers to settle this nuisance, that's why this guide comes out. Please read on.
Reasons: Why Does Samsung Go Black?
Knowing the causes makes a good solution. If your Samsung freezes on black screen being unresponsive, it must be due to one of the two reasons: Hardware issue or Software issue.
Hardware issue:
Damaged screen display (because of physical damage)

Circuit burnout

Mainboard burnout
Software issue:
Systematic bugs

Software breakdown
Notes: Steps to Recover Data In Case of Data Loss
Before you're going down to the next section, please stick to this part at first. Potentially, data loss might happen when trying to repair the black screen. Thought it's a rare case, it's still of necessity to extract and restore your important data from Samsung device in the first place. I beg you'd not like to be regretful after the unexpected misery occurs.
Broken Android Data Extraction (opens new window) comes for your need. This software is able to retrieve data from an unresponsive phone (opens new window) even without USB debugging, which is the perfect solution in this case. It currently supports device including Samsung S4/S5/S6/Note3/Note4/Note5/Tab Pro 10.1. You can download the free trial and give it a shot. The instructions can be generalized on the following steps.
Step 1. Download and install Broken Android Data Extraction.
Step 2. Connect troubled Samsung to the software.
Step 3. Select device model and start downloading recovery package.
Step 4. Start scanning for current content on Samsung.
Step 5. Select desired ones and recover them to computer.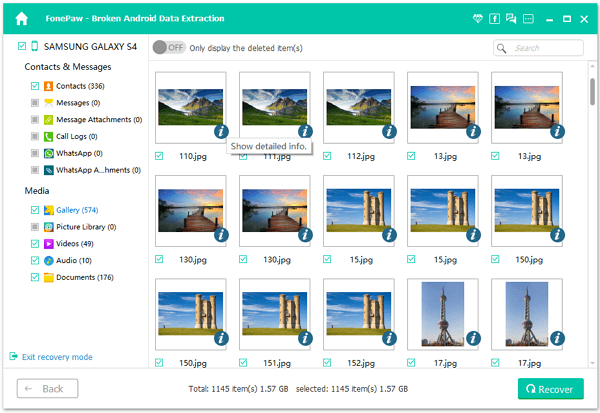 Methods: How to Fix Samsung Galaxy with Black Screen?
Method 1. Restart Samsung Device
Rebooting is always a helpful trick users can try to solve most glitches. However, since your device is under black screen, there are three methods to get down to it.
Hard restart Samsung via holding down the "Power" and "Home" buttons for ten seconds.

Remove the battery to forcedly shut down the device and then boot it up.

Let the battery drain away until it runs out of power and turn the device on.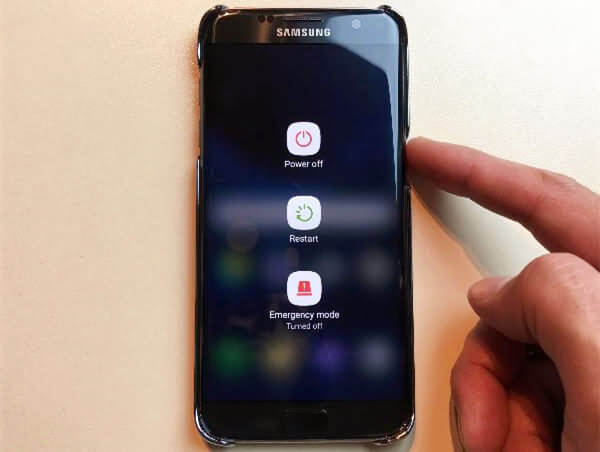 Method 2. Boot into Odin/Download Mode
Though your device is stuck in black screen of death, it might still be possible to enter the download mode, please force the device to shut down and then press and hold down three buttons ("Volume Down", "Home" and "Power") at the same time until you it asks you whether to enter Download mode, please press "Volume Up" to continue. Now, please use "Volume" keys to select "wipe data/factory reset" and press "Power" button to confirm.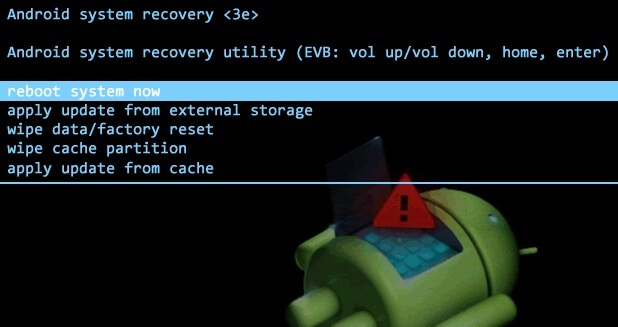 Method 3. Use Broken Android Data Extraction
Broken Android Data Extraction is able to not only help users restore data stored on Samsung in advance but also fix the black screen issue (opens new window) safely and quickly. The whole process is totally hassle-free and user-friendly. As an easy-to-use software, it requires no tech knowledge basis. The instructions are as simple and easy as these 5 steps.
Step 1. Download and install Broken Android Data Extraction at first.
Step 2. Connect Samsung and click "Fix Device".
Step 3. Choose the related onscreen situation "Black Screen", and click "Next".
Step 4. Follow the onscreen instructions to enter "Download Mode".
Step 5. Click "Start" and start downloading the recovery package. Then, it will automatically repair the device to normal.
Note that after it's done, you can click "Android Data Recovery" to scan and restore data currently stored on your Samsung device with ease.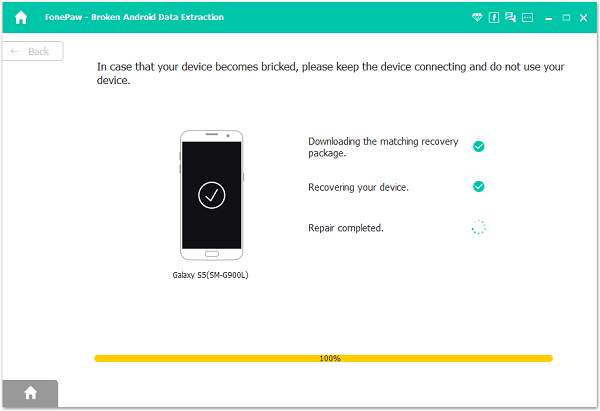 Tips & Tricks: How to Avoid Being Stuck in Black Screen?
Black screen problem can never be addressed once and for good, however, you can indeed protect your Samsung device from being stuck in black screen again via the following tips.
Don't update device instantly when software update is available

Don't download and install apps/tweaks from unknown sources.

Don't charge up device for too long at a time.

Regularly clear up apps which have not been used for long.

Regularly back up Samsung data (opens new window) to computer in case of data loss.

Replace the battery if it drains away too fast.
Hope it helps you get out of black screen. If you have a better idea, you're welcome to share it with us. However, if you're having trouble with the methods, please let me know and drop your comment below.