Supposing that you are looking for the best screen mirroring app for your iPhone, this article review is the answer to your needs! We want to present these five most effective screen mirroring apps for iPhone, namely Reflector, FonePaw ScreenMo, Airserver, ApowerMirror, and AnyDesk. We ensure that these apps will not fail you because they can mirror your iPhone device effectively with good quality. Please make time to read this article. Let us start reading now!
1. Reflector
Price: $19.99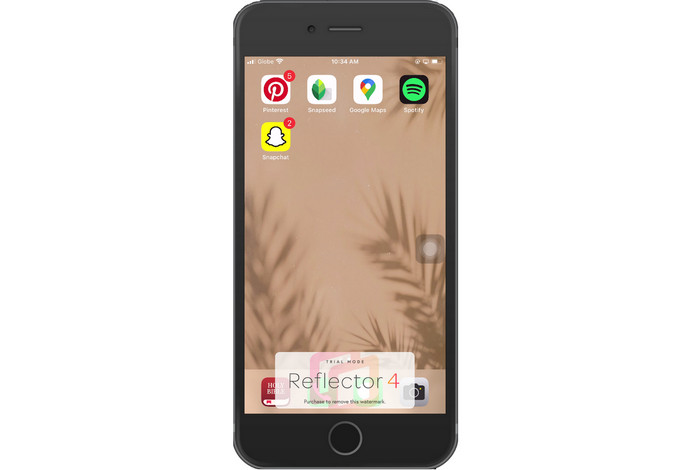 Reflector is the best mirroring app for iPhone. Amazingly, it is compatible with Mac and Windows. Upon using the software, we discover that upon connecting the iPhone device to a PC, Reflector will provide an Onscreen Code, and the iPhone user needs to input that Reflector shows to your PC. And for me, that is one of the unique features of this screen mirroring app.
Main Features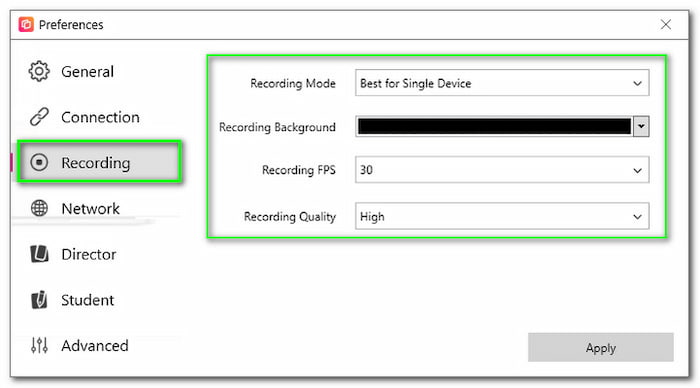 It has three Recording modes; Best for App Store, Best for Single Device, and All Connected Device. Therefore, you have an option to choose from all three recording modes. Moreover, it also allows you to select a Recording Background, and it has a lot of available colors. In addition, you can set your Recording FPS from 15fps to 60fps. Furthermore, one of the most important things that a software or app can offer is the quality or the Recording Quality. That is why Reflector provides a quality option such as Very Low, Low, Medium, High, and Very High.
Pros
It has a simple interface.
It is safe to use.
It allows you to steam and share your photos and videos on a large screen.
It also allows you to emphasize, hide, show devices, and select devices.
It can record every mirrored device.
It enables you to mirror many iPhones.
It lets you control how devices will appear on the screen.
Cons
It cannot screen a mirror while using the front camera of your iPhone.
It has a watermark on the free trial version.
You need to purchase it to remove the watermark.
It is expensive.
2. FonePaw ScreenMo
Price: $19.95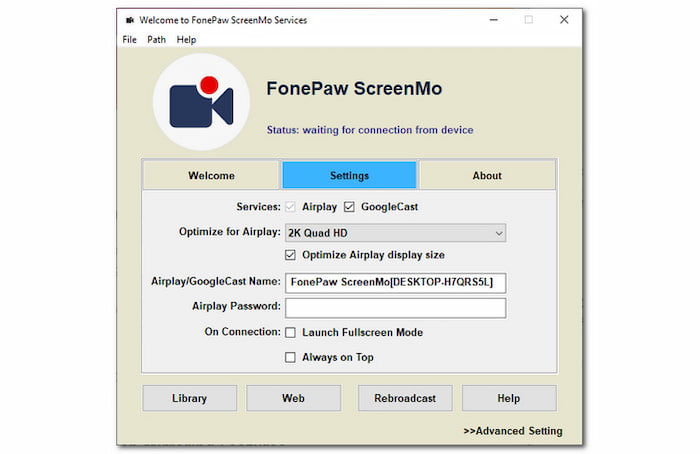 FonePaw ScreenMo has the power to mirror an iPhone to your computer. In addition to this, it has a user-friendly interface. Therefore, it is so easy to use that beginners can use this app. This app aims to see your photos and play your videos on a large screen such as a computer, TV, etc. Also, it can record the mirrored iPhone and allows you to stream.
Free Download Buy with 20% off
Main Features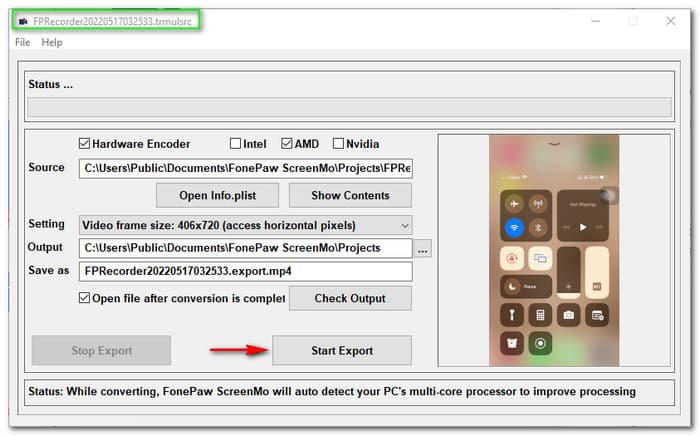 Once you stop the recording of FonePaw ScreenMo, you will proceed with exporting the recorded iPhone device. However, before the exporting process, you can adjust the Status of your file and make any changes. For example, you can choose which hardware acceleration you want. Also, FonePaw ScreenMo allows you to change the Video Frame Size of your file. You can also select a folder where you want to save your recorded file. After the customization process, click the Start Export.
Pros
It offers a free download and free use.
It can record a mirrored screen.
It can mirror your iPhone to your computer.
It offers many languages.
Cons
It is expensive yet has limited features.
It does not have an excellent quality while mirroring the iPhone device.
3. Airserver
Price: Educational License: %7.99-11.99, Consumer License: $19.99, and Busines License: $39.99.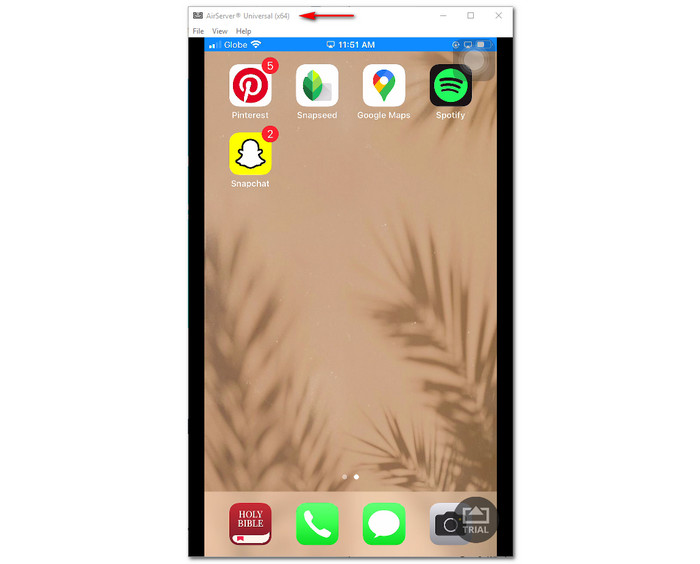 Airserver is a professional use screen mirroring app. It is excellent in mirroring Windows and Mac, and it has an Intel processor making the app more reliable. In addition, it has three kinds of subscriptions, and one of them is the Educational License which helps the students to perform well using their devices and computers.
Main Features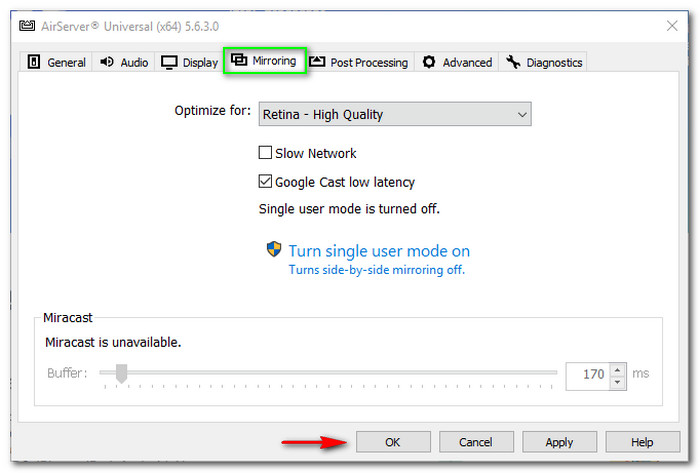 Airserver can Optimize for many options such as Retina - High Quality, Projector, iPad Retina, Target Display, and more in terms of mirroring. Moreover, you can enable the Slow Network and Google Cast Low Latency. And you can turn off and turn on the Single User Mode. After the customization, you can click the OK or Apply button.
Pros
It offers 31 days of a free trial.
It has a unique interface.
It can mirror your iPhone device.
It works on Mac and Windows.
Cons
It is for professional use.
It isn't easy to use.
It has a watermark on a free trial.
The recording mode is disabled in a free version.
4. ApowerMirror
Price: $39.95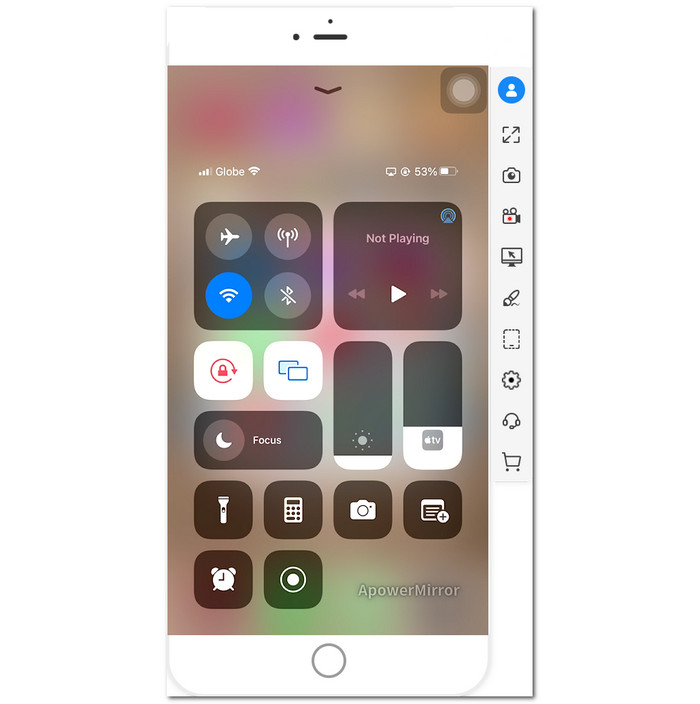 ApowerMirror is not a free mirroring app for iPhone, and it costs $39.99. But its price is affordable for a year, unlike other mirroring apps, which are very expensive. What we like about ApowerMirror is its interface. After connecting your iPhone to your PC, its interface looks like an iPhone device. Also, it is simple, clean, and iconic. Moreover, this app aims to screen mirror your iPhone device and watch your videos on a big screen such as a TV, PC, and more. In addition, the extraordinary thing about ApowerMirror is it works on Android, iOS, Windows, and Mac. Furthermore, you can also connect your iPhone using a USB connection to your computer.
Main Features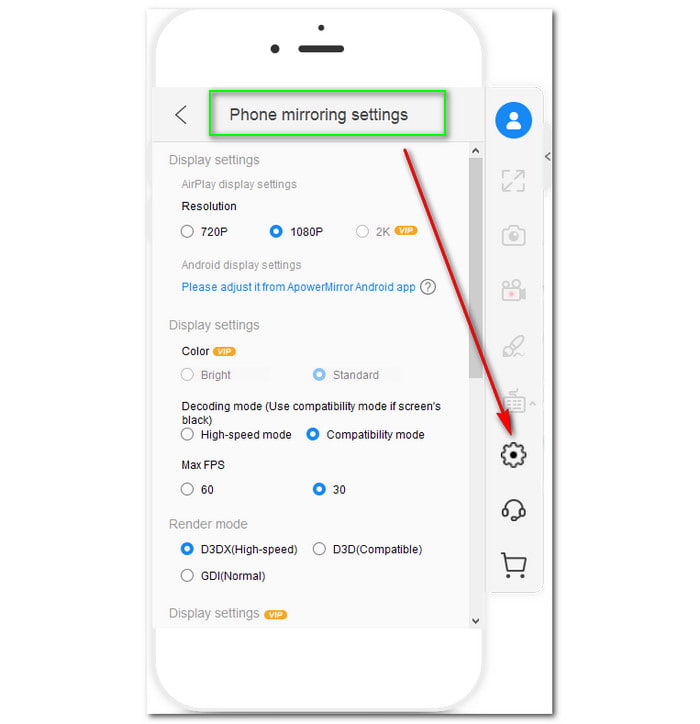 ApowerMirror enables you to adjust the phone mirroring settings of the app for a better result. It lets you change the Resolution from 720P to 2K. Note that you can only set the Resolution to 2k when purchasing ApowerMirror. Also, you can change the Display Setting to Bright or Standard. Moreover, you can also switch the Decoding Mode to High-speed Mode or Compatibility Mode and use the Compatibility Mode if your screen is black. Then, when it comes to Max FPS, you can change it from 30fps to 60fps. What's more? Render Mode has three options; D3DX(High-speed), GDI(Normal), and D3D(Compatible). ApowerMirror also lets you adjust the Brightness, Saturation, and Contrast from 1 to 50.
Pros
It allows you to record your mirrored iPhone or Android device.
It also allows you to draw while mirroring the screen of your device.
It lets you turn on the Bluetooth of your iPhone and PC to control the screen mirrored phone on the PC.
It can also take a screen capture while screen mirroring.
It has an ultra-high mirroring quality.
It has a smooth screen mirror display.
It provides local and cloud mirroring.
It allows you to use it for streaming.
Cons
It is not easy to open.
It consumes too much time to install.
You can use screen mirroring for 10 minutes in the free version.
It has a Watermark while using the free version.
The free version is minimal.
5. AnyDesk
Price: Essentials $9.90, Performance: $19.90, and Enterprise: $29.90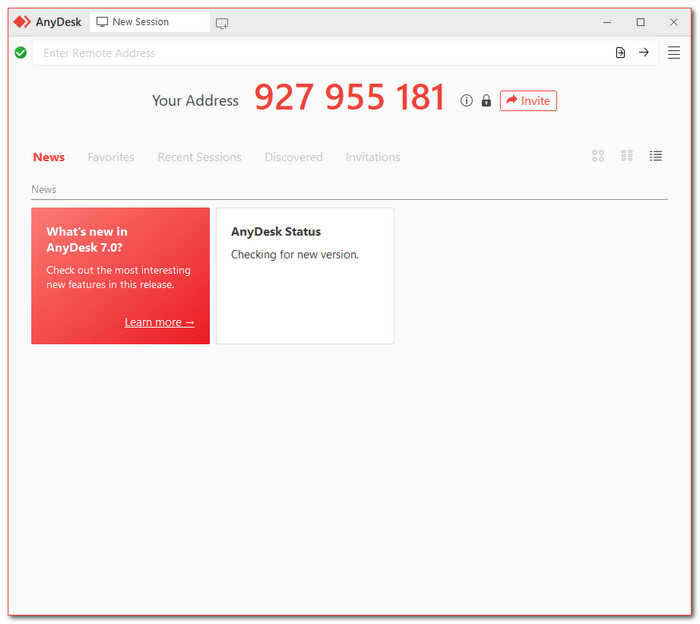 AnyDesk covers a lot, and one of them is the screen mirror features. It allows you to mirror your iPhone to your PC, TV, etc. Also, it is perfect for business purposes. Therefore, it is more for professional use. Nevertheless, if you are not a techy person, you will not appreciate AnyDesk. In addition, it is not a free mirroring app for iPhone to PC, TV, and more. AnyDesk also prioritizes who is working at home and use AnyDesk as their screen sharing tool for their workmates, colleagues, etc.
Main Features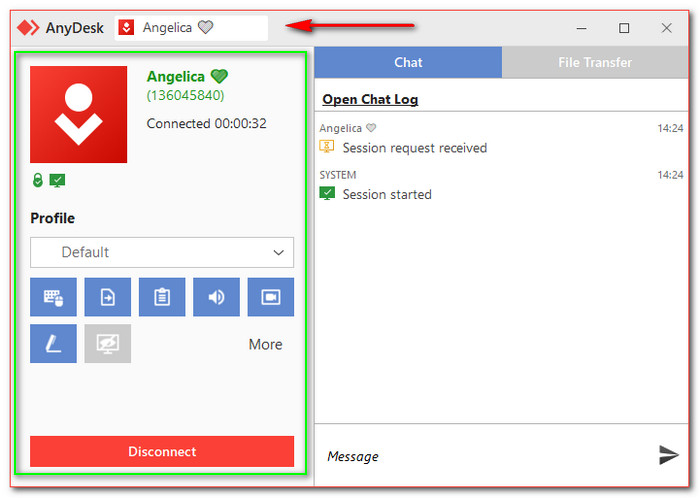 To access your PC using your iPhone device, you need to download AnyDesk to your iPhone. After that, when you launch AnyDesk on your phone, you will see your Address number. Then, using your iPhone, invite the Address number of your PC. Click Accept, and you will start to have access to your PC using your iPhone. The fantastic thing about it is that your iPhone can control your PC. Moreover, it also provides an Open Chat Log. Mostly, they are using AnyDesk for work and business.
Pros
It has a friendly interface.
It offers so many features.
It allows you to mirror your PC on your iPhone.
It also allows you to mirror your iPhone to a PC.
Cons
It is for professional use.
You must request a free trial first before using the app.
The application is lagging.
It is hard to install.
It is not manageable to use.
You need to install AnyDesk on your device also.
Conclusion
This review post introduces the five best screen mirroring apps for the iPhone. We hope that you appreciate this article since we discuss its purpose, features, price, pros, and cons in every part. In addition, we make sure that we use every app before writing a review about it. So much so, we are expecting you to give us a like and share it with your colleagues, family, and friends. They might need these apps. See you at our next one!