Problem: I enabled Auto back up to back up my Samsung S7 to cloud. It had been working just fine until recently. Samsung cloud failed to backup device data and said a server error has occurred. I called Samsung tech support and was told to use Samsung Smart Switch. But I prefer backing up to Samsung cloud. Do anyone else have this problem or know of a solution?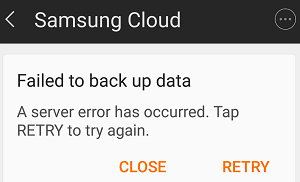 Solution: The above S7 user is not alone. Many Samsung users failed to back up their devices to Cloud due to the same error. And there are also others who are unable to automatically back up to Samsung Cloud. The problem keeps happening, however, Samsung seems unable to provide an effective solution.
Does this mean that we are helpless? Not exactly. Thanks to the sharing of users who have solved the problem, you can now manage to fix Samsung Cloud backup failed issues with the following solutions. The solutions are worth trying if Samsung Cloud backup is not working on your Samsung S9/S9 Plus/S8/S8 Plus/S7/S7 Edge/S6/S5/S4/Note 8, Samsung J series, Samsung A series and more.
Reenter Samsung Cloud Account
Firstly, you should make sure that you have a valid Samsung account. This sounds silly but it happens. There were users who are never unable to back up to Samsung Cloud and it turned out that they haven't finished setting up a Samsung account.
If you do have a Samsung account and the Samsung Cloud backup just fail, try to remove the account and then enter the account again.
Step 1 Go to Settings > Cloud and Accounts > Samsung Cloud.
Step 2 Choose the three dot icon > Settings.
Step 3 Choose Remove Account.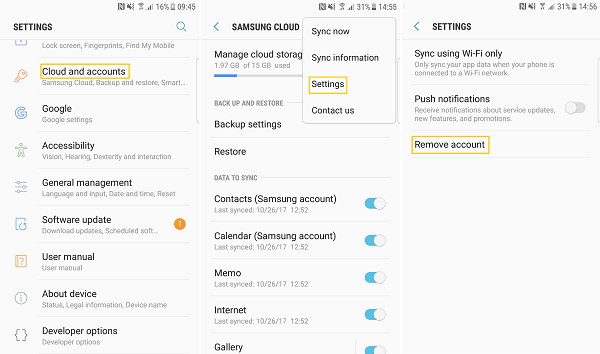 Note: The steps can be applied to Samsung device on Android 7.0 and above, such as Samsung S8/S7. The steps to remove Samsung account on other devices is a little different.
Now you can add the Samsung account back and see if the Samsung Cloud backup is working now.
Restart Samsung Devices
A few users found the "Failed to back up device data" error gone after they reboot their device. It is a simple trick and you should give it a try.
Step 1 Long press Power button on the right side of your Samsung S8/S7/S6/S5/S4/others.
Step 2 Choose Restart.
Step 3 Wait for the device to reboot.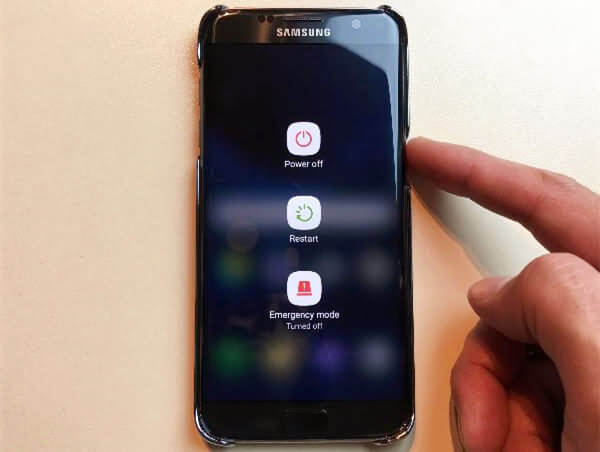 Back up to Samsung Cloud with Wi-Fi/Mobile Connection
To save mobile data usage, you probably set to back up or sync data to Samsung Cloud with Wi-Fi only. Now you may want to change the settings and see if it can stop the Cloud backup failure.
Step 1 Open Settings > Cloud and accounts > Samsung Cloud.
Step 2 Tap the three dots icon and choose settings.
Step 3 Choose Sync using Wi-Fi only and toggle off all buttons to allow backing up data with mobile data.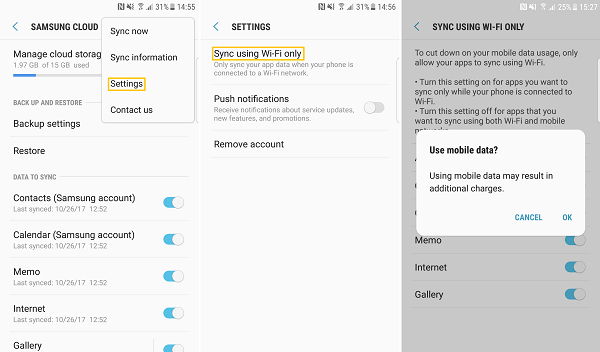 Clear Caches and Data
Many Samsung loyal users and tech specialists suggest clearing caches and data of Samsung Cloud and Samsung Account to fix the backup problem.
Step 1 Choose Settings > Apps.
Step 2 Tap three dot icon and select Show system apps.
Step 3 Scroll down and find Samsung Cloud.
Step 4 Choose Samsung Cloud > Storage > Clear Data > Clear Cache.
Step 5 Repeat the same steps with Samsung account.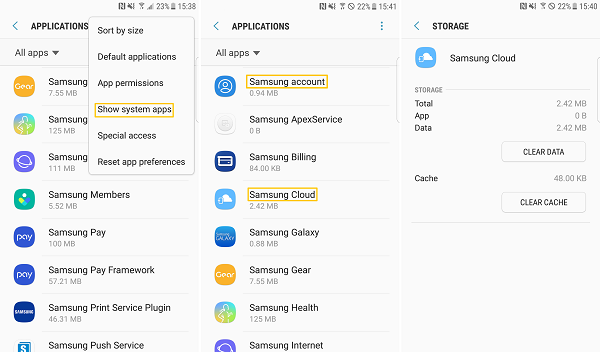 Update Samsung Cloud
The Samsung Cloud backup failed problem sometimes is a software bug. Many users fix the problem after receiving an update from Samsung.
If you received any update notification from Samsung, get the update.
If you don't, go to Samsung website (opens new window) and manually install the latest Samsung Cloud on your device.
Alternative: Back up Samsung Device to PC
Samsung Cloud is a pain when it is not working. Instead of backing up your data to the cloud, which is unstable and unsafe, backing up Samsung data to PC is a better choice.
Your data is more secure on your personal computer than on cloud.
Samsung Cloud only provides 15 GB free storage.
You can restore Samsung backup more easily from a computer while sometimes you can't restore from Samsung Cloud backup due to a software bug, network connection, etc.
FonePaw Android Data Backup & Restore (opens new window) can help you to back up Samsung data to PC without internet connection. Your backup will be stored in a small-sized file and won't take up too much of your computer space - it takes only hundred MB to backup hundreds of photos with the program. And you can also encrypt the backup to keep your data private.
Step 1 Download and install Android Data Backup & Restore on PC.
Free Download Buy with 20% off Free Download Buy with 20% off
Step 2 Open the application, choose Device Data Backup and connect your Samsung phone via USB cable.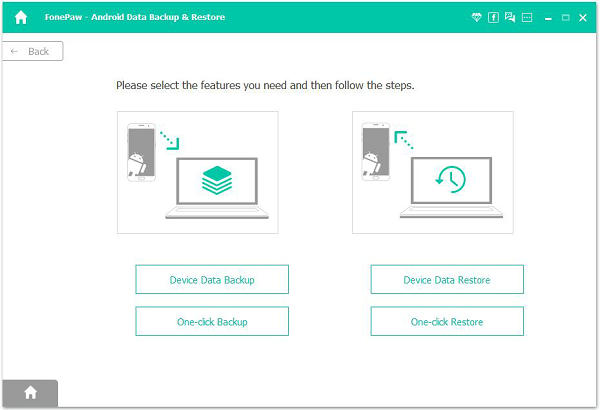 Step 3 Choose the data you want to backup. The application can back up everything (messages, photos, contacts, videos, call logs, documents, etc.) on your Samsung phone.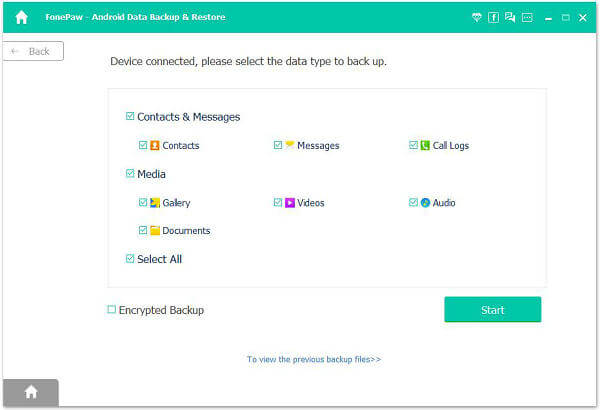 Step 4 Tick Encrypted backup. Click Start. Your Samsung data will be saved on the computer.
To avoid data loss, it is important to back up your Samsung phone regularly. Just choose the backup method that fits you.