Besides WhatsApp and Facebook Messenger, WeChat is becoming more and more popular, as a social app. It allows users to text/video/audio chat with friends, share moments, transfer accounts, receive subscription recommendation and more, which are convenient to daily life. Thus, there will be many chat files in WeChat on our devices and taking up the phone storage.
Once you delete the caches or chats of WeChat, you will release more free space on device but the deleted history may not be recovered. For protecting the WeChat messages from deleting, it is suggested that you back up the chat history on your iPhone XS/XR/X. There are various ways to do WeChat backup. This post will share the easiest 4 methods.
Solution 1: iOS WeChat Backup with Web Version
The old version of WeChat offered way to back up messages and files on iPhone directly but now you cannot do that since it is updated. Even though you move into Settings on WeChat and it directs you to an interface of Backup & Migrate Chats, it just asks you to back up the chats to computer via web version.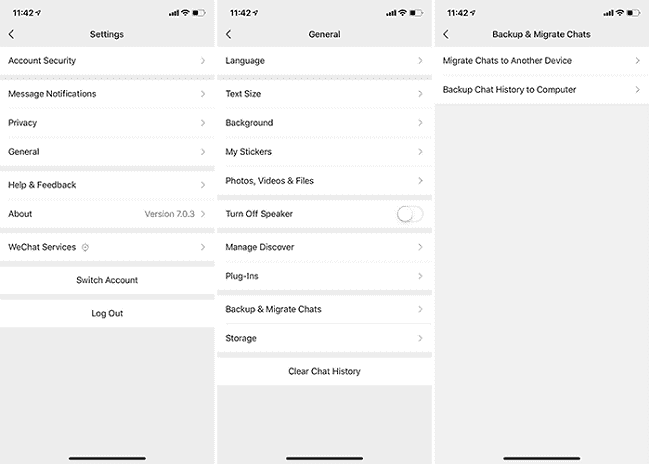 Thus, you should move to web WeChat to go on:
Download WeChat on PC or Mac.
Log into your WeChat account
Select Backup & Restore at the bottom-left.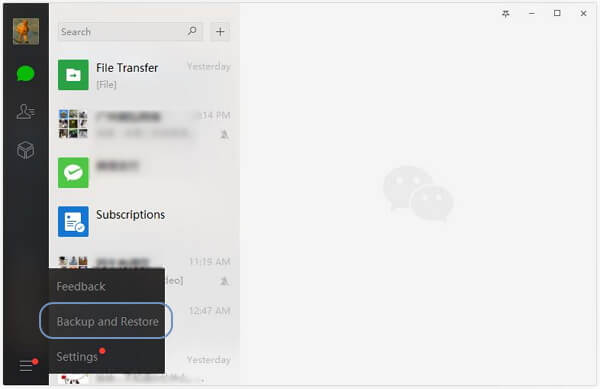 Then choose "Back up on PC" > confirm backup on device > to get started. The new incoming messages won't be backed up.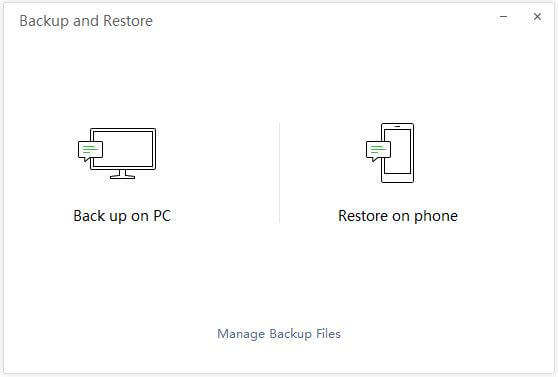 Be patient to wait until the backup is completed. You will view the results: saving path, backup time, backup name.
Note: You can restore the WeChat backup to another deivce (opens new window) with selecting Restore on phone.
Pros: Support to only back up WeChat without unneeded files; Official method from WeChat.
Cons: Cannot preview; Need a PC/Mac as an assistant.
Solution 2: Back up WeChat History with FonePaw
The method above can back up WeChat data on PC but it needs to have the web version installed. To be faster, FonePaw iOS Data Backup & Restore (opens new window) is the must-have choice.
Step 1. Launch FonePaw program and get in to iOS Data Backup & Restore feature.
Free Download Buy with 20% off Free Download Buy with 20% off
Step 2. Connect your iPhone to PC/Mac and select WeChat & Attachments.
Tip: If you want to back up other data together, just select the data types or all to begin backing up.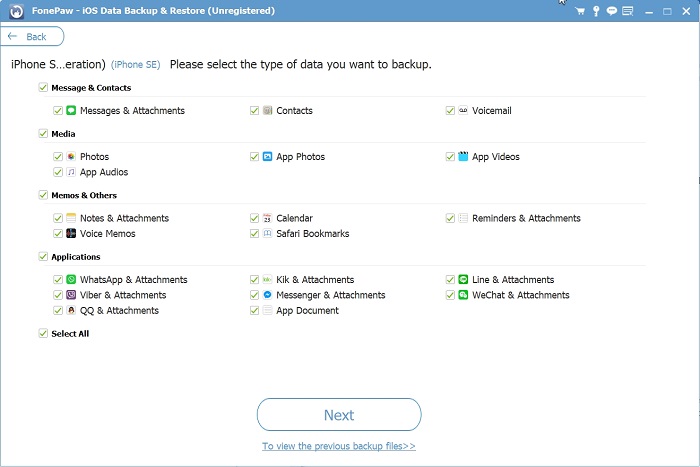 Step 3. Back them up in Standard mode (without setting passcode) or Encrypted mode (with passcode setting).
Step 4. When backup is over, check the size, time of the files. Or preview the details in "Restore iOS Data".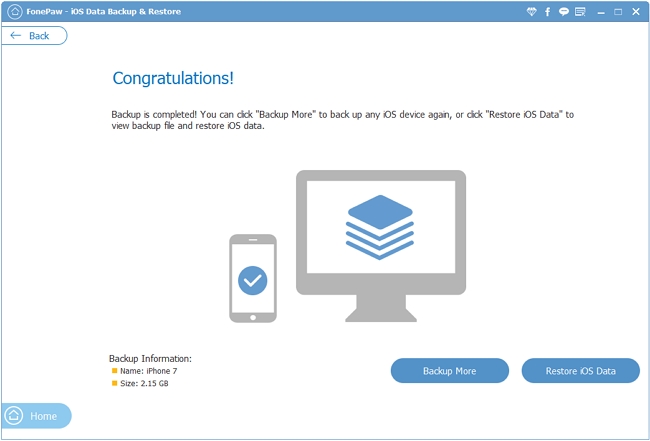 Pros: Support backup entirely or selectively; Preview after backup; Encrypt backup
Cons: Need a PC/Mac as an assistant.
Solution 3: Back up WeChat with iCloud
iCloud is widely-used to back up data on iPhone and it is easy to do with several tapping on device. The two methods above can only back up WeChat chat history but iCloud cannot. It works well for entire data backup.
Find out Settings App on your iPhone.
Tap Apple ID > iCloud > iCloud Backup.
Tap Back Up Now to save your iPhone data (WeChat messages included).
You can migrate the WeChat data to a new iPhone with restoring the backup to device. Actually, not only WeChat, but also other data types will be restored at the same time.
Pros: No need of PC/Mac; Easy to do.
Cons: Cannot preview; Cannot selectively back up.
Solution 4: Back up WeChat using iTunes
Like other data types, iTunes would save iPhone WeChat messages and photos, video, audios when backing up. It will also do the whole backup at one time and you cannot select part of data to start.
Connect your iPhone XS to iTunes.
Tap Device > Summary > Move to Backups to select This computer (if you want to encrypt the backup, please tick the box in front of "Encrypt iPhone Backup").
Click Back Up Now to begin.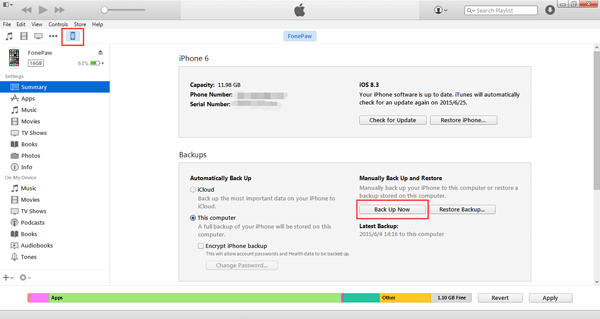 You can access the WeChat messages after restoring the iTunes backup files to your iOS device.
Pros: Encrypt backup.
Cons: Cannot preview; Cannot selective backup.