# Reasons Why You Should Do a Backup for Your Videos
Videos always take up more storage than others on our mobile phones. Thus, if the free space of your phone is limited, you may free up storage and the videos would be the first choice to be deleted. At this time, to back up the vital videos is a must.

In most Android phones, videos are kept in the same folder with photos. When you tend to delete some photos, it is easy to remove the video together. If you have backup, there is no need to worry.

As for some precious videos, you must want to watch them anytime and anywhere. Therefore, what should you do is to share them with friends, transfer them to other devices or copy them to computer.
.....
In brief, a backup is really necessary for you.
Part 1. Back Up Videos to Google Photos and Google Drive
Google Photos and Google Drive are popular apps on Android phones and tablets. Both of them can back up and sync your device's data. To know more details, check the following tips.
Do a Backup on Google Photos
Launch Google Photos app and tap the menu button on the top left corner.

Scroll down for Settings.

Tap Back up & sync option and turn it on.
Note: When you switch it on, this operation won't stop until you turn it off, even though you uninstall the app from the phone.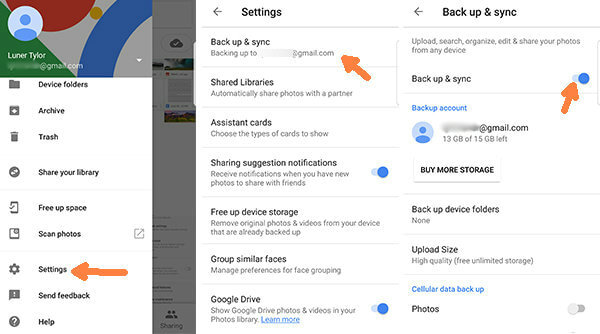 Go back to Google Photos app to check whether your videos are backed up. In this way, photos and videos would be backed up together so you will view pictures also.
Upload Videos to Google Drive
Open Google Drive on your Android device.

Tap the plus button and choose Upload at the bottom.

Select video file to upload from the device.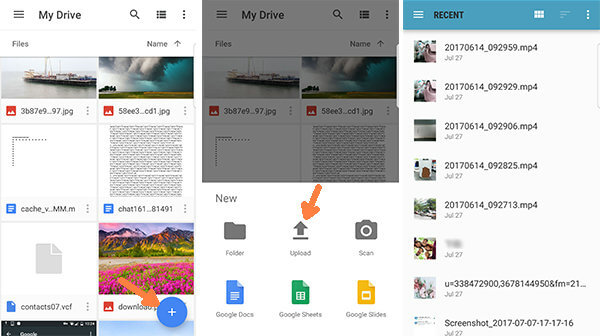 Part 2. One Click to Back Up Android Videos
Besides to back up on your Android devices, you are able to do a backup on computer. There is a simple way to create a backup for your Android data and offer a way to restore files from backups. With FonePaw Android Data Backup & Restore (opens new window), you can not only save your data to Windows, but also encrypt your backup with setting a password so that no one can check the data. Let's get started with the backup steps.
Free Download Buy with 20% off Free Download Buy with 20% off
Install FonePaw Android Data Backup & Restore on your PC. Then get your Samsung/LG/HTC/Pixel, etc. connected with computer.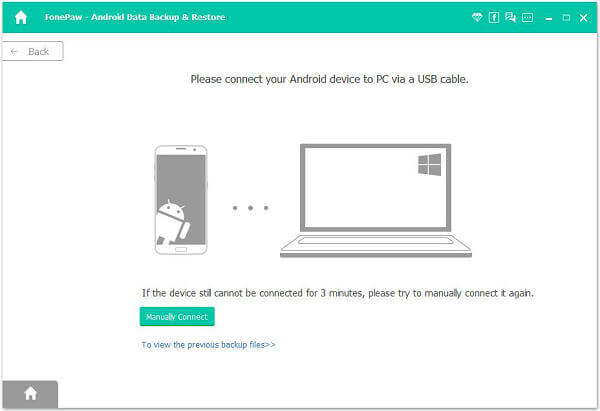 Select Device Data Backup or One-click Backup. You can choose one feature you want to go on. In this case, to back up is what you need.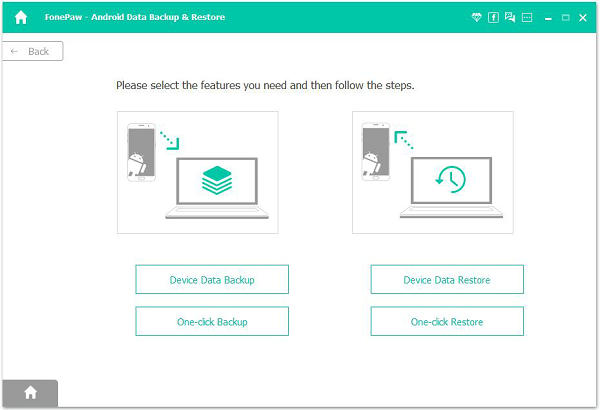 Tick video to get started. All supported data is listed here so please choose one of them and click Start to begin backing up.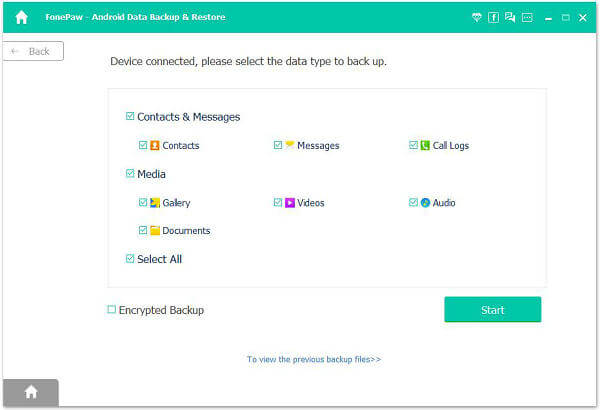 Note: There is an option for you to select Encrypted Backup which is relatively safe because you can add a password for the backup. Thus, others will not check your backup. However, when you choose this mode, please remember the passcode that you have typed.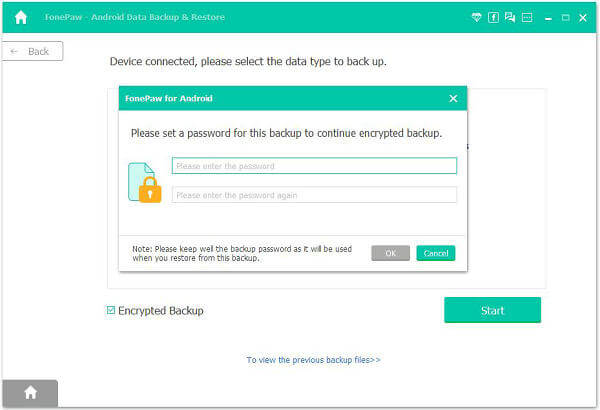 Wait for backing up. It will take you a short time to back up files on Android mobile. As "Congratulations!" comes out, it means that your backup is done and you can check the space that the backup takes up. Moreover, it is possible to see the details of the backup file with clicking "To view the previous backup" and even you can restore the files to another device.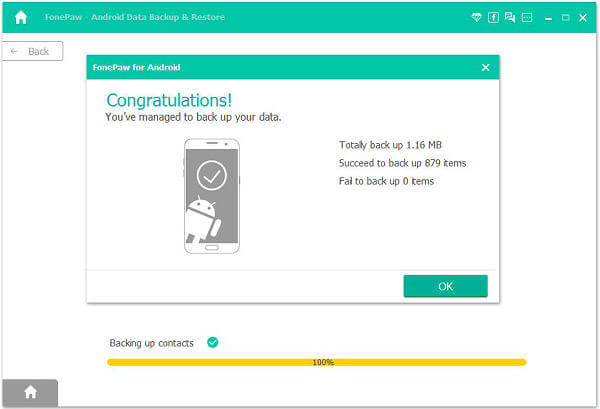 Part 3. Directly Copy Video Files to PC
There is a big advantage of Android phones and tablets. You can simply move the files between phones and PC with connecting devices to Windows and copying them directly. To copy video files from Android to PC, you should:
Connect your Android to Windows with USB cable.

Go to the device and find out the folder which you save videos in. For instance, open DCIM folder.

Select the ideal file and drag it onto computer. The transferred files can be regarded as backup files on Windows. The folder on PC to keep the video can be selected by yourself.
Part 4. Comparison Among These Methods
Those methods above allow you to save your movies, TV shows, music videos, etc. on computer or cloud storage. Nevertheless, which one should be chosen to back up your Android data? Let's draw conclusion.