Since you are reading the article, I assume that you have got the prompt: you are unable to connect to WhatsApp. The connection problem doesn't happen very often, but once it does, it is super annoying. It could be that your Android phone can't connect to WhatsApp at all or WhatsApp doesn't work on mobile data or over a certain Wi-Fi connection.
The reasons why you can't connect to WhatsApp are:
You phone is not connected to Internet or on a weak network connection;
In rare case, WhatsApp service go down temporarily.
For the latter, there is nothing you can do about it. But for the former, you can try to solve the WhatsApp connection problem on Android with these tips.
Part 1. If You Can't Connect to WhatsApp
Perform Basic Check for Your Android Device
Make sure that your phone has a strong network connection. Open a webpage in phone browser and see if the page loads smoothly.

Restart your Android phone.

Reboot your Wi-Fi router.

On Google Play store, check if there is update for WhatsApp. If it is, get the update. The update might fix some bugs in the app.
Adjust Your Phone's Settings
Open Settings app on your Android, tap "More" > "Airplane mode". Toggle the button off and back to on.

If you are using Wi-Fi, go to "Settings" > "Wi-Fi" and turn Wi-Fi off and on again.

Tap "Wi-Fi" > menu icon > "Advanced" and choose to keep Wi-Fi on during sleep mode.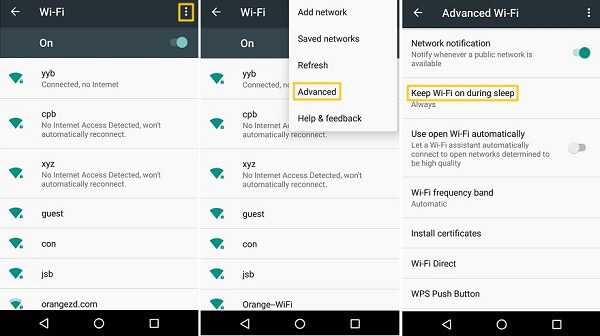 If you are using cellular data, go to "Settings" > "Data Usage" and toggle off and on "Cellular data".

Tap "Data usage" > "Network restrictions" and make sure that no Wi-Fi network is restricted.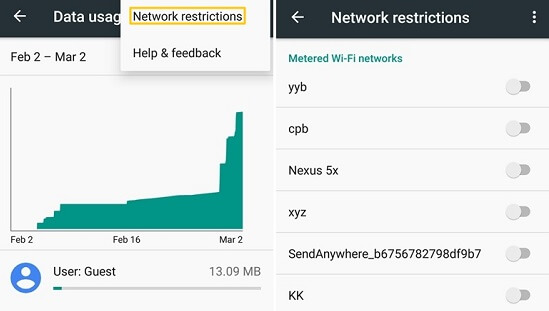 Part 2. If WhatsApp Can't Connect Over A Specific Wi-Fi
Reconnect to the Wi-Fi
Launch Settings app on your phone;

Choose "Wi-Fi";

Tap on the Wi-Fi network that you are unable to use and choose "forget";

Reconnect to the Wi-Fi and enter the password again.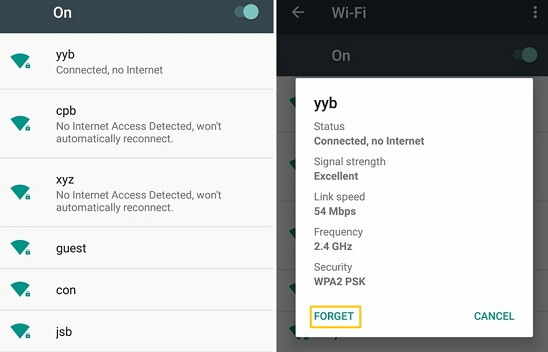 Log in Captive Wi-Fi Network
If you are using a captive Wi-Fi network, which is often seen in coffee house, library, etc., make sure that you have logged in on your phone browser.
Part 3. If You Can't Connect to WhatsApp on Data Network
If WhatsApp works on Wi-Fi network but not cellular data network, or other applications can all work on the data network except WhatsApp, you need to contact with your carrier and make sure your access point names (APN) has set up correctly. Sometimes, it could be your carrier that set up your wireless access points to block certain chat applications. Or internet APN is missing in your APN settings. Just contact your network provider and they will walk you through the set-up.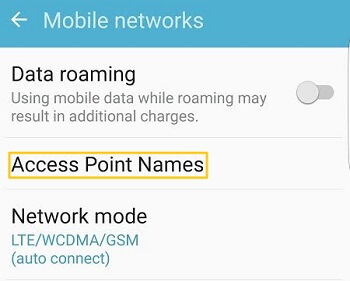 If you have other solutions for the WhatsApp connection problem, feel free to share with us below.